Venable LLP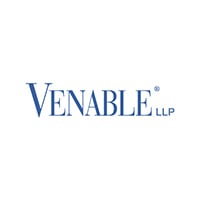 Venable LLP – A History of Client Service
For over a century, we have built our firm based on a simple and enduring premise: We see the world through the eyes of our clients. We immerse ourselves in our clients' businesses to fully understand the context of their legal issues. Our clients know that our every decision – from hiring, to shaping our service areas, to expanding our global reach – is informed by our desire to better serve their needs.
Comprehensive Solutions to Today's Complex Issues
Today, Venable is an American Lawyer 100 law firm. With more than 600 attorneys in nine offices across the country, we are strategically positioned to advance our clients' business objectives in the U.S. and abroad. Our clients rely on Venable's proven capabilities in all areas of corporate and business law, complex litigation, intellectual property, and regulatory and government affairs.
Our attorneys have an excellent understanding of their practice areas and bring a wealth of firsthand experience to the challenges and opportunities our clients face. In this era of ever-increasing scrutiny by the government, our clients benefit from Venable's Washington know-how. Our attorneys, many of whom are former Members of Congress, regulators and senior government staffers, have the experience to provide solutions when government creates regulatory roadblocks.
Main Areas of Practice:
Corporate Law & Business Transactions:
Venable represents and advises individual and corporate clients on banking and financial services matters, bankruptcy and creditors' rights, banking regulatory issues, corporate finance and securities, employee benefits and executive compensation, franchise and distribution, mergers and acquisitions, mezzanine finance, real estate and real estate finance, strategic alliances and joint ventures, taxation, technology transactions and outsourcing, and trusts and estates. Venable represents and advises state and local governments and nonprofit organizations on municipal and tax-exempt finance and tax compliance. Clients include Fortune 100 corporations, entrepreneurs, family businesses, venture capitalists, underwriters, investors of all descriptions, state and local governments, and nonprofit corporations and associations, including healthcare and educational institutions.
Government & Regulatory Affairs:
Venable advises clients on a wide array of legislative, government contract, regulatory, civil, and criminal matters before state and federal authorities. The Venable team has extensive experience working with officials in the Executive Branch including agencies such as the Departments of Agriculture, Energy, Defense, Health and Human Services, Homeland Security, Justice, Treasury, and Transportation. Venable attorneys also work closely with the Environmental Protection Agency, Federal Trade Commission, Federal Communications Commission, Postal Regulatory Commission, U.S. Postal Service, Food and Drug Administration, Consumer Product Safety Commission, OSHA, U.S. Patent and Trademark Office, the Federal Reserve Board and other financial services regulatory agencies. Venable provides its clients with a full complement of government affairs and legislative support, including political analysis, issue management, and direct advocacy, as well as preparation of draft legislation, Congressional testimony, and committee report language.
Litigation:
Venable's Litigation Practice is broad enough to handle virtually all areas of civil and criminal law, and deep enough to handle bet-the-company litigation. General Counsel at Fortune 500 companies look to the firm's trial lawyers on matters ranging from defense of class actions to internal investigations. Venable handles all major areas of litigation including appellate, products liability and toxic torts, commercial disputes, labor and employment, antitrust, construction, intellectual property, class action, and SEC and white-collar defense. Venable's many former federal prosecutors have considerable experience conducting internal investigations and representing clients in administrative and grand jury investigations.
Technology & Intellectual Property:
Venable's IP attorneys practice in every aspect of intellectual property law, including patent, trademark, copyright, trade secret, antitrust, and unfair competition. With technical backgrounds extending across a host of industries and technologies, the firm's attorneys advise clients on all issues pertaining to domestic and foreign patents, trademarks, and copyrights. Venable also negotiates and drafts domestic and international licenses, joint venture and technology transfer agreements, and research contracts. Venable's IP litigators represent clients before the International Trade Commission and aggressively enforce and defend intellectual property claims in venues across the country.
Culture of Commitment
Each year, Venable attorneys and staff devote thousands of hours of their own time, money and talent to helping the communities in which they live and work. Venable's commitment to social responsibility includes financial support through The Venable Foundation, one of the Mid-Atlantic region's premier corporate philanthropic endeavors, which, in 2012, provided more than $2 million in support to organizations and programs in our local communities.
The Venable Edge
Venable aims to deliver the highest quality legal services for our clients, and we pride ourselves on identifying, recruiting and retaining the best and brightest attorneys and legal staff from all walks of life. Our clients profit from a diverse set of perspectives that, paired with more than a century of proven experience, is unique to Venable.
Hughes Hubbard & Reed LLP
Since 1888, Hughes Hubbard & Reed LLP has carried the torch for innovation in the legal industry. The firm's distinguished history began with founder Charles Evans Hughes, future Governor, Secretary of State, and Chief Justice of the U.S. Supreme Court. From the beginning, Hughes Hubbard's goals have always been the same, to do everything we can in support of our clients and to always to do more than is expected of us. At the turn of the twentieth century, a time when most Wall Street firms were focused only on securities work, our founder, Charles Evans Hughes, decided that the firm should partner with its clients in order to meet all of their legal needs. From the start we handled international matters. Our international footprint and collaborative skills enable us to protect our client's interests in critical disputes around the world. Hughes' value of client service and his novel thinking about the practice of law have been passed down through generations of the firm's lawyers. Each of our highly esteemed practices is committed to providing superior, individualized service and adding value to our clients.
Like Hughes, who earned trusted adviser status by immersing himself in his clients' businesses, we are known for our strong commitment and dedication to our clients. Every attorney in the firm understands that the practice of law requires extensive knowledge, outstanding skills and unwavering responsiveness. We also recognize that it takes more than smart lawyering to cultivate and maintain lasting relationships, which is why some of our client relationships have lasted for more than half a century.
We do best with clients who want to team up with a law firm.

Clients regularly seek our help for their most important matters. In the Vioxx litigation for Merck, we served as co-national counsel. We represent the SIPA Trustee for the liquidations of Lehman Brothers and MF Global. We represent all of the Big Four accounting firms, many of the world's leading financial institutions and numerous Fortune 500 clients. We also represent sovereign nations such as the Government of Canada in what The Economist called "the biggest trade battle on the planet."
We've always had a commitment to things larger than our own pocketbooks.

Hughes Hubbard's unwavering commitment to diversity and pro bono has distinguished the firm since its inception. From Charles Evans Hughes who campaigned vigorously for women's suffrage in his run for the U.S. presidency in 1916 to Candace Beinecke, who became the first woman to chair a major New York law firm in 1999, to topping The American Lawyer's Pro Bono Scorecard, a steadfast commitment to these core values is part of our DNA and has guided the firm's practice from its beginnings to the present day.
We want to practice only in areas where we can add value

At Hughes Hubbard we strive to provide unparalleled service and exceed client expectations in the most complex legal matters. Our areas of practice include, among others, domestic and international mergers and acquisitions, corporate governance and security law, corporate reorganization, commercial litigation, international arbitration, product liability, antitrust, intellectual property, internal investigations and ethics compliance, international trade, labor, employee benefits and tax. Our approach also includes holistic approaches to specific industry sectors, such as: energy, financial institutions, gaming, life sciences, media and entertainment and transportation.
At Hughes Hubbard lawyers like to work hard and they like hard work. Our clients don't hire us to do what's easy. We have more than 350 lawyers practising across the United States from offices in New York, New Jersey, Washington, D.C., Miami, Los Angeles, and Kansas City; in Europe through the firm's Paris office; and in Asia from our Tokyo office.
Shearman & Sterling