Debevoise & Plimpton LLP
Debevoise has been active in Latin America for more than 50 years, and over the past decade has worked on hundreds of completed transactions, including some of the largest and most challenging projects across the region. Debevoise's Latin American practice is based in New York and draws support from the firm's European and Asian offices. The firm is a recognised leader among international law firms active in Latin America, with a large number of lawyers who spend a significant amount of time on Latin American matters. Many of them speak Spanish and/or Portuguese. The firm invests heavily in its international intern program, employing some of the best-performing lawyers in the region. In 2013, Debevoise's work in Latin America led it to win two first prizes in The American Lawyer's Global Legal Awards program. The firm won for Global M&A Deal of the Year, Chile, for its representation of Mitsui & Co. Ltd in its joint venture with Corporación Nacional del Cobre de Chile (Codelco), and for Global Dispute of the Year, Investment Arbitration, for its work in Occidental Petroleum v Ecuador.
AREAS OF PRACTICE
Corporate M&A: clients and representation highlights include: Mitsui, in its agreement with GDF SUEZ Energy Latin America Participações Ltda, a subsidiary of the global energy group GDF SUEZ S.A., to participate in the Jirau run-of-the river hydropower project (a project with a value estimated at approximately BRL 16 billion, as of December 2012); The Principal Financial Group, in its acquisition of AFP Cuprum S.A., a leading pension manager in Chile; and the New York Life Insurance Company, in the sale of its Mexico surety subsidiary, Fianzas Monterrey, S.A., to ACE Group for about $285m.
Private equity/fund formation: the firm's private equity funds practice is one of the largest in the world, and the firm has consolidated its role as the go-to counsel to work on the highest-profile and largest funds raised in Brazil and the rest of Latin America in the recent past. Clients include both large global firms, such as Carlyle, which most recently raised a Peru fund, and its parallel vehicles, extending the South America investment presence Carlyle established five years ago. Other notable clients include The Capital Group, Tishman Speyer and Brookfield, as well as leading asset managers based in Latin America, such as Vinci Partners.
Capital markets: the Latin America capital markets practice at Debevoise continues to expand its presence in the region, while fostering relationships with existing clients. The firm has advised Globopar, Brazil's largest media and communications conglomerate, on a $500m combined offering of senior notes, senior secured exchangeable notes and step-up senior notes; and Itaú Unibanco, on its international financing program, including takedowns under its MTN program, and its SEC reporting and US securities law compliance matters.
Project finance: Debevoise's infrastructure and project finance group has extensive experience in the infrastructure sector in Latin America, including transactions taking the form of public-private partnerships (P3s or PPPs). Sectors in which the firm has acted include transportation, energy, mining and natural resources, power generation and communication.
The firm has also played a leading role in the development of privatisation and P3 structures in Latin America, having been involved in most of the P3 projects in Chile and in many others in Mexico and elsewhere in the region.
In 2013, the firm's project finance practice saw the addition of preeminent Canadian practitioner Doug Buchanan QC, who has joined the firm's New York office as counsel and co-head of the global infrastructure and project finance group.
International arbitration and white collar: the firm advised the Occidental Petroleum Company and the Occidental Exploration and Production Company (Occidental) in an ICSID arbitration, winning what is believed to be the largest ever BIT award, US$1.8bn (US$2.3bn including interest). The filing of the claim was made two days after Ecuador terminated all of Occidental's exploration and production rights and seized all of its assets in the country. Global Arbitration Review (GAR) named the Occidental award 'The Most Important Published Decision of 2012'.
Debevoise has also aided Perenco Ecuador Limited in its BIT and contract claims against the Republic of Ecuador. The firm won a groundbreaking, unanimous decision on provisional measures in favour of its client, ordering that Ecuador and Petroecuador refrain from instituting or further pursuing any action, including oil seizures, to collect disputed Law 42 amounts.
Finally, it has advised the Pueblo Viejo Dominicana Corporation, a joint venture between Barrick Gold and Goldcorp Inc, in a dispute with the government of the Dominican Republic regarding the Pueblo Viejo gold, silver and copper mine, the largest foreign investment in the Dominican Republic.
Debevoise also has one of the leading anti-corruption and anti-bribery compliance practices in Latin America, advising on the US Foreign Corrupt Practices Act (FCPA) and the UK Bribery Act (UKBA). The firm has handled several Latin American investigations for various international companies and regularly conducts FCPA due diligence for clients on deals involving Latin America. In addition, the firm also provides discrete FCPA and UKBA advice to various clients based in Latin America. With the growing focus on anti-corruption and anti-bribery compliance by governments and companies based in Latin America, or investing in the region, Debevoise is further solidifying its position as one of the top international firms acting in this area in the region.
CLIENTS
The firm's client base includes many of the most prominent companies and families in Latin America, as well as multinational corporations and private equity funds investing in the region. Clients based in the region include BM&FBOVESPA, Brookfield, The Capital Group, The Carlyle Group, Companhia Brasileira de Metalurgia e Mineração (CBMM), Companhia de Bebidas das Américas – AmBev, Itaú Unibanco, Organizações Globo and Vinci Partners. The firm also has a strong client base of international corporations, including Antofagasta, Inter-American Development Bank, International Finance Corporation, Mitsui, Occidental Exploration and Petroleum Company, Phelps Dodge and Prudential Financial.
TozziniFreire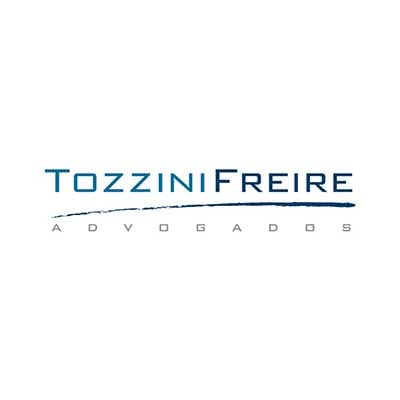 Introducing TozziniFreire: Brazil's Legal Services Innovator
Since 1976, TozziniFreire has distinguished itself as a premier, full-service law firm by consistently providing legal services to domestic and international companies in a wide variety of business sectors.  Along these years, we have played a major role in many of the most significant transactions in the Brazilian market, becoming one of the largest and most prestigious firms in Latin America. What has driven the firm's growth and differentiated us in the legal industry is our obsession in delivering results for our clients. Their achievements are the foundation on which our own success relies.
TozziniFreire's "One Firm" Principle
We see ourselves as one cohesive entity and act accordingly.  In other words, there are no regional partners and no "associated" or "correspondent" offices.  With fully-owned offices in several cities in Brazil, we are able to guarantee our clients the same outstanding services and one-firm resource throughout the country.  This concept enables us to safeguard, every day, the firm's culture, mission and values – which are the essence of who we are and what we do.  So important is this one-firm principle that we introduced an open-plan design to all our offices.  This design greatly facilitates information exchange, creates more synergy among our teams and nurtures stronger interpersonal relationships.
Practice Groups
TozziniFreire has extensive experience in assisting international companies in setting up their enterprises or ventures in Brazil.  Its areas of specialization include corporate transactions, mergers and acquisitions, antitrust, restructuring and insolvency, capital markets, banking and finance, litigation, white collar crimes, arbitration, asset planning, compliance & investigation, consumer affairs, corporate social investment, international and local contracts, international trade, investment funds, corporate finance, private equity & venture capital, project finance,  tax, intellectual property, real estate, environmental law, labor, immigration, and administrative law. Our industry focused groups include: agribusiness, automotive, bioenergy/ethanol, engineering & construction, energy, timberland investment, infrastructure, life sciences, shipping & logistics, media & entertainment, mining, climate change and carbon market, oil & gas, insurance and reinsurance, telecommunications/information technology, and water and sewage.
Foreign Practice Groups: Another TozziniFreire Innovation
To help our clients respond faster and more effectively to the increasing business opportunities between Brazil and both key existing trade partners and specific fast-growing economies, our firm pioneered the creation of foreign practice groups in Latin America, composed of professionals dedicated to these major trade and investment destinations. Starting with our Asian initiative (comprising our China, Korea and Japan practice groups) and fast developing towards other markets (German-speaking Countries, Latin America and Portuguese-speaking Countries), these unique knowledge centers are staffed with professionals familiar with the culture, legal and business practices of each region, and who are charged with keeping up-to-date with bilateral trade relations developments between Brazil and those countries.
n addition, TozziniFreire has close relationship with the most important foreign law firms and is a member of international law firm associations, which grants us the exchange of professional information around the world and access to local market knowledge and legal expertise of independent members globally.
Firm Facts
Lawyers: 440, including 76 partners
Legal Trainees: 180
Support Staff: 460
Offices: 7 – São Paulo (2 offices), Rio de Janeiro, Brasília, Porto Alegre, Campinas and a representative office in New York