Muñiz, Olaya, Meléndez, Castro, Ono & Herrera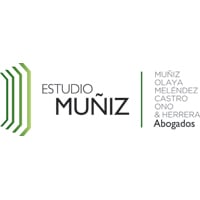 Muñiz, Olaya, Meléndez, Castro, Ono& Herrera is sponsoring for the second time the GC Powerlist Peru published by The Legal 500. The overwhelming response to the first edition of the GC Powerlist: Peru made us consider sponsoring this second edition. We congratulate all legal teams who have been acknowledged in this year's GC Powerlist Peru: Teams 2019.
Almost exactly a year ago, we said that the legal profession in Peru faced huge challenges and that many changes still lay ahead for the legal system. We also said that the role of legal managers in local companies would turn out to be crucial for each company. And I think that we were not wrong. Our firm has prepared a document, which we successfully launched last year using the power of social media, which briefly describes the challenges that we will face in the coming months. We have called this document '2019 Trends: Changes and Potential Regulatory Scenarios for the Year that is Just Beginning'.
One of the most relevant topics discussed in this document deals with the eventual approval of a legal rule that will require the previous control of some transactions such as mergers, acquisitions and other transactions that result in a change of control of the business unit. The document also considers a more stringent application of the good governance rules promoted by the Superintendency of the Securities Market. The recent approval of the regulations under the law which regulate the liability of legal entities for corruption and money laundering off ences has also been considered in this document, emphasising the importance of having a prevention model in place.
Another relevant item of the future legal agenda deals with the consequences of the regulations which oblige companies to identify the 'final beneficiary' to prevent money laundering, tax evasion and avoidance, and conduct more audits to oversee the fulfillment of legal rules dealing with the protection of personal data by companies gathering personal data. These are some other aspects to be considered, without neglecting other regulations affecting sectors which are of utmost importance to the country, like mining, electricity, health, construction, infrastructure, and the retail industry.
As a result, we must stay alert to quickly inform our clients of the new regulations which will certainly be approved soon, and highlight all those aspects which could aff ect them. In turn, the legal managers of companies will play a key role in warning their general managers and the board of directors of any situation which may eventually occur.
Our firm, the largest in Peru's legal market, was founded almost 40 years ago and has a unique model of business in Peru, with regional offices in the 10 most important Peruvian cities. We are always where our clients need us.
Finally, we reiterate our congratulations to everyone who was nominated in the GC Powerlist: Peru Teams, including The Legal 500 and its editors on this excellent second edition for 2019.