fivehundred magazine |
March/April 2020
Want the inside track on what makes the world's elite law firms successful?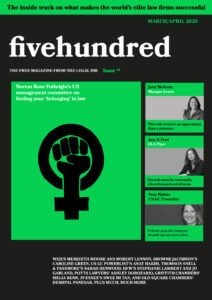 fivehundred, the magazine from The Legal 500, combines the knowledge of our experienced editors and researchers with expert contributors to give you an insight into the global themes affecting the legal profession.
This month we profile the practices and management responsibilities of four of nine Norton Rose Fulbright's US Management Committee – all women; three from minority backgrounds – and ask about their experiences as women in the legal profession. Elsewhere, Morgan Lewis' Jami McKeon shares her thoughts on leadership; Ann K. Ford speaks about creating a global competitive edge at DLA Piper US; Selendy & Gay's Jennifer Selendy talks about creating a culture of excellence; we learn how Weil has transformed its approach to diversity in client pitch activity, plus much, much more.
Featured...

Finding your 'belonging' in law
Female role models: spotlight on Norton Rose Fulbright's US Management Committee
Female role models: spotlight on Norton Rose Fulbright's US Management Committee
Inside this Edition