Editor's Letter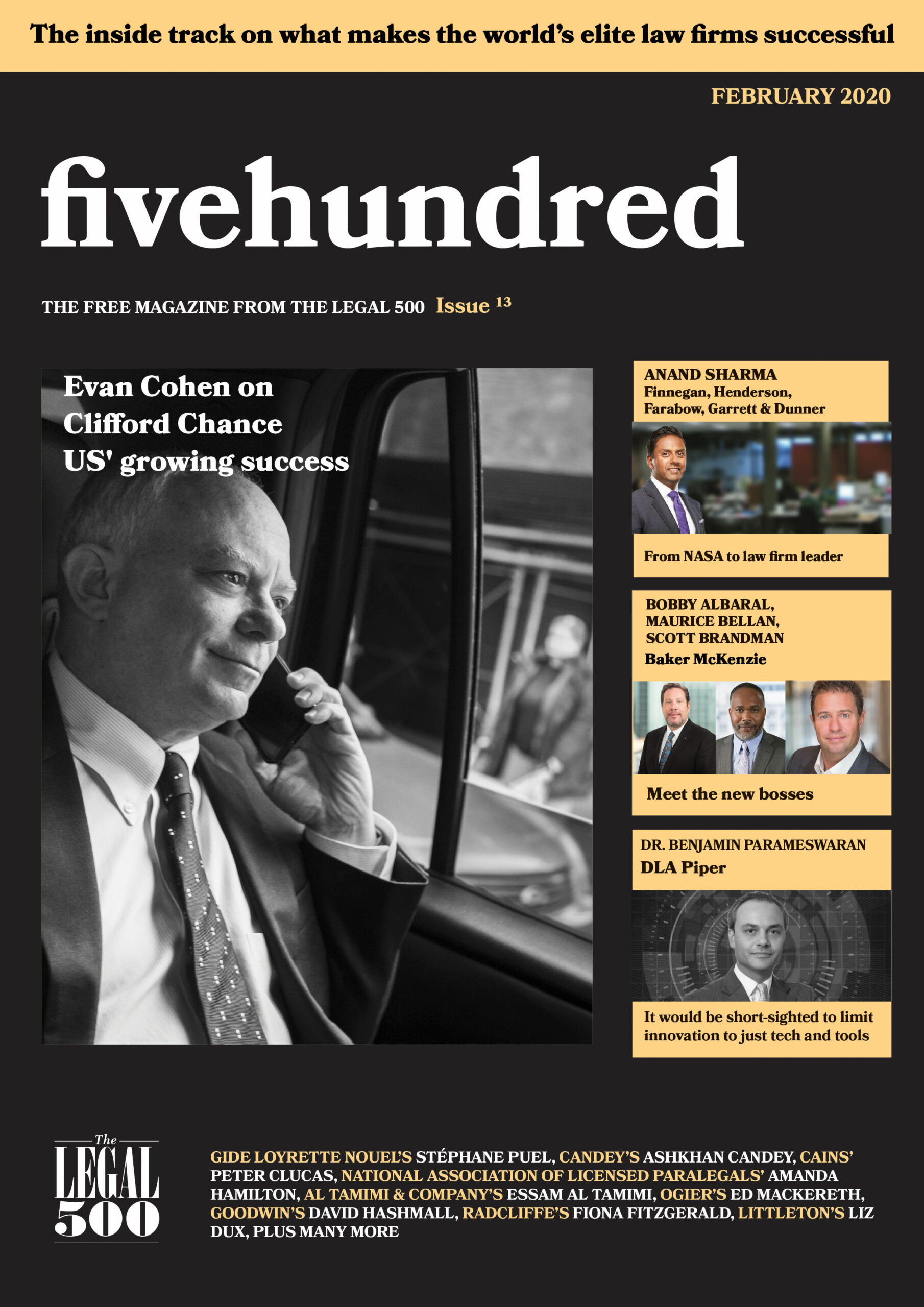 A happy 2020 and Year of the Rat to all our readers worldwide and welcome to fivehundred's new home. The eagle-eyed among you will notice that The Legal 500 has had a facelift over the new year with the launch of a brand new website. Part of this new look involves a dedicated hub for all of our exclusive content (www.legal500.com/fivehundred-magazine/) making it even easier for you to read and share our articles on the go. And you'll be wanting to do just that with our first full issue of the new year which has more exclusive insight into the legal world than you can shake a stick at.
This month sees our intrepid Helen Donegan speak with some of the biggest names in the US, including: Anand Sharma on switching NASA for a career in law and becoming the first managing partner of colour at Finnegan (page 28); Clifford Chance US' Evan Cohen reveals the strategy behind the firm's growing success (page 06); newly appointed managing partners Robert Albaral, Maurice Bellan, and Scott Brandman discuss their plans for Baker McKenzie's Texas, Washington DC, and Miami bases (page 18); Stefan Atkinson, Aaron Marks, and Matt Solum consider the factors involved in building a top tier litigation practice at Kirkland & Ellis (page 44); and David Hashmall details Goodwin's commitment to the new Move the Needle Fund, which aims to achieve measurable diversity goals in global law firms (page 50).
Not to be outdone, the rest of The Legal 500 team has also been hard at work, with Joe Boswell interviewing a who's-who list of in-house counsel on the issues facing Middle East-based legal teams and how law firms can best cater to these new challenges (page 76); Barnaby Merrill reports on Estonia's legal market, which remains stable amid growing economic uncertainty (page p118); in conversation with leading lawyers in Sweden, William Farrington provides an update on the Nordic nation's changing legal market (page p124); and Ben Wheway deep dives into the latest UK rankings to reveal which firms came out on top in 2020, as well as answering any questions you may have about the upcoming 2021 UK research (page p112).
And if that is not enough to make you leap headlong into this February's issue, then how about exclusive interviews with the leaders of DLA Piper in Germany (page 38), Gide Loyrette Nouel in France (page 58), Candey in London (page 64), or Cains on the Isle of Man (page 70). Still want more? Then Amanda Hamilton from the National Association of Licensed Paralegals will have you thinking about the importance of professional paralegals in your firm (page 92) and Ogier's Ed Mackereth predicts challenges ahead for the offshore market (page 96).
As always with fivehundred, there's all that and much more in this latest issue. I hope you enjoy this February 2020 instalment, and if you have any comments or feedback about our content or new look website then please get in touch.
See you again in March!
John van der Luit-Drummond
It seems we can't find what you're looking for. Perhaps searching can help.