McMillan LLP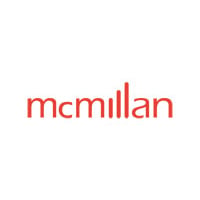 McMillan LLP is pleased to congratulate this year's in-house counsel named in The Legal 500's GC Powerlist: Canada Teams. This remarkable group of lawyers have earned recognition through their dedication to the success of their companies and profession, even as they navigate the choppy waters of an increasingly complex role. As a national business law firm, we have assisted general counsel with the many demands placed on them: legal advisor of course, but also operations manager, business strategist, procurement advisor, relationship manager, crisis counsellor, and budget "hawk".
Across the range of companies and sectors, we hear the same concerns from general counsel: how to manage the uncertain risks of lengthy litigation, cybersecurity and other crises within a fixed budget. Effective counsel are increasingly looking to their external legal advisors to be more than just purveyors of legal advice; they need to be drivers of solutions that help the business. That means being attuned to the need for cost-effective, timely and business-specific solutions.
McMillan is acutely aware of the need to predict and manage legal spend. In our experience, the demand for alternative fee arrangements has shown double digit growth. Creative counsel have worked with us to manage the unpredictability of legal spend, for instance by negotiating a single price for managing all of a company's litigation or structuring a discount/premium arrangement to control the costs of busted deals.
The exponential growth of new technology is creating new opportunities for innovation and mischief. Artificial intelligence and data analytics, while costly, are allowing companies and their advisors greater insight into the business. The sophistication and availability of legal operations products continues to grow, enabling legal teams to use data and analytics, apps and artificial intelligence to assign and manage work, and predict and prepare for future demand. However, new technology adds risk and security issues that continue to keep lawyers up at night. As a firm, we are investing in the same tools to address cybersecurity threats.
An ever-increasing area of in-house focus is managing the regulatory pressures that impact business strategy and overall results. Many
important business decisions need to be made in a context that includes public policy considerations, legal decision-makers and a wide variety of stakeholders. At our affiliated public policy shop, McMillan Vantage, we have seen the importance that good general counsel place on ensuring they bring all of these factors to bear as they advise their companies.
The hard-working counsel on this year's list certainly aren't resting on their laurels. McMillan looks forward to continuing to work closely with in-house counsel to drive efficiency, reduce risk, manage costs, and advance innovation in our profession.