Sponsor Message
Muñiz, Olaya, Meléndez, Castro, Ono & Herrera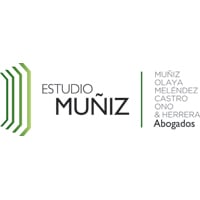 Muñiz, Olaya, Meléndez, Castro, Ono & Herrera is proud to sponsor the first edition of the GC Powerlist Peru and congratulate every illustrious general counsel included in this list.
We are facing challenging times for the legal profession in Peru and facing various changes in our legal framework. The Peruvian legal environment is becoming more demanding and general counsel play, now more than ever, a critical role as gatekeepers of said legal framework. Our motivation is being able to collaborate with in-house legal teams in achieving their objectives on a full time commitment and disposition basis.
Our country is facing decisive moments. All members in the community need to share common values and vision. Transparency, ethics, compliance and corporate responsibility are the foundations of our profession. We need to embrace these principles in our day-to-day activities, incorporate them as part of our DNA and spread them among the members of our guild.
It is essential to support confidence and stability. Work together and not rely solely on the government to promote stability; we also need to create genuine commitment in ours and the next generations of lawyers. Lawyers are essential in providing foreign and domestic investors with tools that enable them to understand the economic, institutional and social landscape. Peru still has a great deal to offer in order to attract investment in the region and remains an appealing jurisdiction for current and new players to expand their businesses.
Our law firm was established 37 years ago in the local market. We are currently the largest law office in Peru with a unique model of business and with nationwide coverage through our regional offices located in the cities of Trujillo, Arequipa, Chincha, Ica, Piura, Cusco, Chiclayo, Tacna and Ilo.
Muñiz has recently adhered to the United Nations Global Compact, the world's largest corporate sustainability initiative that supports companies to do business responsibly by aligning their strategies and operations with ten principles on human rights, labour, environment and anti-corruption.
Congratulations to everyone named in this publication. We look forward to collaborating with you in the near future.