Esin Attorney Partnership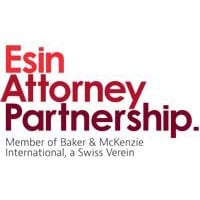 Past
We began our journey 20 years ago in modest conditions, and the destination we have arrived at makes us truly happy and proud. Several in-house lawyers who we count as friends crossed paths with us in our decades-long journey. We are thankful to the contributions of our teammates past and present, and our clients who continue entrusting us with their businesses.
Present – Why The Legal 500 Powerlist Sponsorship is important to us
We have sponsored the GC POwerlist for three consectutive years becuase we truly believe in-house lawyers play a crucial role in the healthy management of a company. Previously, in-house counsel acted according to company instructions; currently, in-house legal departments are like pilots flying in the dark of night without a navigation device. Corporate law departments shoulder tremendous resposibilities in the assesment, calculation and management of risks. We are pleased to see the quality of companies' in-house legal departments increases every year.
In this context, we want to contribute to all efforts and organisations developing better communication between in-house lawyers. The Legal 500's GC Powerlist event will provide the necessary platform to further in-house lawyer dialogue, likely leading to the formation of crucial market practices.
At the end of the day, we all are lawyers working in the same sector and any measure that strengthens communication with each other will yield positive results for the legal practice and enviroment. In turbulent times such as these, where the slightest strategy mistake can threaten a company's future, it is inspiring to know our colleagues are playing significant roles in the execution of company-wide strategies.
Future – Increasing importance of quality in-house counsel in Turkey
We are aware of the critical importance of corporate law departments, an importance that will only increase in the comin years.
In-house lawyers best understand the daily operations, needs and strategies of a company; they provide seamless and optimal organization between assigned offices. Outsourced lawyers are unable to infiltrate a company's inner workings the same way; therefore, in-house lawyers have a greater responsibility and advantage.
Teamwork
In-House lawyers are a company's backbone. The necessity of working as a team to ensure the coordination of managers and external experts for successful outcomes is indiputable. We believe corporate law departments, an increasingly vital part of a company's team, will enhance productive teamwork
Sustainabilty
One of the most important concerns for companies is sustainability. Companies must unquestionably develop ethical and appropriate codes of conduct to acheive sustainability, especially in countries such as Turkey. In order to ensure continuity, companies able to grasp this concept will ensure their longevities, while those unable to adhere will threaten their futures by scrambling for short-term solutions on a daily basis.
Expertise
The expansion of regulatory areas such as information technologies will again revealthe importance of expertise. In addition to their in-house legal department's expertise of core areas, companieswill have to seek outside advice regarding niche fields. We, as Esin Attorney Partnership try to deepen our knowledge by establishing dedicated departments for nearly every area of law. We believe other law firms on the market will follow suit, thereby widening their scope of services and influence to better serve themselves and their clients.