Sponsor Message
McCarthy Tétrault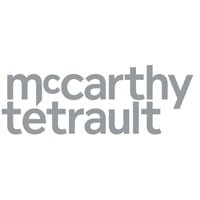 We are delighted to congratulate the counsel named in the inaugural GC Powerlist Canada. The impact these remarkable individuals have made on their companies, on the legal profession and on the Canadian business landscape cannot be overstated. They are innovators, entrepreneurs and leaders who have left an indelible mark on our country's economy. Next year, Canada will mark its 150th anniversary of being a nation. A nation of innovators and explorers, with a rich cultural history encompassing our indigenous people as well as new Canadians who have built their families and businesses here. This is a country still youthful and vibrant, brimming with opportunities for Canadian and international business.
Canada is one of the 10 largest industrialized countries in the world. In fact, the World Economic Forum has declared our banking system to be the soundest in the world – for the eighth consecutive year. Our economy is robust, with strong inbound and outbound investment, a thriving technology sector, and significant activity in many of the industries on which the Canadian market was built, including retail, mining, agriculture, power, infrastructure, financial services and real estate. Canada continues to be an attractive market for foreign investment. With major international trade treaties either in existence or near completion, foreign investors will be best positioned in Canada to benefit from assured preferential access. Our country is exceptionally well-placed to continue to show a strong record of growth as we have over the past decade.
McCarthy Tétrault is excited to support the prestigious GC Powerlist as they recognize those who continue to drive the legal industry forward. Many law firms resist change, content to maintain traditional ways of doing business and serving clients. But we see things differently, through a lens of opportunity, welcoming the demands of our evolving industry by developing innovative tools and solutions for our clients. Our firm provides a broad range of legal services, advising on large and complex assignments for Canadian and international interests. Built on a unique model of collaboration, innovation and efficiency, we offer unequalled legal talent, industry knowledge and practice experience. We efficiently deliver customised legal services to help our clients achieve the results that are important to them in the industries that drive Canadian business.
On behalf of all partners at McCarthy Tétrault, I applaud the corporate counsel included in the GC Powerlist Canada. We are inspired by the drive demonstrated by this exceptional group of counsel to tackle the current economic and business challenges, to harness the power of new technology, and to ask more from their law firms. I urge the international business and legal communities to look to Canada as it remains to be a great place to invest, work and live.