Esin Attorney Partnership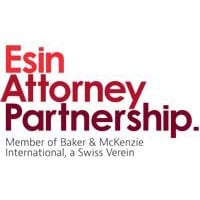 We are delighted to sponsor The Legal 500's GC Powerlist once again. We belive that corporate counsels and their in-house teams play a very crucial role in the success of companies and create significant value. it is a very special feeling for us to contribute to the appreciation of this value. We would like to note that The Legal 500 researchers independently selected each one of you. Even though we were not involved in the selection process, we know these nominations are the result of your meticulous and excellent work. For this reason, I would like to congratulate all of the legal teams who made it onto the GC Powerlist.
Another reason the GC Powerlist event is so important to us is that it brings us all together. We belive that market practice must be developed in every possible field of the law in Turkey, and we think corporate counsels and their teams make significant contributions to the establishment of such practice. We know that communication and collaboration are essential for the establishment of market practice.
Although we are celebrating tonight, we hope that this event will lend you the opportunity to meet different peoplefrom different sectors and deepen your relationships with one another. I hope that the opportunity for open communication increases in the forthcoming days and we take new steps in developing higher legal standards in the market practice.
During the difficult economic conditions our country is experiencing, your contributions to the healthier management of companies are of critical importance; we place our trust in you. We also want to thank our clients, many of which are here among us, for placing their trust in us. This mutual trust will be the foundation to building  a better professional life together.
As you know, in our country, continuity  is a major issue. We are glad to see The Legal 500's continuous support in the GC Powerlist events in Turkey since 2015 and  hope  to be sponsoring this admirable event for many more years in the future.
We hope that when we meet again next year, circumstances will have improved and that new esteemed members of the legal profession will join us.
Finally, I would like to talk a little bit about us. Our most exciting news is that two of our colleagues who started out as interns at our Firm became partners this year: Duygu Gultekin and Caner Elmas. I would like to thank them once again for their devoted work. Well deserved, Duygu and Caner!
We experienced many positive developments last year. We believe these positive developments are far more important than prevailing in lawsuits or making money. Over the last year, we focused on increasing our colleagues' quality of life and strove to ensure a better future for them. We founded the EsinWomen Committee  in August 2017, whose strategic priorities are to improve the ratio of women in leadership positions and proactively promote gender equality and women's empowerment, not only in the firm but also in society at large.
Accordingly, we attempted to resolve an issue that we see occurs most often with our female colleagues. We observed that women who are successful in their education and professional lives tend to withdraw from their profession as they advance in their careers. One of the main reasons for this withdrawal is motherhood.
We think that the manner in which business and society treats motherhood constitutes a serious obstacle to professional development in our country.
Therefore, we developed certain special compensation models at our Firm. We not only pay full remuneration to our female colleagues who accept to work from home part-time for four hours a day after their statutory maternity leave ends, but also consider this remote and flexible working period as full­ time work when considering our colleagues' seniorities.
Our Firm has offered marriage and baby bonuses for the last 15 years. We are attempting to create an environment where motherhood does not require women to leave their profession. Another significant initiative that we have taken is to require our lawyers to work from home at least twice a month, to allow them to work comfortably and with flexibility. In this same vein, we have introduced a daily casual dress policy in our office. We believe that the quality of our work is the most significant thing, and our colleagues' contentment greatly affects the quality of our work. Another practice we have newly introduced is to send our newly wed colleagues on a honeymoon to anywhere in the world. As you might guess, we have had many weddings this year!
We have witnessed the effects of these policies soon after their introduction: our work quality and happiness have multiplied.
I would like to congratulate you all once more and hope to see you again in happier, lasting days in which we all comprehend and respect the significance of the rule of law better.