Esin Attorney Partnership, A member firm of Baker & McKenzie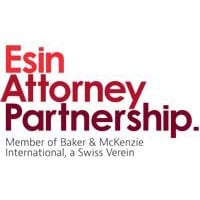 We are delighted to sponsor The Legal 500's GC Powerlist for Turkey once again. Congratulations to everyone who made this year's list.
Over the past years, the role of the general counsel has shifted from the back seat to a specialised and influential business steering role. General counsels are expected to combine legal knowledge with practical commercial solutions, and never has this skill been more necessary than now, in the aftermath of July's recent coup attempt. We are pleased that the coup attempt was unsuccessful and that this terrible event had the positive effect of unifying the people of Turkey in support of its democratic foundations.
Recent events exposed the extent to which Gülenist networks have undermined certain business sectors with illegal practices and unfair competition. The legal sector was one such sector, and the return of proper transparency and ethics is a welcome boom to our profession. We are relieved to see that gone are the days when a law firm reached success by selling its dubious connections rather than its legal acumen. Unfortunately, many companies are now suffering the consequences of such law firms' past unscrupulous behavior. Since day one, we have been committed to propriety and integrity in developing our relationships; days like these prove the importance and value of our approach.
Consequently, the procurement of legal services is becoming increasingly more diverse and complex as legal service becomes less of a commodity. Necessity is driving general counsels to prioritise legal certainty, quality and expertise over exclusively price-driven considerations.
We have addressed the growing need for dynamic, innovative and business-savvy lawyers by establishing a strong and ethical law firm that delivers high quality work. We have accomplished this over many years of committed team-building, rather than relying on a small number of star players. Investing in our work force and practice areas increased the quality of our services, and as a result, our firm has grown to employ more than 90 people this past year.
As a full-service law firm, we offer legal advice in all practice areas. Our compliance and anti-bribery practice in particular have been very busy after the coup attempt. Our highly specialised ITC and data protection team has provided several crucial data protection trainings to our clients, while our capital markets team handled three IPOs this year.
Finally, our goal is to elevate the legal profession into the most progressive and rewarding career path. We continue to give back to our community, most prominently through the efforts of our Diversity Committee, which continues to actively lead collaborative efforts to promote awareness of gender, ethnic, disability, and diversity issues. This year we held a panel, "LGBTI in the Workplace," followed by cocktails to commemorate Pride Week and once again displayed the LGBTI flag on our office building for the entire week. Friends, colleagues and clients attended the panel to discuss the common issues faced in the professional environment and how employers and employees can become supportive allies to our LGBTI colleagues. Many of our lawyers and staff continue to participate in our firm's pro bono initiatives supporting C@rma, Yenidenbiz, PILnet, and other organisations. We are excited to continue partnering with our clients and colleagues to work for our community.
In addition to our commitment to diversity and community, we are also committed to our employees. To this end, we will soon be rolling out a program to let our lawyers work from their homes without coming to the office. We hope that this incentive will allow our lawyers to balance their private life with their careers. We continue to provide opportunities for training and secondments to all of our lawyers throughout their careers.
Our dedication to the legal profession extends to our clients and with this sponsorship of the The Legal 500's GC Powerlist, we hope to draw attention to the great work being done by in-house teams, and the contributions that you make to your respective companies which extend well beyond the legal function.