Kochański Zięba & Partners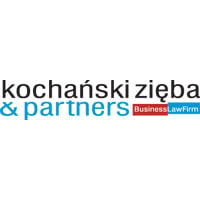 Once again, we at Kochański Zięba & Partners are very pleased to congratulate the in-house legal teams that have been admitted to The Legal 500's GC Powerlist: Central and Eastern Europe Teams 2018. In its second year and the second year that we have supported the publication, we are proud that this year the Powerlist celebrates not only general counsel but whole in-house legal teams.
We also wish to congratulate the nominated in-house teams that this year did not make it to the list.
In the past 20 years, there has been a revolution in the legal profession. General counsel and in-house lawyers have risen in quality, responsibility, power and status. Once classed as second-class citizens in corporations, in-house lawyers have become core members of top corporate management with the general counsel equaling in importance the chief financial officer. The modern role of inside counsel is to help attain the corporate mission of high performance, as well as to be guardians of the corporation maintaining a high level of integrity.
In-house counsel are no longer limited to advising their management colleagues on law, nor are they solely responsible for allocating work to outside law firms. Modern in-house legal teams participate in debate and discussion within the corporation, not just about law, but about business; not just about defense, but about offense; not just about risk, but about opportunities.
With a combined population of just under 200 million (roughly the equivalent of the UK, France and Germany combined), Central and Eastern Europe is a major legal market. It is easy to forget that many of the countries of Central and Eastern Europe have only existed as free markets for a period of no more than 30 years. The progress that has been made in this time is nothing short of remarkable.
The in-house legal teams in this year's list reflect this progress. An increasing number of multinational companies have established a dedicated in-house legal function to the Central and Eastern Europe market.
Moreover, there has been considerable recent growth in companies and funds operating in various industry sectors, emanating from the Central and Eastern European region and now conducting business in the wider global economy. In-house lawyers at Central and Eastern European companies and funds have the same level of performance and responsibility as Western European and US in-house counsel. To a greater extent they find themselves coordinating international legal teams, and are more and more involved in strategic decision making.
The year 2017-18 has been unlike any other previous year. In-house legal teams in Poland, by way of example, have had to come to terms with and manage the introduction of GDPR, changes to anti-bribery and anti-money laundering legislation, far-reaching changes to employment law, and a greater need for embracing cybersecurity.
Our firm is shaped to stand alongside our Polish clients from their inception and to provide comprehensive expert assistance to their feneral counsel and in-house teams in the long term, to assist them in achieving their goals and objectives. It is our conviction that preserving long-standing relationships, allows us to understand their business and industry better, to understand their objectives, and in doing so we are not only able to adapt accordingly, but more importantly, to stand shoulder-to-shoulder in a fully trusted relationship at every step of their development both in Poland and on the international market.
An in-depth understanding of the Polish and Central European market means that we are also well-placed to assist in-house counsel of international companies and funds that operate in Poland, including those that have existed on the Polish market for some time, as well as those taking their first steps in what can be a fast moving market. Our aim is to pass on our knowledge, to educate, to foresee problems before they arise and to aid in-house legal teams in their performance by adding value to their functions at every stage.
We look forward to continuing our good working relationships with our in-house colleagues, and embrace the possibility of working with an increasing range of counsel as our relationships and client base expand.
Once again, huge congratulations to everyone that made this year's GC Powerlist: Central and Eastern Europe Teams 2018.
Maravela Asociatii
GCs and their teams work together like a clockwork system, where each part intertwines with the other to provide both the company and the external legal counsel with the necessary data in order to achieve the best possible results.
Endowed with the ability to speak many business-related languages, GCs speak fluent economics, market specificities and strategy, all beautifully wrapped in solid legal coating. And all that in a variety of sectors.
Throughout our careers we have worked with many lawyers and we acknowledge, appreciate and salute the excellent collaborations we had with highly skilled GCs and their teams, that undoubtfully contributed to our own current success and recognition.
We are thrilled to see that The Legal 500 are dedicating a new edition to the CEE region and we warmly congratulate all nominated and acknowledged teams!
HRK