Let your law degree take you into the boardroom
Use your legal knowledge in a job which sits at the heart of an organisation with boardroom responsibility, is jam-packed with variety and a competitive salary to boot. Consider a career in governance as a company secretary. Hawys Boobier, freelance writer and editor,  finds out more about this unique and exciting role and how you can experience it.
Company secretaries fulfil a crucial role at the top of an organisation, advising directors on governance – the system that enables management and the board to deal more effectively with the challenges of running an organisation. It is a responsible, varied and influential role, and one which is only growing in importance. They are valued strategic advisers with in-depth knowledge of law, taxation, finance and management. They give independent, impartial advice and guidance to directors, shareholders and trustees as well as other key decision makers across the private, public and not-for-profit sectors. They support and advise the boards of organisations on their duties and responsibilities, as well as any changes and developments in the laws affecting the operations of the organisation and ensure that the organisation complies with regulatory standards. In an increasingly regulated world, it goes without saying that this is no mean feat.
To say that the role of a company secretary is broad would be an understatement. Typical responsibilities can range from organising the AGM to collating a company's annual report from stakeholders across the business. While there is undoubtedly an administrative element to the role, particularly when you start, as the primary governance professional in an organisation, company secretaries do far more than simply record the minutes of meetings, issue notices and file statutory documents. "No two days are the same", says Samira Chambas, Company Secretarial Assistant at Aviva Secretariat. "My day could involve a variety of tasks, including drafting and uploading papers for board meetings, attending and minuting meetings, preparing and submitting RNS stock market announcements, performing board effectiveness reviews, as well as notifying Companies House, the Financial Conduct Authority and other relevant regulatory bodies on company changes such as share capital increases/decreases, director appointments or resignations and dissolutions or liquidations. There is also quite a lot of research involved in the role of company secretary, such as reviewing the impact of government policy and publications and making sure that the board and the company as a whole adheres to the highest legal governance standards."
The eyes, ears and conscience of an organisation
Company secretaries are the eyes and ears of an organisation, ensuring that crucial information flows securely to the correct people, that board meetings are effective and that proper records are kept. Working in such close proximity to the board of directors inevitably means being privy to some of the most important decisions made within an organisation. "When I worked in professional services, I had close contact with the board," says Samira. "In a listed company, a lot goes through the deputy company secretary or the general counsel, but I do get to work closely with the board on some things. Being privy to important information by being the first point of contact when the company wants to set up an insider, confidentiality or project list, makes the role feel really important. You have to know what is going on and you have to be confidential".
Company secretaries gain an insight into the many different areas within a business, making them all-seeing, all-knowing and consequently extremely valued. They become an integral cog, to such an extent that company secretaries are often referred to as 'the conscience of an organisation'.
They also interact with a wide variety of different stakeholders, both internal and external.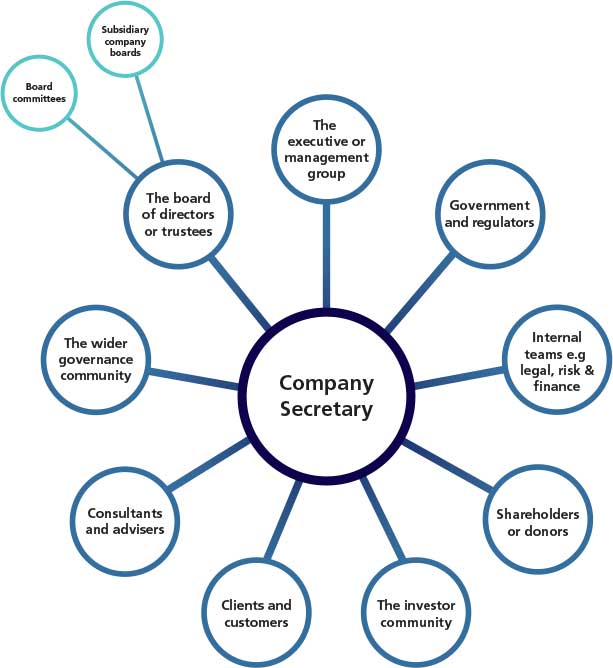 "Working with different stakeholders and for different departments you see the length and breadth of everything that is going on in the organisation," says Samira.
Unlike lawyers who will present to the board on a particular issue and then leave the meeting, a company secretary will sit through the entire meeting and consequently obtain a vast repository of knowledge about the entire organisation. The breadth of the role means that knowledge is acquired quickly and rising up the ranks can happen more swiftly than you might think. As the responsibility grows, so too can the salary, meaning that the move up the remuneration ladder can also be a rapid one.
The career progression path is clear, although it is by no means narrow or rigid. The skills acquired are transferrable, so despite having the word 'company' in the job title you can apply them to a field outside the corporate world – working for a charity, sports organisation, educational establishment or in the health service, for example.
In order to do the job well, you will need values, understanding and practice (see chart below). Having a strong moral code is a must as you will be responsible for ensuring that your organisation operates legally, appropriately, ethically and fairly.
The role is full of variety, but also responsibility. Governance has grown in importance since the 2008 financial crash as businesses and other types of organisations have sought to avoid the pitfalls which led to the crisis. It evolves constantly as new challenges arise: Brexit, COVID-19… whatever the scenario, there is always a pressing need for high-quality company secretaries to help steady the ship.
The importance of the role means that professional qualifications are desirable. The Chartered Governance Institute has a number of qualifications, which are recognised worldwide for their depth and status. The Chartered Governance Qualifying Programme is the Institute's flagship qualification and the most common route to GradCG status and Chartered membership of the Institute. If you have a law degree or a certain number of years in a legal role under your belt, you have fewer modules to take. See the diagram below for routes into the programme.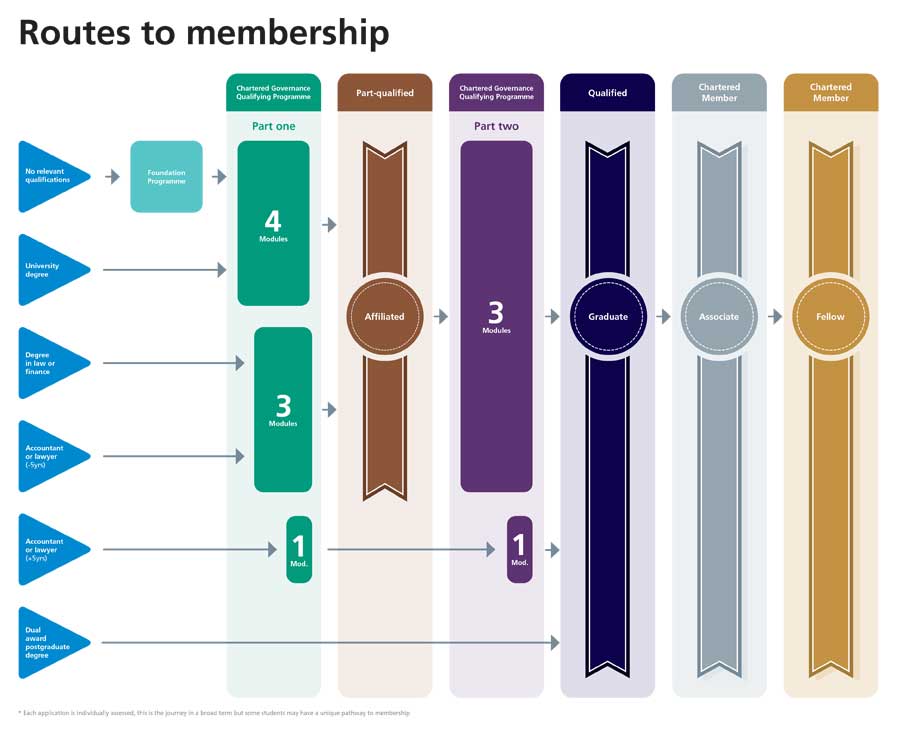 How do I know if it's for me?
As with any role, the best way to find out if a company secretarial position is for you is to see it in action. Work experience is an invaluable way to get a real feel for the role and to meet people who can give you advice gained from first-hand experience.
Public limited companies, housing associations, charities, the NHS and universities: all of these institutions have secretariats that you can seek work experience in. Or you could volunteer for a committee, for example a sports association or a university committee.
But don't worry if you don't have a couple of weeks to spare. Every year, The Chartered Governance Institute supports DMJ Insight Days, which are held in conjunction with companies such as Aviva plc, Sky plc and Rolls Royce plc. Insight Days allow you to go into a company for the day and take a look behind the scenes at the various responsibilities of a company secretary. They are open to students, post graduates, or anyone considering an entry to company secretarial practice. The Chartered Governance Institute also offers one-day to one-week shadowing opportunities, AGM invitations which provide a rare insight into a key event in the company secretary's calendar and student open evenings. If you want to explore the opportunities and benefits of a career in governance – click here.
If you want more information about the Chartered Governance Qualifying Programme, click here.
For more details about The Chartered Governance Institute and the profession, visit www.icsa.org.uk.
Case Study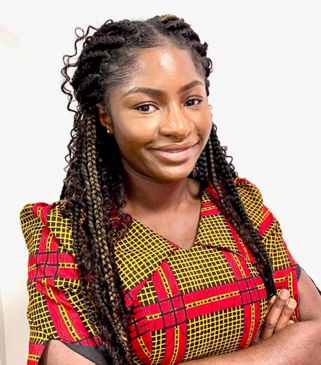 Samira Chambas ACG
What is your job title?  Company Secretarial Assistant, Aviva plc.
What does your role consist of?
My role within the Board and Corporate Governance team at Aviva plc is very broad and new opportunities arise on a daily basis. It consists of ensuring compliance of the UK Corporate Governance Code, The Listing Rules and Market Abuse Regulations, preparing and submitting RNS announcements to the market, drafting governance and shareholder sections for the full year and half year annual reports and accounts, undertaking research into relevant public consultations and drafting recommendations for board implementation – the list is endless. It also consists of liaising with senior stakeholders, shareholders and investors and ensuring that the corporate legal entity management system is updated at all times.
How did you get into the governance profession?
I found out about the industry in my second year of university in Portsmouth and, after undertaking some work experience at the Financial Conduct Authority, I decided that this was the role for me and followed it through by undertaking the Qualifying Programme exams with the Institute while working full time in a trainee governance role.
What is the most exciting work project you've been involved in?
The industry as a whole is exciting. I like the variety of the role; no two days are the same as cliché as it may sound. There is always something new and challenging which allows you to broaden your knowledge and experience.
I also really like the research aspect of the role. I'm currently working on the Parker Review, which looks at getting more ethnic diversity into the boardroom. When I started out in industry, I didn't see that many people who looked like me at the top both in the boardroom and in the governance profession, so the Parker review is something I am really excited about and I look forward to seeing how companies put that into action. I have recently launched a page on LinkedIn called 'Black Governance Professionals Network' which is open to anyone who supports our objective and commitment to ensuring that black governance professionals have a seat at the table, have quality of access and are being recognised, retained and promoted.
What skills do you need to succeed in your job?
The role requires and teaches you various skills, including but not limited to:
Attention to detail
Ability to work in a team and as an individual
Ability to prioritise and multitask effectively
People skills to be able to work with senior stakeholders and the Board
Time management especially in a listed company where there are legislative and regulatory deadlines such as  submissions to the market.
What are the biggest challenges in your job?
The ever-changing regulatory and legislative requirements require one to be and remain commercially aware at all times. Also, the current pandemic is challenging as governance professionals have to be innovative and find new ways in the governance sphere. Despite the many challenges the role brings, new opportunities are being created day in day our and it is a great time to pursue a career in governance.
What advice would you give to somebody studying law who is interested in a career in governance?
Have passion for governance and for being a change maker. A career as a governance professional should be a deliberate choice rather than a fall-back option. If you are after a diverse, challenging yet rewarding career then becoming a governance professional may well be the career for you. I would advise anyone studying law who is interested in a career in governance to read a lot about the industry, secure work experience if you can and attend Insight Days and student open evenings put on by The Chartered Governance Institute and DMJ to obtain invaluable insight into what the career has to offer.