Survey Results - Trainee feedback on
Farrer & Co
The lowdown - Trainees (in their own words) on Farrer & Co
Why did you choose this firm over any others? 'Amazing variety of clients working in interesting industries, good work/life balance, good variety of departments across private client and commercial so I can gain a breadth of experience and work out what kind of lawyer I want to be', 'the firm's commitment to diversity and inclusion (even if there is more work to be done), partnering with organisations like IntoUniversity and running a solicitor apprenticeship scheme'
Best thing about the firm? 'The fascinating work paired with the friendly people', 'being in Lincoln's Inn is a joy. Lunch on the fields in the sun in the summer, and being able to walk around such a beautiful part of the City through the historic barristers' chambers and squares makes coming into work a joy', 'as clichéd as it sounds, everybody is genuinely friendly and wants to support you. So many of the senior members of the firm trained here, and so there is a real emphasis on being a trainee and developing across the two years'
Worst thing about the firm? 'The pay does not increase in line with inflation', 'currently we only have two showers, which is a bit annoying, but soon we will have ten brand new ones!', 'remuneration – it would be great to be paid as much as our direct competitors', 'the pay for NQ lawyers is lower than competitors, which is food for thought', 'the lack of showers. They are installing some in the basement along with a new restaurant, but the project seems to be perennially delayed'
Best moment? 'Drafting a long piece of advice on an unusual, technical legal issue, sending it to a senior partner and having it sent onto the client with almost no amends', 'dealing directly with a large client on a disputes matter', 'being given significant responsibility to run projects has made me feel like a key member of the team', 'attending a judicial review hearing at the Royal Courts of Justice and being trusted to run a low-value litigation case with minimal supervision'
Worst moment? 'Spending hours researching and producing a draft piece of advice to find that only one sentence of what I had done was actually sent to the client', 'making a mistake when executing a document with a client and a partner in the room', 'having to learn new IT systems at the beginning of the training contract', 'working really hard in between Christmas and New Year after my annual leave request was rejected'
The Legal 500 Future Lawyers verdict on Farrer & Co
Farrer pairs an 'eclectic mix of work and practice areas' with 'a fascinating client base of well-known and interesting individuals, charities, universities, schools, companies, cultural institutions and families'. Located in London's picturesque Lincoln's Inn, the firm 'welcomes career changers and applicants with life experience outside of the legal industry' and trainees feel that they are 'treated with so much respect here'. The atmosphere is 'incredibly supportive' and 'everyone at the firm is genuinely friendly'. Recruits appreciate the opportunity to 'do six seats instead of the usual four' which gives them 'a real insight into the breadth of practice areas'. 'From the beginning, I have been trusted with meaningful work, producing advice for and contacting clients directly where appropriate, with my opinions and judgements valued by even the most senior partners in the firm', said one trainee. What's more, there is a good work/life balance, where 'people constantly check in to make sure you aren't overworked and are concerned if you are seen to be in the office too late'. Farrer has won eight Future Lawyers Winner trophies this year, with job satisfaction and quality of work among the haul. As in previous years, there were very few complaints about the firm, but grumbles included the pay, which is considered 'lower than competitors', and the limited shower facilities, although work is underway to improve these. 'Staying until 8pm on a Friday night waiting to finalise a bundle…. get out the tiny violin!' was a worst moment. Highlights far outweigh the low points though: 'reviewing my day recently and realising that in one day I had worked for: [X] Library (world-renowned UK cultural institution), the royal family, a well-known website, the ruling family of a Middle Eastern country and famous university' stands out in particular! For the opportunity to 'feel properly recognised' and 'work for really interesting clients with lovely colleagues', research Farrer & Co.
A day in the life of... Méabh Kirby , Private client (current)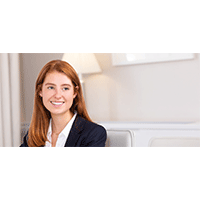 Departments to date: Contentious trusts and estates; Financial services; Private client (current)
University: Trinity College Dublin Oxford University
Degree: LLB, BCL
9.00am: If I'm going into the office that day, I tend to arrive around 9.00am, so that I have some time to settle in and get a coffee before I start my day. Being a trainee in the private client team is sociable as it's one of the largest teams in the firm. There's always a good atmosphere with lots of people in the
office to chat to. I check my flagged emails and to-do list, to decide which tasks to prioritise for the morning.
9.30am: In my current seat I am involved in a wide breadth of work, involving both domestic and offshore matters. This can involve drafting legal documents such as wills, trust deeds and lasting powers of attorney. Other days, I am busy attending client meetings, researching points of trusts and tax law and receiving training on the different departments within the team. Today, I have a knowledge session provided by the internal trustees expertise group, on the role of protectors within trusts law.
11.00am: By 11.00am, I usually have a meeting to catch up with an associate in the team on a matter I am helping them with. Today, I meet to discuss progress on providing tax advice on setting up an international trust structure for a client.
12.00pm: I spend some time researching a new High Court case which I think might provide the basis for an interesting article for the firm's website. The opportunity to write published articles and case notes is a highlight of being a trainee, and an excellent way of engaging with recent developments in the area of law that you are sitting in. Associates and partners are always supportive and happy to supervise the drafting of these.
1.00pm: Today, the trainees have arranged to get lunch together to try out the firm's newly developed 'Restaurant 1701'. The restaurant has been under construction for a while now, so there is much excitement for its opening.
3.00pm: At 3.00pm, I have a call with the second-year trainees. This call is the annual handover of the second year's responsibilities to the first years, in facilitating the firm's work with the Mary Ward Legal Clinic. The Mary Ward Clinic provides free legal advice in a range of areas such as employment, housing and family law. Both associates and trainees in the firm have the opportunity to get involved.
3.30pm: I go through my to-do list, to check my progress on tasks which need to be finished today, and deciding which of these I can leave until tomorrow. I provide an update to my supervisor on my capacity to take on more work.
4.30pm: As we have a team social event later, I try to finish up my current tasks and send update emails to clients on the progress of their matters. I ensure that I have recorded my time for the work I have done that day.
5.30pm: I head down to the library, one of the rooms in which the firm hosts events. Today, we have our private client team social. It's always good to catch up with people in a less formal context, and having the benefit of onsite events rooms makes it easy to do so.
About the firm
The firm: Farrer & Co is synonymous with the highest quality legal advice and service.
We advise individuals, families, businesses, financial services, educational and not-for-profit organisations on every aspect of the law, wherever the need arises. From our offices in London we work with trusted professionals around the world to deliver a seamless international service.
Our clients present us with complex and varied challenges. Whether that's a complicated family trust issue, a multinational corporate transaction, or an emerging threat to their reputation, they need clear thinkers who can advise on the best solutions, fast thinkers when speed is of the essence and agile thinkers who can produce a fresh approach to get the job done. That's why they choose us. Our clients value our in-depth knowledge, technical excellence and diversity of disciplines. But what really binds our long-standing relationships with them is our approach: pragmatic, plain speaking and always steadfast in our values, which we hold dear: values which mean we gain our clients' trust, always strive to do the right thing, and aim for the best results for them. Superb client service sits at the heart of everything we do. We are modern lawyers with timeless values.
The clients: Natural History Museum; The Prince's Trust; PGA European Tour; Imperial College London; Metro Bank; The Football Association; Motability; Manchester Grammar School; BMJ Publishing Group; Great Ormond Street Hospital Charity.
The deals: Completed on a significant development financing for Shinfield Studios Limited, resulting in construction of the main phase of the Shinfield Studios development near Reading officially getting underway, a major piece of international investment into the UK TV and film industry with the studios themselves expected to generate between £500-600m of inward investment annually; acted for Irish law firm Eugene F Collins on its merger with Addleshaw Goddard, advising on the proposed transaction structure, the merger documents, and the terms of Addleshaw Goddard's existing constitutional documents, as well as providing more general advice on the UK regulatory framework and the rights and obligations of members of UK LLPs, including advice around personal liability; our IP and commercial, art and cultural property, charity and tax teams supported the National Portrait Gallery in its groundbreaking joint acquisition with the Getty – Joshua Reynolds' Portrait of Mai has been described as 'one of the most important, influential portraits in the history of British art'; each partner contributed half of the £50m price tag, with the deal the first of its kind involving a joint purchase of a major work by UK and US institutions, and receiving mass coverage across national newspapers and well known trade publications; provided comprehensive advice to support The Economist's review of its direct marketing and newsletter advertising and its compliance with the UK GDPR and PEC Regulations, including advising on consent mechanisms, the use of the 'soft opt-in' and the availability of other legal bases for providing newsletters as a core publishing service.
Senior partner: Jeremy Gordon
Who we are: Farrer & Co is a leading modern law firm with a distinguished history of providing expert legal advice to a diverse range of clients, both UK and international.
What we do: We advise individuals, families, businesses, financial services, educational and not-for profit organisations on every aspect of the law, wherever the need arises. From our offices in London we work with trusted professionals around the world to deliver a seamless international service.
What we're looking for: A keen analytical mind, initiative, good communication skills, commercial awareness, teamwork, leadership skills, drive and ambition, a sense of humour. A minimum requirement for A level or equivalent to ABB.
What you'll do: The trainee will experience six seats across the firm, handling 'real' work with early responsibility, and an excellent legal and skills-based training programme.
Perks: Flexible benefits scheme, sporting teams/clubs, season ticket loan, 25 days' holiday, group income protection, group life assurance, company doctor, subsidised yoga/pilates, subsidised gym membership, pension scheme, private medical insurance after one year, wellwoman/wellman checks.
Sponsorship: Farrer & Co will pay all fees relating to the Solicitors Qualifying Exam for our future trainees. To assist with living costs, they will also receive a maintenance grant and the opportunity to apply for a bursary.
Diversity and Inclusion
Percentage of female associates: 72%
Percentage of female partners: 44%
Percentage of BAME associates: 12%
Percentage of BAME partners: 4%