Survey Results - Trainee feedback on
Birketts
The lowdown - Trainees (in their own words) on Birketts
Why did you choose this firm over any others? 'It is a growing firm and one of the largest in the region that I am based in', 'I already worked here', 'the friendly and inclusive culture partnered with amazing training and colleagues'
Best thing about the firm? 'The friendly working environment', 'full-service firm means lots of opportunities to work in different areas of law', 'the people. Everyone from secretaries to the partners make you feel welcome and part of the 'family''
Worst thing about the firm? 'The remuneration', 'compensation/pay/bonus seems poor when compared with other firms of similar size and profitability', 'in some offices/teams there can be a sense of wanting to strive further than possible and too much wanting to be like City firms'
Best moment? 'Attending a public inquiry', 'being trusted to run matters', 'holding a two-day signing meeting by myself', 'attending a client meeting for a particularly big client; it felt like a big sense of responsibility'
Worst moment? 'Carrying out an important task for a partner who would not answer questions about the work', 'forgetting to ask the client to sign the plans and having to rearrange to go to their premises to get the signatures'
The Legal 500 Future Lawyers verdict on Birketts
A day in the life of... Maddie Taylor, trainee, Birketts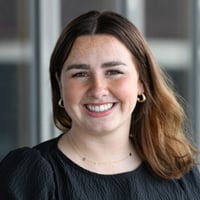 Departments to date: Housebuilders; Agriculture and estates; Employment
University: University of Oxford
Degree: BA Jurisprudence (Law), 2(1)
8.30-9.00am: I arrive at work and set up at whichever desk is free. The Birketts hot-desking and agile working policy means I never know which colleague I'll be sat next to, and it's a great way to meet people all across the team (and learn by ear-wigging on their client phone calls!).
9.15am: The employment team has a meeting to discuss workloads and what we are all working on. This is a great opportunity to keep up to date with each other, and as a trainee I relish these opportunities to put myself forward for a variety of work. We are encouraged to be honest about our capacity to take on new tasks, to maintain the healthy work/life balance that Birketts is known for.
9.30am: I review the to-do list I updated before I went home last night.
9.35am: My work begins with reviewing an employment contract sent through by a client. I'm checking for compliance with s1 of the Employment Rights Act 1996, and also get to try my hand at free-drafting some bespoke clauses to meet my client's brief.
10.30am: My supervisor asks if I'd like to sit in on a client meeting at 11.30am and take an attendance note, so I hit pause on the contract review and begin some last-minute background reading of the file to prepare for the client meeting.
11.20am: I grab a coffee and have a quick briefing with my supervisor before the client meeting. My supervisor asks me to tell him what I think the meeting is about based on the correspondence I had read on the file. I find this enjoyable as it consolidates my understanding of what I have read, and my supervisor answers any questions I have.
11.30am: I attend the virtual client meeting to discuss potential witnesses for an upcoming employment tribunal hearing.
12.30pm: After the meeting, I finalise the attendance note and consolidate actions arising from the client meeting, then confirm with my supervisor what he needs from me.
12.45pm: I call the Employment Tribunal to confirm the date for our upcoming hearing, so I can get to work arranging meetings with the witnesses to take their statements.
1.00pm: Lunchtime: I go for a walk along the river with a friend, as well as attending a committee meeting with Norwich & Norfolk Junior Lawyers.
2.00pm: Back at my desk, I do a coffee run for the team, and grab some biscuits from the team barrel. I bump into another trainee in the kitchen and catch up with what they're doing. As a full-service firm, it's interesting to hear what other junior employees at Birketts get up to, and I've had lots of variety across the various seats of my training contract.
2.10pm: I continue the contract review from this morning.
3.30pm: I finish the review and draft an email enclosing the contract to send it off to the client.
3.45pm: Next I begin some research on the Working Time Regulations and the use of timesheets for a corporate client with a national presence. I love the variety of work I get to complete in this seat, a mix of hands-on client-facing work, with some practical legal drafting and research, and always looking for the most commercially sound solutions for clients. I've been impressed with the quality of work and clients I have encountered in my time at Birketts, and it's definitely one of the best things about being part of a regional firm that is expanding quickly.
4.25pm: The contract review client calls me with some questions. It's great to speak with him, as building a rapport with clients is a huge part of employment law. It's challenging but fun to think on my feet when advising clients.
4.45pm: I continue my Working Time Regulations research, making a list of questions for my supervisor as I go. It's satisfying to reach conclusions on my own, but I am always grateful that my supervisor takes the time to answer questions on the technical points of law that I just can't quite get my head around! The experience of the senior lawyers at Birketts is brilliant as they always have a real-life example which helps demonstrate the law, and put it into perspective.
5.05pm: I prep my to-do list for tomorrow and say goodbye to my colleagues.
5.15pm: I walk to a meeting of the Norfolk Community Law Service Supporters Group. Birketts is flexible with letting me leave early to complete my corporate social responsibility pursuits, and their support undoubtedly helped me win Norfolk & Norwich Law Society's Trainee Lawyer of the Year in October 2022 (a brilliant evening, albeit that a few of us had some sore heads the next day…).
About the firm
The firm: Birketts is a full-service legal firm with offices throughout the East of England and in London. Whatever the challenge, we're here for you. As a proactive partner, we're always thinking about the changes and opportunities that you or your business will face, taking you to the next level.
The deals: Advised on the sale of Original Cottage Company, a 30-year-old family business, to Travel Chapter, including exercising options from 250 option holders and also dealing with a partial reinvestment in the business; Shaken Udder's investment from private equity firm LDC; SDI Group's acquisition of SafeLab Systems in a deal worth approximately £7.7m; Milbank Group's purchase of Bruno Rimini Ltd (trading as Silostop); the sale of Manchester Underwriting Agencies Limited to Pen Underwriting, the specialist underwriting subsidiary of global insurance broker Arthur J. Gallagher & Co; Vanilla Electronics Ltd's acquisition of Wiltshire-based electronics manufacturing services business Interconics Ltd; Goddard Veterinary Group's sale to York-based VetPartners; Titan Motorsport and Automotive Engineering Ltd's transfer of ownership to a new shareholder team; YFM Private Equity's £80m Buyout Fund II (YFM) on its acquisition of Essex-based specialist property services company RGE Services Limited (RGE); FM service provider Atalian Servest's acquisition of the Incentive FM group of companies, one of the largest independently-owned providers of specialist facilities services across the UK.
Senior partner: James Austin
CEO: Jonathan Agar
Other offices: Ipswich, Norwich, Cambridge, Chelmsford, London
Who we are: At Birketts we take pride in getting the details right – doing everything, knowing that everything matters. A top 50 law firm, with over 500 lawyers in five office locations. We have you covered, whatever your requirements may be.
What we do: Being effective isn't just about expertise in the law, it's about understanding people. We always start by asking the right questions to understand your long-term objectives and the immediate outcomes you need to achieve. We build lasting relationships and many of our clients rely on us as trusted advisers over the years.
What we're looking for: We look for proactive individuals who show true potential. We ask for 120 UCAS points, though allow space in our application for you to tell us about any mitigating circumstances that could have affected your results. We hire individuals for what they can bring to the firm so we're looking for your personality to shine through in your application. We like to hear about all work experience, not just legal and appreciate the transferable skills that can be learnt from this as well as extra-curricular activities.
What you'll do: Your two-year training contract will involve spending six months in four different practice areas (known as 'seats'). You may also gain experience in another of our offices which is great for building relationships and your knowledge of the wider firm. We invest in our trainee lawyers and as well as supporting you through your compulsory professional skills course, as required by the Solicitors Regulation Authority, we also offer a bespoke trainee content programme. This focuses on the technical, commercial and softer skills required to be a successful lawyer, including personal brand, coping with change and client-facing business development skills.
Perks: Contributory pension, including the option to salary sacrifice; interest-free season ticket loan; bonus scheme that reflects firm and individual performance; firm-wide profit share scheme; paid CSR day; subsidised gym membership through Gymflex (access savings at over 3,300 locations); dress for your day policy; fresh fruit in all offices; access to a wellbeing nurse; confidential employee assistance programme; employee referral reward programme for introducing talented candidates; enhanced maternity, paternity and adoption pay; enhanced shared parental pay.
Sponsorship: We provide full sponsorship of the SQE LLM through our chosen provider, University of Law. This includes sponsorship of the preparation courses and exams. You will be able to complete the course at your preferred campus location. We also provide funding for SQE Law Essentials where applicable as an alternative to the GDL.
Diversity and inclusion