Survey Results - Trainee feedback on
Fladgate LLP
The lowdown - Trainees (in their own words) on Fladgate LLP
Why did you choose this firm over any others? 'Friendliest assessment centre I'd been to (the process, but also other candidates which spoke volume about the types of people who were attracted to Fladgate)', 'the culture and number of lawyers at the firm and types of law it specialises in',  'more client contact and not just a cog in the wheel', 'small intake and good seat options that aren't too niche', 'I had heard that the firm valued its trainees and that it was supportive' 
Best thing about the firm? 'Generally a very friendly place to work – I've never had a senior raise their voice', 'the people – everyone I work with is so approachable and friendly', 'culture – most people (including partners) are friendly', 'Everyone I have encountered has been friendly, supportive and eager to help me learn', 'good quality supervision combined with opportunity to run your own matters', 'the good work/life balance and the friendly culture at the firm' 
Worst thing about the firm? 'Lack of socials', 'sometimes you can be given lots of responsibility with support a bit patchy', 'there isn't a great kitchen area – but there are plenty of lunch spots about!', 'the NQ salary', 'that there is only one office', 'the opaque process to qualification at the firm' 
Best moment? 'Being involved with two parallel energy arbitrations and being able to attend a two-week hearing on one of them', 'undertaking research for a construction dispute and then drafting part of our particulars during my first seat', 'sitting in on a trial in the Court of Appeal where I had been responsible for creating all of the bundles', 'being involved in a unique high-profile sports matter, working from scratch to completion in the space of a week' 
Worst moment? 'Long hours doing verification in my corporate seat', 'being caught between a client chasing something and being unable to get internal sign-off on the email responding which led to vague uncomfortable phone calls', 'dealing with a difficult phone call from a solicitor on the other side who was acting unprofessionally', 'logging off after a late night, only for the other people working on the matter to have to work even longer' 
The Legal 500 Future Lawyers verdict on Fladgate LLP
'I wanted to train at a smaller firm that was renowned for high-quality work' said one Fladgate trainee. 'The opportunity to experience sports law work' was another reason recruits applied to the 'growing' London firm. Fladgate takes on a modest number of trainees each year and works in 'leaner teams', which means that new recruits can look forward to 'high-quality supervision' and 'lots of responsibility'. Indeed, respondents reported 'frequently doing associate-level work'. There is 'plenty of client contact on offer' too, which has led to Fladgate earning a Future Lawyers Winner medal in this category. Another gong has been awarded for client contact. One of the best things about the firm is the 'approachable people' and the 'open-door policy'; 'partners will sit with me and explain areas of law and answer my questions without hesitation'. That the firm 'isn't as well known as others in a similar place in the market' concerned trainees, as did the 'lack of social events', although it was acknowledged that this may be partly due to the pandemic. 'Attending a really interesting mediation in my property litigation seat; the client was really happy with the outcome' and 'working closely with a partner on the completion a complex sale' were singled out as best moments. Less enjoyable were 'feeling a bit lost at the beginning and letting some things slip away from me' and 'proofreading a report which was hundreds of pages long'. To 'work good hours whilst still being engaged in interesting work', take a closer look at Fladgate. 
A day in the life of... Robaidh Allighan, trainee, Fladgate LLP
Departments to date: Dispute resolution; Construction (contentious and non-contentious)
University: University of Edinburgh
Degree: MA History
8.15am: I normally arrive at the office at around 8.15. Having cycled into work I shower and get ready for the day.
8.30am: I like to spend some time clearing out my inbox and planning my to-do list for the day. The office tends to be quiet before 9.30 so this is also a good time to finish off any outstanding tasks before more work comes in later on!
9.00am: I am assisting a senior associate with the construction documents on a new development. We are drafting and negotiating the design team appointments on behalf of our developer client. The architect has sent through comments and amendments on its appointment, which require review. I mark up the proposed changes and draft a response setting out our client's position. The senior associate will review and amend the changes before we respond to the architect.
10.00am: My time in construction is split between contentious and non-contentious work. We are currently acting for a developer client in a claim brought by a local authority for defective infrastructure works. I join a call with the partner, associate and our barrister about expanding the scope of the dispute to include additional defendants, who we say are ultimately liable. The litigation strategy is complex and I find it exciting to work as part of a wider team tackling the dispute.
10.45am: I tidy up my attendance note from the call and send it to the associate. It's time to pop out for a quick coffee – the area around Holborn does a good line in caffeinated treats!
11.15am: My action from the call with the barrister is to prepare the first draft of a letter to one of the additional defendants. I spend the time before lunch researching a point of law and start to draft the letter.
1.00pm: This week there is a training session put on by one of the local barristers' chambers. I have lunch on the client floor with the other trainees and some NQ solicitors while learning about mediation tactics. As well as regular training the firm hosts lunchtime yoga and weekly PT sessions in nearby Lincoln's Inn Fields.
2.00pm: I spend some time after lunch finishing off the letter and send it to the partner for review.
4.00pm: One of our developer clients is raising debt finance for a new project and I join a call with the funder's lawyers. The bank requires a variety of documents to be completed before it will release funds and we are responsible for preparing the various construction contracts.
4.30pm: My task from the call is to draft a suite of collateral warranties for the benefit of the bank. It will take me a few hours and I make a start ahead of tomorrow's deadline.
5.30pm: The partner and I sit down to review my draft of the letter and discuss the changes she has made. I proofread the letter and issue it to the additional defendant.
6.30pm: I finish up and head out to meet some friends for a drink in nearby Soho.
About the firm
The firm: Fladgate LLP is one of the UK's top 100 law firms, with a strong reputation for both commercial and private client work. It delivers highly personal service for entrepreneurial, ambitious and fast-moving clients with complex needs that are often international.
The clients: Conde Nast Publications; Ocado; Yo Sushi!; Red Tiger Gaming; London Wall; Fox Networks; Random House Group; the street artist Bambi; Credit Suisse; Blockchain Worldwide; Close Brothers; Monster energy; Major Baseball League; Guild Esports; Zouk Capital; 23 Capital; The National Portrait Gallery; Headspace; Patron; over 100 of the world's influential families, leading entrepreneurs, celebrities, sports people and 80+ family offices.
The deals: Advised Allocate Software in connection with an eight-year outsourcing agreement with NHS Professionals for design, build and operate services, which will deliver a managed staff rostering platform available to approximately 250 NHS trusts; assisted Zouk Capital (as the manager of the UK's Charging Infrastructure Investment Fund) with an investment in electric vehicle charge point operator Char.gy, including the set-up of a new AssetCo/OpCo structure, and development/negotiation of the commercial agreements in support of the new structure including Charger offtake and installation, outsourced management services agreement, charger software services and charger operation and maintenance, and representing Zouk in its electric vehicle charge point infrastructure joint venture with Liberty Globa; advised online gaming start-up SharedPlay and its founder, Karolina Pelc, on its €1.5m seed investment round led by LeoVentures (the corporate ventures arm of LeoVegas); advised Argo Blockchain Plc, a provider of crypto-mining services, on its admission to the standard segment of the Official List and to trading on the London Stock Exchange's Main Market; represented GlaxoSmithKline on the outsourcing of its global ethics and compliance function to Ernst & Young, and advised GSK on its global procurement project (Enterprise FM Next Generation) involving the outsourcing of facilities management and scientific support services across the entire GSK portfolio, including master services agreements with CBRE, EMCOR, Mitie, PerkinElmer and Sodexo, with a total spend value of £1.2bn.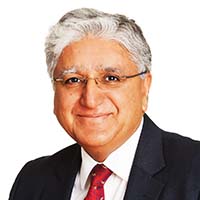 Senior partner: Sunil Sheth
As senior partner of the firm, I am acutely aware that our vision and values are built around the word personal. We are a people business dependent on brilliant client relationships. Inclusion and diversity objectives are therefore not 'soft' business aspirations, they are fundamental to our success.
Managing partner: Grant Gordon
Who we are: Fladgate LLP is an innovative, progressive and thriving law firm which prides itself on its friendly and professional working environment. We are based in modern, attractive offices in London's Covent Garden.
What we do: Fladgate has a broad skills base that covers a wide spectrum of legal services across the business lifecycle, and is shaped to operate collaboratively to move fast and flexibly:
Dispute resolution: which includes regulatory, corporate governance and investigations, banking and financial services litigation, international commercial arbitration, insurance, contentious trusts and family, civil fraud and asset protection.
Corporate: including private capital, capital markets, M&A, tax, restructuring and employment.
Real estate: including planning, construction, real estate finance and real estate litigation.
Funds, finance and regulatory: including investment funds, private equity, fund managers, asset and investment managers, promoters, sponsors and investors.
What we're looking for: We look for the best. We value academic ability, previous work experience and relevant extra-curricular activities. We seek candidates who demonstrate high levels of commercial awareness and business acumen, enthusiasm and leadership potential.
What you'll do: Our two-year training programme is divided into four seats of six months and combines a first-class education programme with real hands-on experience and client contact. The nature of our business and small intake of trainees each year mean you will be given exposure to high-quality work with lots of responsibility from an early stage.
Perks: A generous holiday allowance of 26 days, staff introduction bonus, life assurance and access to the YuLife wellbeing app, group income protection, private medical insurance, employee assistance programme, free online GP service, contributory pension, season ticket loan, corporate gym membership loan, cycle2work, private dental, eye test vouchers and free weekly personal training and yoga sessions. We also have a 'dress for your day' policy which allows smart-casual wear in the office to suit your schedule when you have no external meetings. We also currently operate a hybrid, remote working model that trainees are able to take advantage of and allows for 1-2 days per week of remote working.
Sponsorship: GDL, LPC and SQE course fees sponsorship, maintenance loan of £6,000 (£5,000 outside London) for those studying a sponsored GDL, LPC or SQE.
Diversity and inclusion
Our focus: We know that to achieve our inclusion and diversity objectives we need to focus on a number of areas:
Developing a diverse leadership: We have a mix of different ethnicity and genders on our leadership groups. We are working hard to improve the gender balance of our partner team and in the last 18 months four out of nine people joining the partnership were women.
Attracting a diverse work force: This means adopting a properly personal approach when connecting with those interested in joining our team including: ensuring fairness in our processes; working with those, like recruiters, who help us in this; a commitment that you will always meet male and female talent in our recruitment interviews.
Engaging with everyone in our team to ensure they are heard, supported and understood. Encourage everyone to develop their own voice in shaping our culture, their future and our service to clients. That might be working flexibly or that might be a specific career programme – everyone needs different things at different times.
Helping all our people in all roles to achieve their full potential. We provide training, coaching, internal mentors and buddies, whatever works for each individual and their own personal development path.
Please visit www.fladgate.com/about-us/inclusion-and-diversity.