Survey Results - Trainee feedback on
Cleary Gottlieb Steen & Hamilton
The lowdown - Trainees (in their own words) on Cleary Gottlieb Steen & Hamilton
Why did you choose this firm over any others? 'The quality of the work is very high', 'the quality of the lawyers', 'the international nature of the firm and the work', 'small intake means higher quality of work and more responsibility', 'it offered the best quality of work and the chance to work with major international clients', 'high quality of work and training', 'the prestige of the firm'
Best thing about the firm? 'The people that you work with', 'excellent pay and the opportunity to work on some fantastic matters', 'salary', 'the responsibility you're given as a trainee', 'the people', 'the quality of work/matters and quality of senior lawyers', 'the on-the-job training', 'the early responsibility given to trainees'
Worst thing about the firm? 'The work/life balance', 'the working hours are quite long, and the volume of work can mean I'm staffed on matters where I have a limited amount of background to the deal', 'the technology seems slightly dated', 'hours'
Best moment? 'Getting good feedback from my first supervisor on some freehand drafting I did', 'working on a large takedown and concurrent tender offer with a small team meant I got to take the lead on certain parts of the project. I also really enjoyed the pro bono opportunities that the firm has, those have been especially rewarding', 'closing my first deal', 'getting involved with pro bono initiatives that make a huge difference to people's lives, and which also stretch us intellectually'
Worst moment? 'Trying to find answers to research queries very late into the night', 'sending an incorrect document to a client', 'comments on a redline at 12:30am', 'generally, the work can be quite stressful', 'late nights doing admin-style tasks due to short staffing'
The Legal 500 Future Lawyers verdict on Cleary Gottlieb Steen & Hamilton
Recruits chose Cleary Gottlieb because 'it offers high-quality work and the chance to work with major international clients'. A small trainee intake means more responsibility and more exposure early on. Cleary is 'friendly; there's no feeling of sharp elbows here', explained one trainee, and the best things about the firm are 'the camaraderie of the cohort' and 'the kindness of associates, senior associates, and partners'. 'Working daily with incredibly smart and competent people' helps trainees feel fulfilled and keeps job satisfaction levels high. The training at Cleary is 'less formal', the benefit of this being that it is 'more applied and geared towards practical learning'. Recruits feel that they are given more responsibility than peers at comparable firms, including in the form of client contact, an element of the training which has earned Cleary a Future Lawyers Winner medal. Trainees are encouraged to hit the ground running and 'if you want to do something, the firm usually lets you take ownership of it'. Another medal has been awarded for the firm's impressive salary. It's not surprising that the hours were cited as one of the worst things about working at Cleary. One recruit elaborated: 'the hours are long and your day doesn't end when you leave the office (you're still checking email or logging back on from home-working equipment)'. Some of trainees' more stressful moments were 'trying to find answers to research queries very late into the night', and 'sending an incorrect document to a client'. On a more positive note, trainees loved 'attending a hearing for a litigation matter we had been working hard on' and 'helping to close a deal valued at over $60 billion'. To work with intelligent colleagues on high-quality work with an international slant, take a closer look at Cleary
A day in the life of... Steven Daly, third-seat trainee, Cleary Gottlieb Steen & Hamilton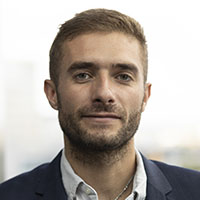 Departments to date: Mergers and acquisitions; Capital markets; Litigation and arbitration
University: UCL University of Cambridge
Degree: English Literature
7.00am: It's not every morning, but I try to get to the gym, or otherwise exercise, before starting work. I find it helps me keep focused throughout the day. Today, I'm up early and join a friend at my local gym for a class and catch-up.
9.00am: I cycle into work and shower at our offices in Moorgate. Hybrid working gives me flexibility to work some days from home, but I am going in today for a number of in-person meetings. Later on, I am presenting at our weekly disputes practice group meeting and, once at my desk, I make a note of the state-of-play for each of the cases I am currently staffed on. I always start my day by checking emails that have come in overnight from our international offices and scanning the headlines in the Financial Times. I also have a number of client alerts, which is an easy but important way to keep up with developments in the market.
9.30am: My supervisor calls with the first task of the day. We are in the early stages of a high-stakes international arbitration, seated in Singapore, and the client is considering a number of potential arbitrators if the proceedings go ahead. I am asked to research the previous experience of, and decisions taken by, a shortlist of candidates. Since arbitration is a private form of dispute resolution, some information is not publicly available, but with guidance from our practice development team I am able to quickly develop a research outline.
11.00am: The trainee cohort attends a 'Technical Toolkit' training session run by associates at the firm. Today's session covers the drafting of English legal opinions, which is a typical trainee task across a number of practice areas. It is a welcome reminder of the purpose and importance of these documents and what trainees should look out for when asked to draft them.
12.30pm: At the disputes practice group meeting, we share information about the cases we are working on and any market developments of relevance. As a trainee, it is a great insight into the diversity of work that is available to disputes lawyers at Cleary. I present an overview of the matters that I am working on, as well as a recent Supreme Court case concerning litigation funding agreements.
1.00pm: Lunch! The firm has an excellent, subsidised canteen, so together with some fellow trainees, I take my lunch downstairs to sit in the Barbican and enjoy some fresh air.
2.00pm: I send my findings regarding the shortlist of arbitrators to my supervisor, with a few internal comments for his consideration. Over lunchtime, on a separate matter relating to a dispute in the Competition Appeal Tribunal, the other side has responded to a preliminary issue application we served ten days ago. I forward the correspondence to the client and spend the next 30 minutes reviewing the response. The senior lawyer on the case calls me to discuss, and we decide to arrange a call with our barrister to determine next steps.
4.00pm: I have a scheduled coffee with my senior mentor, an M&A partner at the firm. In addition to direct supervisors, every trainee at the firm is also paired up with a trainee mentor, associate mentor and senior mentor, and I find these discussions across all levels enriching. My senior mentor and I discuss the current market cycle and how my training contract is going generally.
4.30pm: I continue with my day, making sure to use the document management systems and record my time appropriately. I also respond to various emails, including both internal queries and correspondence with other counsel on my various matters.
6.00pm: Cleary has a number of active working groups and I am especially involved in the Social Mobility Working Group, which is meeting today. The most important agenda item is our upcoming work experience week hosting students from City Solicitors Horizons, a three-year support programme for undergraduates from lower socioeconomic backgrounds. We also discuss our plans to mark and celebrate Social Mobility Day in mid-June. My involvement with this group has been one of the highlights of my training contract so far, allowing me to meet brilliant individuals from across the firm, both lawyers and professional staff.
7.00pm: My supervisor mentions that next month he will be presenting at an international arbitration conference in Paris, discussing the English perspective on a seminal French case which has impacted the ways arbitrators can be appointed in France. Having had some previous experience researching questions of French law, I offer to take a first look at recent developments in the law concerning the appointment and removal of arbitrators.
8.15pm: Cycling home, I consider my 'to-do list' for the next day and, more immediately, what I want to cook for dinner.
About the firm
The firm: Cleary Gottlieb is a pioneer in globalising the legal profession.
Since 1946 our lawyers and staff have worked across practices, industries, jurisdictions and continents to provide clients with simple, actionable approaches to their most complex legal and business challenges, whether domestic or international. We support every client relationship with intellectual agility, commercial acumen and a human touch.
Who we are: We have offices located in 16 major financial and political centres around the world, but we are a single, integrated firm. This 'one firm' approach means we can better collaborate and deliver all our resources to all our clients, wherever they may be.
Diversity and inclusion: We place a premium on leveraging the unique perspectives of individuals with a range of backgrounds, beliefs and life experiences. The wide-ranging diversity of people and viewpoints makes Cleary an open and exciting place to work.
Groundbreaking work: For more than 70 years, clients around the world have entrusted us to seamlessly handle their most challenging assignments, from large corporate transactions to cases of first impression. Our work is rarely easy, but our lawyers get the opportunity to work on high-profile cases and innovative deals, where the stakes are high and each lawyer's talents can make a difference.
Culture: Our firm is arranged around an informal structure that is democratic and participatory. As your practice evolves and your interests expand, your career path will grow in tandem.
Professional development: Cleary is a firm where lawyers at all levels talk to each other frequently and freely, so working and training go hand-in-hand.
The clients: American Express, Citigroup, Coca-Cola, GlaxoSmithKline, Google, Goldman Sachs, Hellenic Republic, HSBC, Sixth Street, Sony, TPG, Vale, and Warburg Pincus.
The deals: Advised Euronext on its €4.4bn acquisition of the Borsa Italiana Group (which won Corporate Team of the Year at the 2021 Legal Business Awards and M&A Deal of the Year at the 2022 IFLR Europe Awards); represented Bill Gates' Cascade Investment on a consortium's $4.7bn acquisition of Signature Aviation; advised Goldman Sachs on ReNew Power's public listing on the NASDAQ via a ground-breaking de-SPAC transaction (which was named a 2021 Deal of the Year by Indian Business Law Journal); obtained the UK Competition and Markets Authority's unconditional clearance of Sony Music Entertainment's $430m acquisition of Kobalt's recorded music operations, following an in-depth Phase 2 inquiry; successfully defended HSBC in a complex High Court action relating to foreign exchange trading (which was recognised as one of The Lawyer's top 20 cases of 2021); advised Wockhardt on its agreement with AstraZeneca to manufacture and supply the Oxford/AstraZeneca Covid-19 vaccine to the UK; represented GlaxoSmithKline in $8.75bn of bond offerings, issued in preparation for the separation of the GSK consumer healthcare business; and advised Morgan Stanley and other banks on the SEC-registered initial public offering of Hepsiburada, the first Turkish company to be listed on the NASDAQ (which was named Turkey Deal of the Year at the 2022 CEE Legal Awards).
Managing partner: Michael Gerstenzang
Other offices: New York, San Francisco, Sao Paulo, Silicon Valley, Washington DC, Beijing, Hong Kong, Seoul, Abu Dhabi, Brussels, Cologne, Frankfurt, London, Milan, Paris and Rome.
Who we are: Cleary Gottlieb Steen & Hamilton LLP is a leading international law firm with 16 closely integrated offices located in major financial and political centres around the world.
What we do: Core areas of practice in London are M&A, financing and restructuring, capital markets, international litigation and arbitration, and competition. In addition there are successful self-standing practices in tax, financial regulation, employment, and IP and IT.
What we're looking for: We look for candidates who are enthusiastic about the practice of law in a challenging and dynamic international setting. While academic excellence is a prerequisite, we place particular emphasis on recruiting candidates with whom we and our clients enjoy working. A sense of humour is as important as the ability to think critically.
What you'll do: By recruiting 16 trainees each year we are able to offer bespoke training that is tailored to our trainees' interests, experience and aptitudes. We encourage our trainee solicitors to accept increased responsibility as soon as they are ready to do so.
Perks: 25 days' holiday, employer pension contribution, gym membership subsidy, private healthcare, life insurance, long-term disability insurance, dental insurance, employee assistance programme, Bright Horizons back-up care and subsidised staff restaurant.
Sponsorship: PGDL and SQE funding. A maintenance grant of £12,000 for PGDL and £17,000 for SQE is paid for each year of professional study.
Diversity and inclusion