Survey Results - Trainee feedback on
Sullivan & Cromwell LLP
The lowdown - Trainees (in their own words) on Sullivan & Cromwell LLP
Why did you choose this firm over any others? 'When I did the vac scheme the people were so friendly, kind and welcoming, I really liked the culture. Also the remuneration is very good', 'it has a big international presence', 'I wanted to work with some of the top lawyers in the field and learn from the best', 'the quality of the work, combined with working in a small group (so lots of exposure to clients and more tricky tasks), and the generalist approach post-qualification', 'culture, size and quality of work'
Best thing about the firm? 'The best thing is the people; I am yet to have had a bad experience with any of my colleagues', 'the quality of work', 'the 'security of knowing you're not competing with your cohort for a place after qualification', 'the people and the work', 'our training principal and HR team always carefully consider and do their best to grant our seat and secondment preferences', 'we have more contact with supervisors and senior lawyers thanks to the small trainee cohort'
Worst thing about the firm? 'Some of the supervisors can be quite cold and don't give a lot of guidance or any feedback throughout the seat. More feedback would be nice', 'when there are so few people there isn't really a safety net for anyone to pick up work, or take something off your plate when you're overloaded', 'the hours, but that is to be expected from a US firm. And I've heard from friends at other firms that my hours actually could be a lot worse', 'difficulty with requesting vacation and time off'
Best moment? 'I have enjoyed all my training contract', 'receiving positive feedback for a piece of work I had done. It meant a lot that it didn't go unnoticed and was appreciated', 'my secondment to New York', 'taking on my own workstreams and working independently', 'working on international deals that appear in the Financial Times'
 Worst moment? 'Sometimes when you don't receive ongoing feedback and you don't know how you're doing, it can be overwhelming, especially when your supervisor doesn't provide a lot of guidance', 'there have been a handful of times where the intensity really picks up and you're really working against the clock to complete a certain task', 'a 3am finish'
The Legal 500 Future Lawyers verdict on Sullivan & Cromwell LLP
The quality of work at Sullivan & Cromwell is 'extremely high', which 'in turn raises the standard of your own work product; an invaluable opportunity as a trainee or junior solicitor'. A small intake of only five to six trainees a year 'means that there is a strong focus on our learning and development', particularly 'in relation to seat and secondment preferences'. At Sullivan & Cromwell 'you are treated as an individual and as an adult. So long as you get your work done, there is a lot of flexibility'. That flexibility continues post qualification, with NQs not required to choose an area in which to specialise until two years later. The firm is the deserving recipient of five Future Lawyers Winner trophies for quality of work, vacation scheme, confidence of being kept on, salary and international secondments, the last of which is 'guaranteed'. Although 'training is mostly hands-on and on-the-job' there are also 'weekly (and sometimes even more frequent) formal training sessions'.  The people are 'on a personal level genuinely very friendly' and 'on a professional level, very impressive'. The downside of being part of a small cohort in a modest-sized firm is that 'if anyone is sick or away on secondment, others have to pick up the slack'. This means that 'your day can suddenly get very busy and your workload very intense'. The other, perhaps obvious, drawback is the hours, which can be 'very demanding'. Current trainees warn that 'applicants should be prepared to work long hours should they accept a training contract here'. The silver lining is that 'the culture when working on deals is immensely collaborative, which makes the work memorable and fulfilling'. Trainees loved 'getting really involved in some very cool, big deals with interesting complex issues', and 'often working on international deals that appear in the Financial Times and other widely-read business publications'. For a 'personalised recruitment process', a 'strong focus on transactional work' and 'abundant secondment opportunities', research Sullivan & Cromwell.
Why I chose Sullivan & Cromwell Vanessa Chia, newly qualified associate, Sullivan & Cromwell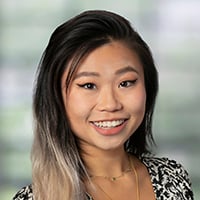 Departments to date: Capital markets; M&A; Finance and restructuring; Client secondment; Overseas secondment, New York office. NQ September 2023
University: University of Oxford
Degree: Law
My decision to train at S&C was driven by my experience of the firm's work and culture during my summer vacation scheme. Working in a smaller office with a world‐class international practice is a unique and incredible experience. It allows you to not only be involved in exciting deal work, but also to undertake significant responsibility in your deal teams very early on. These are unwavering characteristics of the S&C London office and, a year into my training contract, I remain impressed by the quality of work and the collaborative culture of the firm.
The deals: The work at S&C is varied. The firm's generalist focus has been greatly beneficial to my professional development as a trainee. I have had the opportunity to work on a diverse portfolio of deals with broad‐ranging clients, and it has taught me to be adaptable and quick on the uptake. I have found that critical problem‐solving is key to being a good lawyer, and this should not be limited to specific practice areas or industry‐specific deals.
S&C has an exceedingly international practice. In my first year at the firm, not a single one of the deals I worked on had only English law aspects or involved only English companies. This means that you quickly learn to work well in unfamiliar territory and gain confidence coordinating with people working across multiple jurisdictions. My experience on international deals has ranged from reviewing and marking up Hungarian security documents to researching New York law. What sets S&C apart from other firms in the City is that it can be said with confidence that every day is different.
The people: At S&C, particularly as a smaller office, there is a culture of trust and mutual respect in the firm. Socially, this makes for a warm and welcoming work environment among the lawyers and the support staff, but as trainees, this culture also seeps into our work and the level of responsibility entrusted to us. The associates and partners value trainees' insights and opinions, and we are entrusted with high‐level and client‐facing work at an early stage ‐ opportunities which are not naturally available to trainees at bigger City firms.
We have lean deal teams (often with only one or two trainees) no matter the size or complexity of the deal, and this is only possible with a high level of trust and accountability among people at the firm. In my first year, I found myself running work streams independently, reviewing and drafting transaction documents, and engaging with clients and other advisers. In fact, on most transactions as an S&C trainee, you will find yourself working at the same level as associates in other City firms, which is an invaluable experience early on in your career.
While this may seem daunting as a trainee, there is also a genuine open‐door policy at S&C where people are always happy to take questions or explain a deal to you. People at S&C are friendly and social, and it is often the case that your colleagues quickly become good friends to you outside work. In my experience, there is significant camaraderie and solidarity at the firm, which becomes particularly comforting when deal work becomes demanding. At S&C, the people truly make the place.
About the firm
Administrative partner: Craig Jones
Managing partner: Richard Pollack
Other offices: Beijing, Brussels, Frankfurt, Hong Kong, Los Angeles, Melbourne, New York, Palo Alto, Paris, Sydney, Tokyo, Washington, DC.
Who we are: S&C is a global law firm providing comprehensive and integrated legal services worldwide. The professional quality of S&C's lawyers and work is illustrated by both our repeated selection by some of the world's most prestigious clients for their most critical and complex legal matters, and by our regular top rankings in independent surveys.
With more than 850 lawyers across an international network of 13 offices on four continents, S&C has maintained an international reach by developing offices to serve client needs and staffing them primarily with lawyers who have been with S&C for their entire careers.
The London office is S&C's largest office except for its New York City headquarters. There are approximately 90 lawyers and trainees working in the office across a number of practice areas, including M&A and private equity, capital markets, finance and restructuring including project development and finance, competition law and tax. S&C London is unique in the scale, complexity and significance of the work carried out in an office of its size.
What we do: S&C provides the highest quality legal advice and representation to clients around the world.
Major global corporates, financial institutions and investment funds come to S&C to handle their most complex and challenging international work. Throughout our history, S&C has always led from the front on truly transformational matters.
S&C's position in the market means that the firm gives cutting‐edge advice on the issues of the future. The firm is keenly engaged on environment and social governance (ESG) matters, including green and sustainability‐linked financings and on transactions involving clean technology and renewable energy.
What we're looking for: S&C's goal is to employ the brightest minds, regardless of subject studied at university. The firm seeks trainees who have strong academic credentials and an excellent prior academic record. Most important, however, candidates should also have intellectual curiosity, integrity, common sense, commercial awareness and an ambition to succeed as a lawyer at one of the world's leading law firms. Strong interpersonal skills will also be important: S&C is looking for team players.
While S&C expects most of its applicants to be penultimate‐year law students and final‐year non‐law students, graduates and postgraduates are also eligible.
What you'll do: Training contracts with S&C are divided into two six‐month seats during your first year of training, and three four-month seats during your second year of training, covering at least three practice areas. The firm distinguishes its trainee programme by offering genuine mentoring from partners and senior lawyers who take a keen interest in their trainees' career development. Trainees are, in each seat, supervised by a partner who is a leader in their field and by other senior lawyers, who guide the trainees through their work and help ensure that they are engaged and challenged. These partners and senior lawyers ensure that the trainees see a range of outstanding work and receive guidance to help make the transition from academic study to legal practice.
The trainee solicitor programme is overseen by S&C London partners Ben Perry and Craig Jones and is part of the firm's integrated, global approach to recruiting, associate development and client service. In this regard, S&C differs from many of its competitors in that it is truly one law firm and one partnership worldwide, fostering a strong culture of teamwork and collaboration between offices.
Perks: Private health insurance; dental insurance; life insurance; a group personal pension scheme with the option to contribute via salary sacrifice; paid maternity, paternity and adoption leave plans; a subsidised gym membership; a concierge service.
Sponsorship: We cover SQE course fees in full for prospective trainees who accept our offer of a training contract. We also pay a maintenance grant, which is currently £20,000, payable in two equal instalments.
Diversity and inclusion