Survey Results - Trainee feedback on
Mills & Reeve
The lowdown - Trainees (in their own words) on Mills & Reeve
Why did you choose this firm over any others? 'The culture, spread of sectors covered, practice areas, office locations and reputation', 'it offers a high quality of work with a great work/life balance', 'it has a down-to-earth, a collaborative culture, a great variety of work, lots of responsibility and a fantastic reputation', 'its regional presence in Manchester', 'I chose M&R due to the firm's presence as a leading corporate firm in Birmingham whilst having a culture which gives trainees the opportunity to learn and grow in a safe, open and transparent place'
Best thing about the firm? 'The fact that I have a genuine work/life balance which is actively encouraged', 'there is nobody that I feel I can't approach', 'everyone is very friendly and fun to work with, and supervisors are positive, supportive and encouraging. There isn't a hierarchical feeling at all', 'there is an expectation that you work hard but there's no needless facetime culture, and there is a good social scene in terms of sports and other events', 'the people in the Manchester office!'
Worst thing about the firm? 'We could do with coffee machines on each floor (Cambridge office)', 'probably the pay and technology', 'a varied regional rate would be helpful to reflect the cost of living in Cambridge being comparable and, in places, exceeding London', 'there hasn't been much investment for the trainees from different offices to meet each other post Covid', 'there can be a disparity between teams, so I think some teams are more supportive than others'
Best moment? 'It's really satisfying to close deals that you've been working hard on for some time', 'being allowed to run an aspect of a client meeting with regards to the particular area (responses to enquiries relating to multiple titles across a large area of land) I had been working on', 'completing the first draft of a contract and receiving almost no amendments from the partner who reviewed it', 'achieving a really good result for a client and celebrating with colleagues'
Worst moment? 'Assisting with office 'de-clutters'', 'technology problems meant a document was corrupted which put me in a stressful situation', 'there have been some days where I have had zero matters to work on, despite asking for work: those have been the hardest', 'staying late to complete tasks', 'at one stage early on in my TC I got overwhelmed by the amount of work I had on and upcoming deadlines', 'not having the opportunity to attend in-person hearings during an employment seat'
The Legal 500 Future Lawyers verdict on Mills & Reeve
'I wanted to work with a firm where I could work with high-profile clients on exciting and engaging matters, but I didn't want to sell my soul!', said one Mills & Reeve trainee. Others agreed, describing the culture at the seven-office UK firm as 'truly unrivalled; it provides an open and transparent forum in which to train, whilst also granting trainees direct client contact and associate-level experience'. Staff at Mills & Reeve are 'friendly' and you 'will always find someone to help when you need it'. Plus, 'everyone is interesting as they have stuff going on outside of work, which means that they also respect it when you do too'. In fact, the work/life balance is another key selling point and has earned the firm a Future Lawyers Winner medal. Mills & Reeve is also a Winner in legal tech, confidence of being kept on, diversity, supervisor approachability, sustainability and job satisfaction also. A six-seat training contract exposes trainees to a 'very wide range of work types'. And being part of a 'smaller intake compared to giant firms means that trainees get involved in the substance of the work a lot quicker too'. While some respondents think that the IT 'could be improved', most respondents were more bothered about the pay. Trainees in the Cambridge and Manchester offices in particular feel as though they are paid less than comparable firms, 'particularly considering we are given more responsibility at Mills & Reeve'.  Worst moments included 'making a mistake that negatively impacted the client, which was stressful', 'constantly changing seats and feeling out of my depth' and 'periods where work is limited and there isn't enough to go around'. Overall though, the good times outweigh the bad, with trainees savouring opportunities such as 'interviewing panellists at the Sport Conference (some of whom were from FIFA!), and 'acting as the only junior support on a buy-side corporate transaction from start to finish'. For the best of both worlds – exciting clients and high-quality work in a supportive and collaborative culture', consider Mills & Reeve.
A day in the life of... Milly Larner, first-year trainee – Norwich office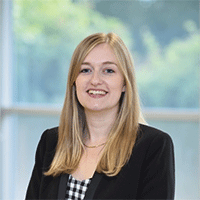 Departments to date: Agriculture (real estate); Employment; Insurance disputes
University: University of Bristol
Degree: History
8.10am: I leave the house just after 8am and walk through beautiful Norwich to the office.
8.45am: I arrive in the office at around 8.45am. I often grab a coffee or something for breakfast from Edo's, our in-house café which does a selection of tasty food.
9.00am: After logging on, I check my emails and catch up with the team.
9.15am: An associate in the team asks me to help with the assessment of the quantum on a medical negligence claim. To do this, I consider evidence that was recently exchanged and evaluate the items included in the claimant's schedule of loss. After reading through a number of the documents on the file, I draft an email including my thoughts on how much the claimant should reasonably expect to recover.
11.00am: I catch up with the associate and we discuss my conclusions and findings. I am asked to draft a report to the insurer including the recommendations I suggested in relation to the quantum. As the completed report is not required until next week, I decide to move onto another task.
11.30am: I continue to draft an article considering a recent case that contemplates the doctrine of vicarious liability. This is a great task to dip in and out of, but also important that I finish drafting the article today as it will be included in an update to clients which is due to be circulated later this week. The article will also be posted on M&R's website and on LinkedIn which is valuable exposure for me.
12.30pm: Every Tuesday lunchtime, I attend a 45-minute Pilates class that is held in the client meeting rooms. It free for staff to attend and is a fantastic way to incorporate some exercise into the day and get to meet other colleagues. After the class, a couple of us enjoy soup and a toastie in Edo's before returning to our desks.
1.30pm: Last week, a partner in the team asked if I would attend an in-person settlement meeting held in the office. The claimant and their solicitor are attending, along with our client (the defendant). The purpose of the meeting is to negotiate and try to come to a resolution, perhaps even agreeing a settlement. Earlier in the week I prepared a bundle of documents for the meeting but have been asked to add some additional documents. After doing this, I meet our client at reception, show him to the meeting room and provide him with a copy of the bundle.
2.00pm: At 2pm, the settlement meeting commenced. I am tasked with taking a verbatim note of the discussions. Unfortunately, the matter did not settle but it was great to experience how negotiation is conducted between solicitors.
4.00pm: The meeting ends at around 4pm, so I head back to my desk and tidy the attendance note that I drafted. I spend the rest of my day continuing to finalise the article and send off the completed version. Finally, I ensure that my timesheet is correct and accurately records the work undertaken today.
5.30pm: I leave the office at around 5.30pm and head to one of the pubs on the river in Norwich for an outing with the team. The team have booked 'Pub and Paddle' which involves canoeing along the river and stopping off at the various pubs along the way. It was a lot of fun!
About the firm
The firm: You will often hear Mills & Reeve say 'Achieve more. Together', and while many law firms talk about teamwork and collaboration, it's not just a catchphrase here. It's the cornerstone of the culture and how the firm works.
The clients: Jaguar Land Rover; University of Cambridge; Ministry of Defence; Professional Footballers' Association; AIG; Wellcome Trust; Department of Health and Social Care; HSBC; Children's Investment Fund Foundation; Adnams.
The deals: Advised two Romanian brothers on the sale of their online language learning platforms and apps for over 40 languages to publishing group Pearson – established by Alex and Tudor Iliescu in 2014, Mondly offers language lessons in virtual and augmented reality and has an award-winning app, MondlyKIDS, to help children learn over 40 languages; the construction team provided legal advice on Salford's zero carbon house – the unique Z House was built using specialist research and expertise from the University of Salford's Energy House Laboratories team, is located at the university's main campus and was built by Barratt Developments, the UK's largest house builder to be occupied and observed by Salford students to evaluate its performance; advising Podium Analytics, a national charity founded by businessman Ron Dennis CBE, to reduce sports-related injuries in young people – armed with a mission to reduce the incidence and impact of sporting injury in 11-18-year-olds, Podium Analytics has secured several research partnerships and collaborations to identify the causes of injury and preventative solutions at youth level; the IP team successfully acted in EU trade mark opposition proceedings in the EU General Court to protect the goodwill in the name "Basmati" – the firm was instructed on behalf of The Agricultural and Processed Food Products Export Development Authority (APEDA), a statutory authority of the government of India, which represents the interests of Indian
individuals and companies involved in the growing, processing and export of agricultural products, including Basmati rice; advised Certified B Corp Space Doctors on its acquisition by Dutch agency InSites Consulting – founded in 2001 by Dr Fiona McNae, Space Doctors provides strategic cultural and semiotic insights for brands from its in-house teams based in Brighton, London and Singapore together with a global network of experts including semioticians, anthropologists, ethnographers and designers, and uses social media and text analytics to track cultural impact for brands including Microsoft, P&G, PepsiCo and Viacom.
Senior partner: Charles Staveley
Managing partner: Claire Clarke
Other offices: Birmingham, Cambridge, Leeds, London, Manchester, Norwich, Oxford.
Who we are: Mills & Reeve is a dynamic, modern and thought-provoking firm. We're personal and passionate about the law.
What we do: Delivering value to our clients through highly commercial, pragmatic and practical advice, we follow the highest possible standards of professional service, in the most personable and approachable way we can. Our 1,200-plus people and over 600 lawyers work from seven offices nationally and through handpicked relationships with law firms across the globe. Our work spans a broad range of legal sectors and jurisdictions for a diverse range of clients: from the FTSE 250 to fast-growth start-ups, from individuals to some of the world's most established and prestigious organisations.
What we're looking for: We want people who are ready for early responsibility because that is what we will give you. You will be driven, have a positive attitude and an agile approach. You will enjoy untangling complicated issues and thrive on building relationships with clients and colleagues.
What you'll do: We want you to really understand what it's like to be a lawyer and the best way to do that is to give you responsibility. You'll be working with national and international clients where you are given the freedom to learn in a supportive environment. Trainees take on six four-month seats to allow you to experience the breadth of the work we do and you will be supported by dedicated supervisors, a partner mentor, a trainee buddy and the graduate team throughout the two-year training programme.
Perks: Everyone has different priorities and preferences, so at Mills & Reeve you can choose the benefits that appeal to you. From buying holiday and undergoing health screening to leasing a bicycle – the choice is yours.
Benefits include: pension scheme; life assurance; bonus scheme; 25 days' holiday a year as standard with the option to buy or sell five days each year; extra day of leave for wedding, civil partnership, religious holiday, moving house; option to take qualification leave at the end of the training contract; sports and social committee; subsidised restaurants; season ticket loan; confidential employee assistance programme; membership costs for junior lawyers groups.
Sponsorship: Full course sponsorship and maintenance grant.
Diversity and Inclusion
Percentage of female associates: 64.1%
Percentage of female partners: 35.6%
Percentage of BAME associates: 10.6%
Percentage of BAME partners: 4.9%