Survey Results - Trainee feedback on
HFW
The lowdown - Trainees (in their own words) on HFW
Why did you choose this firm over any others? 'Sector focus, international reach', 'the international secondments', 'international seats, great vibe of the firm, exciting work', 'expertise in maritime sector, international presence, work/life balance and friendly atmosphere', 'shipping law expertise and secondment opportunities', 'industry and sector focus', 'great culture and career development', 'focus on the shipping sector' 
Best thing about the firm? 'International focus and interesting work', 'the vast majority of my colleagues are thoroughly nice people', 'the high-level work in the maritime sector', 'type of work', 'each seat is very distinct', 'its size – international but feels like a smaller firm', 'great opportunities to work abroad', 'travel opportunities and types of clients', 'the majority of people are great to work with', 'the international scope of the work – I haven't worked on anything that is based in the UK' 
Worst thing about the firm? 'The quality of supervision varies greatly', 'the technology', 'the office (which is due to change!)', 'no social scene; not much sense of camaraderie', 'lots of wasted time due to IT issues', 'people are sometimes disorganised which leads to unnecessary stress/late work before deadlines', 'remuneration seems to be below similar firms', 'no consistent policy on return to the office across teams' 
Best moment? 'Attending court and arbitration hearings', 'assisting with intense negotiations on a number of subcontracts for a client in relation to their involvement in a prevalent oil field project', 'working on a deal that made BBC news', 'covering a case while the matter partner was away – lots of responsibility but it taught me a lot', 'drafting demand letters on complex cyber fraud case', 'closing a £20m transaction which I managed from the very beginning' 
Worst moment? 'Working long hours and feeling underappreciated', 'not having enough work at times and being at a loose end for extended periods', 'bundling', 'a general feeling of being talked down to as a trainee', 'working on a case with a partner who did not provide any guidance', 'one supervising partner had a pretty short fuse – I haven't enjoyed getting told off by him, which has happened a couple of times!' 
The Legal 500 Future Lawyers verdict on HFW
HFW's 'expertise in the maritime sector', 'focus on contentious work' and 'international reach' encouraged the current trainee cohort to apply. The firm is a Future Lawyers Winner for international secondments and is praised for being 'truly international – most work has a cross-border element and most of the offices work very closely together'. 'Partners and associates take the time to teach you' at HFW, and training is 'well balanced and structured'. Prospective recruits can look forward to a 'genuinely collegiate atmosphere amongst the trainees: we are of course all different but we are also very similar in our approach to work and socialising'. In fact, 'the vast majority of our colleagues are thoroughly nice people', and the atmosphere is 'not too formal – you can approach partners directly to ask to work on matters you are interested in'. Recruits grumbled about the remuneration, elaborating that 'the trainee salaries are OK after the recent increase', but that the situation is 'disappointing at NQ level, especially if qualifying into a department such as corporate, where the work/life balance isn't as good'. Other gripes are that certain HR processes are 'disorganised' and the 'tired offices', although it is worth noting that HFW will be moving to new premises in 2023. 'Stressful moments while preparing for a trial with strict time pressures' and 'doing the transaction bibles for deals that closed during lockdown' were among trainees' worst moments. On the upside, 'going on secondment to another office', 'having an article published under my name in a trade magazine' and 'being given a lot of responsibility and work in areas in which I have expressed an interest' were clear highlights. To work at an international firm with notable shipping expertise, consider HFW. 
A day in the life of... Ellie Gilbert, trainee, HFW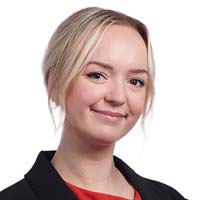 Departments to date: Energy and resources litigation; Aerospace (Singapore)
University: Newcastle University
Degree: Law LLB, 2(1)
8.30am: After a workout in the gym in my serviced apartment block (a perk of living in Singapore!), I quickly check my emails on my phone for anything urgent, before heading out of the door to make my way to work.
9.15am: I arrive in the office in Raffles Place and make a coffee before working my way through the unread emails in my inbox and updating my to-do list for the day. Being on secondment to the Singapore office means we are seven hours ahead of London so emails on matters we are working on with our London colleagues often come in overnight, but on the other hand it often means there is a period of quiet while London sleeps.
10.00am: My supervisor and I have a call with local counsel in Nepal to discuss the best way to move forward with settlement discussions with the families of those who have been injured in an aircraft accident in the Himalayas. Given the international nature of aviation work, it is very common to be working with local counsel in a variety of jurisdictions – so far I have worked with lawyers from Japan, Indonesia, India, the Netherlands, Korea and China, to name a few.
11.30am: Following on from these discussions, I finalise the attendance note that I prepared to ensure that we have a thorough record of what was discussed. I also update our settlement tracker with the up-to-date information that has been provided by local counsel and consider the amendments that will need to be made to the settlement releases before they are presented to the families.
1.00pm: I go out for lunch with a paralegal in our team to the local hawker centre. These are essentially open-air food courts with a variety of Malaysian, Singaporean, Chinese and Indian cuisine and you can get an amazing meal for less than $5 (around £3), which is very cheap by Singapore standards!
1.30pm: Back at my desk, I check the international news and notice that there are reports of foreign-owned aircraft that have been leased to Russian airlines being re-registered under the Russian aircraft registry. This is relevant to an advice that we are preparing for our clients and it is my responsibility to track these developments, so I update my chronology and circulate to the HFW team. This is a very fast-paced, unprecedented area of law and therefore very interesting to be involved in with this level of responsibility.
3.30pm: An email has come in from local counsel, this time based in Japan, updating me and the partner on a hearing that took place in the Japanese court yesterday. The court in Japan has provided an opportunity for the parties to enter settlement discussions and the other side has presented a settlement offer to us. I draft an update email to the client on this basis, including my recommendations for settlement, for the partner's review.
5.00pm: The partner has asked for a call to discuss my draft email. He lets me explain my thoughts on the settlement offer, we discuss the strategic position and the email is finalised and sent.
6.00pm: I can now focus on the smaller pieces of work that I have to complete before the end of the day. These are usually far less exciting but nonetheless important tasks like ensuring filing is up to date, obtaining fee quotes from local counsel, diarising key deadlines and updating schedules of insurance claim notifications.
7.00pm: I attend a training session on HFW's Sustainability Syllabus – this time it was on the energy transition. This is a key growth area for the firm and an interesting area of law so I make an effort to attend even though it is at the end of the working day in Singapore (but only 12pm in London!).
8.00pm: After the session has ended, I check my emails and nothing urgent has come in, so I log off and head out for dinner with some trainees from other firms that I've met out here.
About the firm
The clients: ABN AMRO Bank, Alpha Petroleum Resources Limited, BP plc, Excelerate Energy, Gategroup, HSBC Bank plc, ING Bank, Klaipėdos Nafta, Maersk Group, Markerstudy Holdings Limited, Northern Offshore Services, Qatargas, Swedbank, Trafigura, Tsakos Energy Navigation, Tullow Oil plc, Turkish Airlines Inc, Victoria Group AD and existing shareholders
The deals: Acted for the financiers on the amendment of loan facilities pursuant to the Hermes cruise debt holiday programme in respect of the Saga cruise ships 'SPIRIT OF DISCOVERY' and the 'SPIRIT OF ADVENTURE' whereby repayments of principal were deferred as a result of the Covid-19-related effects on the cruise market; acting for BW Epic Kosan Ltd. (previously Epic Gas) in connection with the refinancing of 17 LPG ships owned and operated by Lauritzen Kosan; acted for Northern Offshore Services in respect of (1) their purchase of two transfer vessels from SureWind and (2) the lease financing of those vessels provided by Flexam Invest; advised Trafigura Nala Matter on the formation of Nala Renewables – a new joint venture company with IFM Investors; advised Victoria Group on the disposal of its edible oil business, Victoriaoil, to Sun Valley and its co-owner Vaja Jhashi; advised Markerstudy on its acquisition of the Co-operative Group Ltd's carrier, CIS General Insurance Ltd; advised Lithuanian LNG terminals operator Klaipėdos Nafta on its acquisition of a floating, storage and regasification unit (FSRU) following a public tender involving nine other leading international law firms; advising Qatargas, the world's largest supplier of LNG, which is partly owned by Qatar Petroleum, on its vessel acquisition project, which forms a key element of the expansion of its North gas field; advising a leading commodities trader on a bid to purchase mining interests in Greece, including on international merger control aspects; advised a leading brand owner on its licensing and distribution arrangements in Europe, with particular reference to competition law.
Senior partner: Giles Kavanagh
Managing partner: Jeremy Shebson
Other offices: 20 global offices across the Americas, Europe, Middle East and Asia Pacific.
Who we are: We are a sector-focused, entrepreneurial law firm. But there's more to us than that. We have a passion for the sectors we work in – whether we are solving complex issues across construction, aviation and shipping, or providing advice across insurance, commodities and energy. We're people who like to get things done. Our clients say 'less traditional' – 'progressive', even. We say we're specialist lawyers here to add value to our clients.
What we do: Aviation, commodities, construction, energy, financial institutions, insurance and reinsurance, logistics, mining, ports and terminals, shipping, space, yachts, travel, cruise and leisure.
What we're looking for: We look for trainees who are bright, commercially focused and hard working. Strong communication skills and team working skills are a must. In addition, as our training contract is truly international, we look for individuals who have a global perspective and an interest in completing international work.
What you'll do: Every year we recruit only a small number of trainees – 15 per year split across a September and a March intake. This enables us to give every trainee our full attention, and means that your individual contribution makes a real difference. A training contract at HFW consists of four six-month seats – typically three contentious and one transactional, with at least one seat spent abroad gaining a global perspective of our work and clients.
Perks: Contributory pension; season ticket loan; group life cover, personal accident insurance and income protection; non-contributory medical insurance; private GP scheme; other voluntary benefits including gym membership, cycle to work scheme, dental insurance, dining card, home insurance, travel insurance, Give as You Earn. Music lessons and onsite massage.
Sponsorship: Law school fees paid, depending on the point of offer, and a maintenance grant of £8,500 (£6,500 outside London) is available for each year of study.
Diversity and inclusion
We are committed to recruiting diverse talent and to creating an inclusive working environment in which all of our people can reach their potential. For more information on our diversity and inclusion strategy please visit: www.hfw.com/Our-Colleagues.