Survey Results - Trainee feedback on
Cripps LLP
The lowdown - Trainees (in their own words) on Cripps LLP
Why did you choose this firm over any others? 'Relatively small trainee cohort and firm compared to Magic Circle/Silver Circle firms, so I feel valued as a trainee and employee. Early responsibility on live matters and exposure to client contact', 'the level of responsibility given to trainees and therefore the ability to develop my skills', 'specialism in real estate; London and Kent offices; focus on people and teams; good training', 'I wanted to train somewhere that I knew I would get exposure to all kinds of work as opposed to admin-based tasks'
Best thing about the firm? 'Nice people and I get on well with other trainees', 'the trust the supervisors have – we are given responsibility from day one and trusted to deal with clients', 'the work/life balance and approachability of supervisors', 'the variety of work, office location and reputation', 'good interactions within the team and at all levels, good work/life balance and trainees are encouraged to mix and support each other. Lots of useful training too', 'the friendly and approachable culture'
Worst thing about the firm? 'The pay', 'the remuneration should be a lot more competitive', 'poor salary and limited equipment provided to trainees', 'there are some disparities between different teams in terms of supervision and approachability', 'lack of diversity, although inclusion is great, and this is mainly a product of the firm's location' 'the pay and some supervisors are not approachable'
Best moment? 'Going to court', 'attending client meetings', 'being involved in and leading completions on big commercial property deals, and being allowed to participate and oversee things', 'being able to support clients who really appreciate what you are doing'
Worst moment? 'Senior members of staff just do not come into the office enough for me to benefit from my training', 'sending a draft email to the recipient instead of my supervisor. Not catastrophic, just embarrassing!', 'my first-seat supervisor was almost entirely remote and difficult to contact, even after Covid restrictions had eased', 'there have been weeks where I have had a lot of conflicting deadlines, with little support from my supervisor'
The Legal 500 Future Lawyers verdict on Cripps LLP
'Leading law firm in the south east' Cripps has offices in London and Kent, and boasts a 'specialism in real estate law' and 'good training'. The 'brilliant private wealth team' also drew in trainees. The firm has a 'big focus on people and teams' and a 'culture of treating everyone as an individual' leading recruits to 'feel valued as a trainee and employee'. Cripps trainees are given 'responsibility on complex tasks and encouraged to have early client contact'; they are 'always challenged, and encouraged to express opinions and ask questions'. What's more, recruits are 'never turned away from partners or other fee earners; there is always an open door'. To top it all off, 'the hours at Cripps are not crazy; you can sometimes be working later when needed but this is not the norm'. When asked for the worst thing about the firm, several trainees mentioned the pay, which they feel 'could be more competitive', especially for a 'top 100 law firm located just outside London'. Some recruits, however, feel that a good work/life balance and high levels of client contact is a trade-off for the lower salary. Other grievances are the 'limited equipment given to trainees to work from home', and that the 'hybrid working model can make it difficult to approach supervisors/have enough supervision'. Best moments include 'leading a client meeting alone for the first time, and being the person that clients trust to answer their questions', and 'attending a five-day trial at the Royal Courts of Justice'. For lots of responsibility, a friendly group of trainees who are 'encouraged to mix together' and plenty of exposure to high-quality work, take a closer look at Cripps.
A day in the life of... Francesca Harrison, trainee, Cripps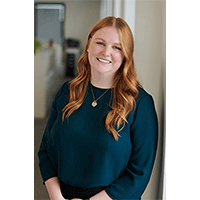 Departments to date: Family; Commercial real estate
University: University of Sussex
Degree: Law with Criminology
8.45am: I get to the office around 8.45/9.00am and grab an oat latte from the kitchen. I will then have a quick catch-up with my colleagues and get started checking my emails to see if anything urgent has come in. I will always start with a to-do list setting out all of my matters and tasks for the day and prioritise them to ensure nothing is missed.
9.30am: I begin reviewing a final form lease and drafting a summary for the client. This task normally takes a few hours so I will take regular breaks and check my emails throughout. I often start my day with larger drafting tasks as I find this is when I am most productive.
10.30am: I have a quick call with my supervisor to run through any pressing matters and new tasks. I send out a couple of emails which I had sent to my supervisor for approval and then continue with the lease report.
11.30am: A completion of a lease is taking place today and I need to make sure that everything is in order. I check with the secretaries to make sure that the completion money has been sent and review all of the signed documentation. Once everything is in order, I call the other side, complete the lease, and exchange documents. I then confirm the good news to the client.
12.30pm: Time for a break and I head into Tunbridge Wells to do some shopping. Other days I will go for a run or on a sunny day, I will sit on our roof terrace with other trainees.
1.30pm: A colleague has asked me to draft a deed of variation for a historic lease. We have a 15-minute chat about the matter and I make a start on the drafting.
2.00pm: I check my emails and make sure that the lease from the earlier completion has been sent to the post completion team for them to submit the SDLT return and register the lease at HM Land Registry.
2.30pm: I continue with the deed of variation when I get a call that a statutory
declaration needs to be signed today. I head down to town with my £5 at the ready and have the document sworn at a local solicitors.
3.00pm: I deal with smaller tasks such as chasing the other side for an update and keeping the client in the loop before I head to a training session. We have regular sessions with the talent development team as part of the 'Future Lawyers Programme'. This helps with feelings of imposter syndrome as it provides you with important skills such as presenting and time management.
4.00pm: Documents for the sale of a leasehold title have been agreed and therefore I prepare the online DocuSign envelope for signature. I catch up with the fee-earner for the matter and let them know the signing process.
6.00pm: Before signing off for the day, I close my time recordings and update my to-do list. I then head off to the pub over the road with some other trainees. There is always something going on at the office, whether it be a bake sale, sweepstake, team social or trainee social.
About the firm
The firm: Cripps is one of the country's leading legal practices
serving corporate, real estate and private clients. Headquartered in Tunbridge Wells, Kent, with an office in London, the firm offers a dedicated, integrated team of more than 430 people to deliver exceptional service to its clients. The firm builds, equips and continuously strengthens its teams, investing in the best talent and technology to deliver this service. Cripps' purpose is to 'be the difference', harnessing the collective energy, empathy and expertise of its people to make a positive and long-lasting impact on people's lives and business.
The clients: Chapel Down Group; Remy Cointreau; Harrow School; Thortful; Electroneum; Cadogan; Deliveroo; Fender Musical Instruments; M&G; Uniguest; Wates Developments.
The deals: As sole legal advisor for Jimmy Fairly in the UK, Cripps has acquired leases of 12 stores in key destinations across London in the last 12 months, as well as advising the brand on employment law, GDPR and litigation matters; acting for long-standing client Cadogan on transformational placemaking projects including the public realm works for the development of a 'green boulevard' along Sloane Street; advised Redrow on the section 106 agreement for a major new garden village in Tring incorporating 1,400 residential dwellings including care homes, affordable housing, employment, schools and leisure; acting for the insurer ERGO on a multimillion-pound rights to light claim relating to a major development in the heart of London – if it goes to trial, the claim will deal with a new approach to the assessment of light loss; acted in connection with Kennedy Wilson's £230m acquisition and funding of a portfolio of 20 UK urban logistics assets, involving our construction and planning lawyers as well as transactional and property dispute resolution lawyers; advised Easistore and its shareholders on a substantial group reorganisation and subsequent successful sale of the group to Midco Enterprise Limited (a JVCo of global investment manager, Nuveen Global and self-storage giant, Stor-Age Property REIT); advising Chromalloy Gas Turbine, LLC on a complex international reorganisation as a precursor to the recently announced sales of Trac Mexico Limited to Walbar Engine Components (U.S.) and Trac Group Limited to RCapital (UK); advising Adept on its recommended cash acquisition by Thetis Bidco, a member of the Wavenet Group; advised the shareholders of AT Squared Holdings Limited (FE Protect) on the sale of FE Protect to Gallagher Holdings (UK) Limited (Arthur J. Gallagher & Co.); advising Berry Gardens Growers Limited on the sale of its sales, packaging and distribution entity, Berry Gardens Limited, which has been acquired by Driscoll's.
Senior partner: Mike Scott
Managing partner: James Beatton
Other offices: London
Who we are: We are a full-service, top-100 UK law firm, headquartered in Kent. Putting our clients at the heart of what we do, we care about how our advice supports what really matters to them. Taking it personally from the outset, we're one dedicated, integrated team, solving our clients' problems, championing their ambitions and planning for their futures. As a purpose-driven firm, we're committed to do things the right way to make a lasting difference for our clients, people, communities and planet.
What we do: We provide a fully integrated offering for HNW individuals and families, national and international privately-owned businesses, non-profit organisations and institutional investors. We have one of the UK's largest private client teams helping individuals and families to maximise their assets, making their lives easier by taking the burden out of managing their
personal affairs. Our multi-award-winning corporate team supports many of the UK's most exciting businesses from innovative start-ups to global brands, fulfilling all the legal service needs a business has during its life cycle. We have one of the largest commercial real estate teams in the UK covering every aspect of the property life cycle, working with private and institutional owners/investors, developers, lenders, private equity, landed estates and major occupiers.
What we're looking for: Those who share our sense of purpose to help others, have a genuine interest in our firm, relevant work experience, and good commercial and business awareness.
What you'll do: We offer a comprehensive induction programme and ongoing training throughout the two-year contract. Support is provided regularly through structured reviews and on-the-job coaching. Our professional support lawyers provide first-class technical training. Our trainees also join our Future Lawyers Programme, which provides all the soft skills and legal
tech knowledge needed to be a well rounded and successful lawyer. We offer a four-seat training contract providing genuine hands-on experience. Levels of responsibility are high, with many trainees managing their own files under supervision.
Perks: Benefits include 25 days' holiday, pension scheme and season ticket loans. You will also receive an uplift in salary while undertaking a London-based seat as well as the associated travel costs between our Kent and London offices.
Sponsorship: Cripps will pay 100% of your course costs if you study BPP's SQE preparation courses (including the Essentials for Practice course). We will also pay the SRA candidate fee for one attempt at SQE1 and SQE2. Where needed we will also pay 100% of the course costs of BPP's Law
Foundations Course (PGDL).
Diversity and Inclusion
Percentage of female associates: 51%
Percentage of female partners: 46%
Please visit www.cripps.co.uk/join-us for more information.