Survey Results - Trainee feedback on
Clifford Chance
The lowdown - Trainees (in their own words) on Clifford Chance
Why did you choose this firm over any others? 'I attended an open day that I really enjoyed', 'the high-quality work offered, inclusive culture, money', 'internationally renowned and some of the best training you can receive', 'how friendly graduate recruitment are', 'the international element', 'I really liked the people and everything they spoke about resonated with me', 'I like the diversity of people, which complements the great clients and opportunities', 'the breadth and quality of work'
Best thing about the firm? 'Its competitive salary offering and investment in training. The quality of work is also very high – not least because of the business support services which absorb a lot of the most repetitive work', 'the deals I work on are very big and I think I'm able to have an impact on them', 'the kind, approachable people', 'the TC system is designed to ensure that we can see ourselves working here for years to come and being part of the CC network in a range of capacities', 'diversity and inclusion'
Worst thing about the firm? 'Work/life balance', 'long hours', 'corporate work', 'the hours can periodically be very challenging', 'it's very hard to switch off in the evenings/weekends', 'the different culture in international offices', 'work/life is non-existent in most finance/corporate seats', 'it's in Canary Wharf', 'the algorithm for bidding for seat preferences', 'the sometimes long hours working alone'
Best moment? 'Receiving a qualification offer', 'responsibility to draft significant transactional documents and see an IPO through to admission', 'closing a huge deal and feeling like I really helped it across the line, after a lot of late nights/weekends', 'flying to Istanbul in Turkey, from Frankfurt (after leaving London) to manage an in-person signing of a billion-dollar renewable energy deal', 'my secondment to Paris
Worst moment? 'My time in the structured debt department', 'finishing at 6am and then working from 9am the same morning', 'very high workload during December', 'consecutive all-nighters', 'some boring admin tasks', 'not completing work to high enough standard', 'working 70 hours in one week for a bid which failed', 'pulling an all-nighter', 'difficult working relationships with some associates', 'working 20-hour days for a week with some unpleasant colleagues in one of the finance teams'
The Legal 500 Future Lawyers verdict on Clifford Chance
Magic Circle firm Clifford Chance offers an 'opportunity to train at the top of the market'. The 'quality of the work, quality of the facilities and the quality of the training' drew high praise. Training at a big firm with a large trainee intake brings with it 'the opportunity to try different things and develop your understanding of different practice areas', whilst also ensuring that 'there is always another trainee around to ask questions to or get coffee with!'. The people at Clifford Chance are 'astonishingly good at what they do', but also 'fun and don't take themselves too seriously'. Training is 'well-rounded and in-depth', as well as 'very thorough and always available', with 'associates clearly invested in explaining things and making sure everything is understood so that you progress'. Clifford Chance 'provides many international opportunities' and has earned a Future Lawyers Winner medal for its overseas secondment offering. Trainees distinctly enjoyed a 'seat in the Sao Paolo office' and 'six months in Toulouse on secondment to Airbus'. Another medal has been awarded for the firm's excellent vacation scheme. The main bugbears were the 'lack of work/life balance' because of 'unpredictable hours' and 'having to work late when there is no one more senior around to ask if you have questions'. Other gripes include that 'it can be difficult to do a seat in the more specialist teams' and that there is 'an unavoidable seat in finance'; something applicants should perhaps make a note of before applying! 'A secondment to one of the world's largest companies' and 'an opportunity to work with a partner at a very early stage' were highlights. 'Working until 9am-6am two days in a row' and 'particularly intense periods verifying transactional documents' were worst moments. For a firm with an 'extremely strong reputation' and a 'great diversity of people' which 'invests heavily in training', consider Clifford Chance.
IGNITE: Where innovative minds meet
Clifford Chance IGNITE: Tech-focused training contracts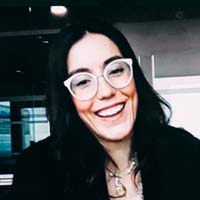 Laura De Arroyo: I was a little worried I wouldn't be able to tick all the right boxes – that my story, everything that shapes and defines me, wouldn't be suitable for a law firm. But Clifford Chance has given me the chance to use everything I have to my advantage, and to carve out a career for myself. No one here is conventional. Authenticity is key. There are former pilots, marines, professional artists and musicians. When I was younger, I thought I was going to be a scientist. But an internship in IP and litigation really sparked my imagination. I knew I could use the law to help scientific research organisations overcome regulatory hurdles and innovate. I've already received outstanding training and unconditional support to follow my interests and passions at Clifford Chance. I know I'm in a safe space to harness the skills I have and bring my background and expertise to the table.
Visit IGNITE to find out how we're breaking down barriers into law.
About the firm
The firm: Clifford Chance is one of the world's pre-eminent law firms, with an incredible depth and breadth of expertise that spans five continents. As a single, fully integrated, global partnership, the firm prides itself on its approachable, collegial, team-based way of working, and on the positive difference it makes to its clients right around the world.
With thousands of lawyers working from dozens of offices across the globe, Clifford Chance offers expert advice on all aspects of commercial law. And strives to exceed the expectations of its clients, which include corporates from all the commercial and industrial sectors, governments, regulators, trade bodies and not-for-profit organisations.
Many of Clifford Chance's deals make the news. All of its work has a real and meaningful impact. Often, it demands the kind of knowledge that only international, cross-practice teams can provide. Its reputation in the field is formidable. Which is why organisations turn to the firm not just for legal expertise but also for advice on their most critical business issues.
Senior partner: Jeroen Ouwehand
Global managing partner: Charles Adams
Other offices: Abu Dhabi, Amsterdam, Barcelona, Beijing, Brussels, Bucharest, Casablanca, Dubai, Düsseldorf, Frankfurt, Hong Kong, Istanbul, Luxembourg, Madrid, Milan, Munich, Newcastle, New York, Paris, Perth, Prague, Rome, São Paulo, Seoul, Shanghai, Singapore, Sydney, Tokyo, Warsaw, Washington
Who we are: We're a leading global corporate law firm, but we're not a typical one. We're a team of bright minds and singular thinkers who work together to find solutions to the challenges our clients have. Life here means doing the best work for exceptional clients while being yourself.
What we do: We offer legal expertise across a broad spectrum of commercial issues. And we have a diverse mix of clients.
What we're looking for in a trainee: Someone resilient, curious, creative and able to take challenges while maintaining excellence. Someone who continues to evolve and innovate. A great problem-solver. A smart thinker.
What you'll do: When you start each seat, you'll have in-depth training in that sector. This will bring you up to speed with the issues and challenges you're likely to face. You'll also have a dedicated supervisor in each seat and have regular meetings with the graduate development team.
Perks: Concierge services, free meals in the evenings, onsite healthcare, private healthcare scheme, pension scheme, dental plan and free gym membership and pool.
Inclusion and diversity
At Clifford Chance we see inclusion as a core value of the firm and also of the law.
We understand that diversity and inclusion are good for our staff and their families, our firm and our clients, and society. We believe that to help achieve these values we have to be champions of and campaigners for them across our firm, with our clients and in the world.
We see inclusion as an intrinsic value of our firm. It is a matter of justice. It is also a core part of our identity. Our history as a firm has been anchored in innovative and diverse cultures and approaches which have both disrupted traditional attitudes and set global standards.
Please visit www.cliffordchance.com/about_us/responsible-business/inclusion-and-diversity.html to read more.
Other resources
Clifford Chance Live: https://careers.cliffordchance.com/london/clifford-chance-live.html
Podcasts: https://www.cliffordchance.com/careers/working-at-clifford-chance/the-clifford-chance-careers-podcast.html