Survey Results - Trainee feedback on
Clifford Chance
The lowdown - Trainees (in their own words) on Clifford Chance
Why did you choose this firm over any others? 'Wide range of practice areas and ability to mould the training contract to the areas of law I wanted to see', 'the quality of the training and clients', 'I loved my vac scheme – the people were really friendly and encouraging', 'international work', 'diverse culture (in particular social mobility)', 'I loved the firm's atmosphere, and the remuneration was good', 'innovative firm and inclusive environment', 'Magic Circle reputation', 'excellent work, and the recruitment process was far more personal and supportive than others'
Best thing about the firm? 'Friendliness', 'the other trainees', 'in some departments it's the people. Across the board, I would say the support services', 'the type of work on offer when you qualify', 'the office and the nature of the work', 'the varied work', 'the high quality of the projects and deals we get to work on', 'everyone you work with is really smart and can teach you something', 'everyone pulls in the same direction', 'the training', 'the people. I love coming into work every day, having coffees and chatting, going for lunch. Genuinely liking the people you work with is amazing'
Worst thing about the firm? 'The split and variation between departments makes the overall 'whole firm' culture difficult to navigate at times', 'the hours', 'the canteen closes at 2pm', 'supervision can be inconsistent', 'some seniors are not very approachable', 'seat allocation, some aspects of HR, the culture of certain teams', 'there is minimal room for entrepreneurialism', 'not everyone is pleasant to work with', 'senior progression – I'm concerned about the number of talented juniors leaving', 'the office location'
Best moment? 'Attending a hearing at the International Development Research Centre', 'helping on chaotic, ground-breaking deals with lots of late nights and being able to offer my input in how to solve problems, and then celebrating with colleagues afterwards', 'setting up an initiative to support women in sport and coordinating the signing by celebrities (who had arrived by helicopter!)', 'developing my own competencies and not having to rely on juniors', 'the work ski trip!', 'being given the opportunity for significant client interaction'
Worst moment? 'Struggling and failing to mark up a non-disclosure agreement in my first couple of weeks', 'a particularly bad week of late nights when the work wasn't that urgent but the client was tricky', 'giving up my weekends and staying up to 3am on repeat without feeling like that sacrifice was acknowledged or appreciated (despite having no choice)', 'working late and not having anyone to speak with', 'having no work in a general banking seat and dreading coming to the office to sit around doing nothing', 'my tech all breaking down when five deals were closing'
The Legal 500 Future Lawyers verdict on Clifford Chance
Clifford Chance is 'always the first to make real change in the legal industry, from social mobility and diversity to legal technology' and offers 'fantastic international opportunities'. No surprise then that the Magic Circle firm is a Future Lawyers Winner for legal tech and international secondments. Trainees rave about 'the culture – despite being prestigious, Clifford Chance seemed more down-to-earth than other firms when I was deciding where to apply' and 'the people; most are genuinely lovely. They're an incredibly bright bunch of people with interesting backgrounds and life perspectives'. A few respondents mentioned SPARK and ACCESS, the firm's first-year student and A-Level schemes respectively, which 'really sold the firm' and engendered 'brand loyalty' in applicants from an early stage. A Clifford Chance training contract is a well-rounded one, thanks to a breadth of practice areas, and the opportunity to 'work on significant cross-border transactions that are newsworthy' keeps trainees engaged. Recruits find the 'unpredictability of the hours' to be the worst thing about the firm: 'there is often a lack of communication as to if and when work will come in (e.g. in the evenings) so it is difficult to plan your life around work'. A related worst moment was 'two weeks of non-stop long nights and lack of sleep'. There are also 'problems with retaining good NQs and beyond, due to the pay not being as competitive as at US firms at that level'. Things that made trainees happy were 'helping to close a deal relating to green energy', and 'working on an M&A deal and then having a specific seat being created for me'. To work in a prestigious yet diverse firm, which is 'continuously seeking improvement across every department', consider Clifford Chance.
Why Clifford Chance? Ope Oreyemi, trainee, Clifford Chance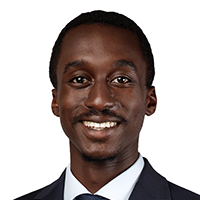 Departments to date: Asset finance; Finance, Abu Dhabi (secondment)
University: University of Oxford
Degree: Law
I joined the firm in August 2020, following the completion of my undergraduate law degree at the University of Oxford, as well as the Legal Practice Course.
One of my highlights in the application process was the supportiveness of the graduate recruitment team, and the attention to detail that they showed to every candidate, even prior to sending any applications.
I chose a career in law primarily because I've always been interested in businesses, corporations and the financial system. The ability to use the law to facilitate and implement the strategies of such institutions, and be a trusted advisor, both in the legal sense, but also in these institutions' wider commercial objectives, always appealed to me.
In terms of my decision to join Clifford Chance, the reality is that a lot of firms do very high-quality work, but there were two things that stood out to me when applying to the firm. The first is the firm's strength in such a wide range of practice areas. Given the rotational nature of the training contract, having a breadth of strong practice areas to choose from when selecting your seats is certainly ideal. This allows for a fully immersive training contract experience, and certainly aids training and development.
The second is diversity and inclusion. Diversity has in recent times been pushed to the forefront of many corporations' and institutions' agendas. However, a lot of places haven't necessarily got it quite right with inclusion. For me, inclusion is about ensuring that the policies implemented to improve diversity are sustainable, to the effect that all employees are given equal access to opportunities, and are able to thrive both personally and professionally. Clifford Chance has taken serious and sincere measures to improve both, and I could see that even before joining the firm.
In respect of my training contract, it's definitely been far from conventional. My first seat was focused on aviation and shipping work, in the asset finance team. The nature of transactions in this seat are relatively fast paced, and it was great to be given a lot of responsibility so early on in my career.
I spent my second seat in the firm's Abu Dhabi office. Given that you typically do four seats in the training contract, one of the appeals of undertaking an international secondment is that since the offices tend to be a bit smaller, the scope of work tends to be far broader than you might do in London. This means you have the opportunity to get involved in a wide range of practice areas, and I've been fortunate to do a mixture of asset finance, project finance, Islamic finance and general banking, as well as some restructuring work.
This seat will be followed by another international secondment, but with a client this time around. The firm's commitment to giving such opportunities at such an early stage in my career speaks to the truly global nature of a career at Clifford Chance. I'm definitely not a one off – my current supervisor is from the UK, and actually trained in London as well. Having spoken to him, he's since worked in the firm's Frankfurt and Abu Dhabi offices, once again proving that a career at Clifford Chance is definitely a passport to travel and work abroad, if that's something you want from your career.
Outside of the day to day work, I've regularly participated in the Clifford Chance weekly football team and also had the chance to get involved in pro bono work. I am currently working with Redress, an NGO committed to implementing anti-torture policies and legislation around the world. Both experiences have been extremely rewarding, and really serve as a reminder to use the platform that is Clifford Chance to do good and meaningful work.
Clifford Chance is a firm of diverse and personable people, meaningful and top-tier work, and a breadth of international opportunities. There has been a lot to learn and it's definitely been hard work, but if anything, this has made the experience all the more rewarding!
About the firm
The firm: Clifford Chance is one of the world's pre-eminent law firms, with an incredible depth and breadth of expertise that spans five continents. As a single, fully integrated, global partnership, the firm prides itself on its approachable, collegial, team-based way of working, and on the positive difference it makes to its clients right around the world.
With thousands of lawyers working from dozens of offices across the globe, Clifford Chance offers expert advice on all aspects of commercial law. It strives to exceed the expectations of its clients, which include corporates from all the commercial and industrial sectors, governments, regulators, trade bodies and not-for-profit organisations.
Many of Clifford Chance's deals make the news. All of its work has a real and meaningful impact. Often, it demands the kind of knowledge that only international, cross-practice teams can provide. Its reputation in the field is formidable, which is why organisations turn to the firm not just for legal expertise but also for advice on their most critical business issues.
Senior partner: Michael Bates
Global managing partner: Charles Adams
Other offices: Abu Dhabi, Amsterdam, Barcelona, Beijing, Brussels, Bucharest, Casablanca, Dubai, Düsseldorf, Frankfurt, Hong Kong, Istanbul, Luxembourg, Madrid, Milan, Munich, Newcastle, New York, Paris, Perth, Prague, Rome, São Paulo, Seoul, Shanghai, Singapore, Sydney, Tokyo, Warsaw, Washington.
Who we are: We're a leading global corporate law firm, but we're not a typical one. We're a team of bright minds and singular thinkers who work together to find solutions to the challenges our clients have. Life here means doing the best work for exceptional clients while being yourself.
What we do: We offer legal expertise across a broad spectrum of commercial issues, and we have a diverse mix of clients.
What we're looking for: Someone resilient, curious, creative, high performing and able to take challenges while maintaining excellence; someone who continues to evolve and innovate; a great problem-solver; a smart thinker.
What you'll do: When you start each seat, you'll have in-depth training in that sector. This will bring you up to speed with the issues and challenges you're likely to face. You'll also have a dedicated supervisor in each seat and have regular meetings with the graduate development team.
Perks: Concierge services, free meals in the evenings, onsite healthcare, private healthcare scheme, pension scheme, dental plan, and free gym membership and pool.
SPARK: Clifford Chance SPARK is our award-winning opportunity for exceptional first-year law students, second-year students of a four-year law degree or penultimate year non-law students of a three-year degree.
SPARK has been developed from a one-week internship into a two-year programme to give you deep insights into our work and to develop your legal knowledge, commercial awareness and core business skills.
With both in-person and virtual content, the programme follows key pillars designed to be fast-paced, dynamic and full of opportunities to meet representatives from the firm and to learn about our business.
You'll benefit from an unparalleled introduction to the high-performance world of commercial law, experiencing a blend of classroom-based learning, dedicated skill development, time spent shadowing our lawyers and more. It can also lead you straight to a training contract. Elements of the programme are paid at £450 per week.
Diversity and inclusion
At Clifford Chance we see inclusion as a core value of the firm and also of the law.
We understand that diversity and inclusion are good for our staff and their families, our firm and our clients, and society. We believe that to help achieve these values we have to be champions of and campaigners for them across our firm, with our clients and in the world.
We see inclusion as an intrinsic value of our firm. It is a matter of justice. It is also a core part of our identity. Our history as a firm has been anchored in innovative and diverse cultures and approaches which have both disrupted traditional attitudes and set global standards.
Please visit www.cliffordchance.com/about_us/responsible-business/inclusion-and-diversity.html to read more.