Survey Results - Trainee feedback on
Watson Farley & Williams LLP
The lowdown - Trainees (in their own words) on Watson Farley & Williams LLP
Why did you choose this firm over any others?  'The people', 'work/life balance', 'practice areas', 'six-seat rotation', 'the guaranteed overseas secondment', 'the firm made it extremely clear what their sectors were and what work they did within them', ' focus on finance', 'the sector-focused offering that allows you to become an expert in a given field', 'because of its pre-eminence in the maritime sector', 'its supportive working culture' 
Best thing about the firm?  'The social life is great as well as the decent work/life balance', 'the canteen food', 'everyone I have met so far has been very approachable, even at partner level', 'quality of shipping work and client contact in the asset finance team', 'very flexible working policy', 'several people have been at the firm since training', 'level of client contact in transactional departments' 
Worst thing about the firm?  'Not as well paid as other firms', 'sometimes work can be repetitive and not well explained', 'hours in certain departments can be long', 'different departments feel a bit like working at different firms', 'the office feels dated and lacks any real natural light in most places', 'the difficulty of integrating into new seats during Covid, which was exacerbated due to the six-seat structure', 'lack of structure in small departments', 'lack of formal and substantive training outside of the first few induction weeks of the training contract'  
Best moment?  'Working long hours and being taken for lunch to thank us for our hard work', 'the first time I sent work to my supervisor and was told to send it straight to the client', 'secondment to the Paris office', 'when I was trusted to effectively run a 'mini' closing over the Christmas period and it all went off without a hitch' 
Worst moment?  'A string of long hours with little thanks', 'attending an overnight closing meeting', 'an extremely busy asset finance seat meaning work/life balance went out the window', 'some quite late finishes at the height of a busy period in finance', 'multiple midnight finishes in a row due to multiple closings in a row', 'long hours in the assets and structured finance seat' 
The Legal 500 Future Lawyers verdict on Watson Farley & Williams LLP
International law firm Watson Farley & Williams LLP is a key player in the energy, transport and associated infrastructure sectors. But the jewel in WFW's crown from a trainee perspective is undoubtedly its international secondment offering. The firm guarantees at least one (and sometimes multiple) overseas seats for each of its trainees and is therefore a deserved Future Lawyers Winner in this category. Recruits described their time abroad as 'great! The firm makes it easy to go away' and enjoyed 'seeing how the firm operates in different jurisdictions and how the firm's focus may be slightly different based on the office'. Other things which set WFW apart are the six-seat rotation, which 'allows you to try more departments and gain a wider range of experiences' and the 'much smaller intake', which 'means that contact with superiors is much more personal and friendly'. Moreover, there is a 'very relaxed office environment'. Indeed, 'the firm places a lot of emphasis on the culture, and in many respects, it delivers – the partners and associates are very welcoming and go out of their way to help you find your feet on tasks'. That said, at WFW 'working in different departments can sometimes feel like working in different firms', and 'trainees can have quite stark differences in workload depending on their seat rotation, with those in finance doing consistently longer hours at certain times of the year'. On a more encouraging note, although the training is 'not always as structured as that provided in some other City firms', WFW trainees feel that 'learning on the job tends to suit us better anyway'. For sector-focused training as part of a small intake, with the opportunity to experience six different seats and a guaranteed international secondment, consider Watson Farley & Williams LLP. 
A day in the life of... Jude Boateng, second-year trainee, Watson Farley & Williams LLP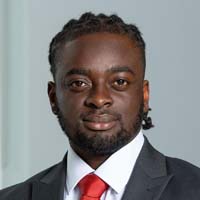 Departments to date: Dispute resolution; Assets and structured finance; secondment to Singapore (focused on assets and structured finance)
University: University of Warwick
Degree: BA Philosophy
8.00am: We have an agile working policy which allows us to work from the location best suited to the demands of the day. Coming into the office has been good; it allows me to work alongside my supervisor and catch up with the rest of the team, but equally enjoy the flexibility in being able to log on from home and make an early start if required, or equally when working late into the day, knowing that I don't have to be in the office first thing in the morning also helps. I always keep those that I am working with in the loop about where I plan to spend parts of my day.
As the Singapore office is not too far from the apartment, I'm able to start my day a bit later than I would in London. I normally start my working day from home before heading into the office. The first thing I do is sort through any unread emails that have come in overnight. As many of our deals have an international element, there are often quite a few updates from our UK office or our clients in Europe. This doesn't take too long and gives me a good indication of what will need to be done over the course of the day.
9.30am: I make my way into the office, and as an asset finance trainee, one of the tasks I often have to do is update our conditions precedent checklist regularly so that our clients are aware of any outstanding matters they need to follow up on. Once this has been done, we use our Compare Documents programme to give the client a quick update on what has changed since the last update.
11.00am: Every couple of weeks the Singapore office have a meeting with all the fee-earners to discuss the latest news within the team. This could involve introducing new joiners, updates about ongoing matters, as well as the opportunity to discuss our pro bono/sustainability work. This is a good way to catch up with members of the team and get a brief update on what is going on in other departments.
12.30pm: Around 12.30-1.00pm most people normally head out for lunch. I often go to the gym during this time as its right next to the office, making it very convenient. There's also a hawker centre (essentially a food court) within a two-minute walk from the office so there's so much choice for food.
2.00pm: When I get back to the office, I start working on duplicating transaction documents for a deal which takes the same form as a previous deal we have worked on. In Singapore many of the deals are JOLCOs (Japanese operating lease with call option), which was a new concept to me on arriving. They are similar to sale and lease backs but differ slightly. By doing numerous deals with familiar clients, you begin to learn the process and understand the mechanics better, which helps move the deal along faster. So while duplicating documents is quite a lengthy process, given that the clients had recently closed on a similar deal, not much negotiation is required over the form of the documents as the main changes are factual (vessel name, registration number, different charterers and so on). Inevitably, when making these changes, some mistakes may appear, so once the client has reverted on our drafts, and these changes have been implemented, again we use our Compare software to show that these changes have been made and that the documents follow the same form as the documents required for the previous vessel.
5.00pm: Around this time loads of emails start to come in as our colleagues in London start to log on. On some deals we may have phone calls with our colleagues just to update them on any developments over the day, or things that need to be followed up on.
7.00pm: Most of my colleagues leave the office around this time and if they still have work to do will log on from home. The team in Singapore are really accommodating and understanding, so if you have prior commitments (and your work allows for it) you're more than able to attend to your commitments and log on later on if you're still required. Over the summer things quieten down as many of our clients are on holiday, so it's quite nice to still have loads of time for other activities during the evening. On Thursdays, I have football training with a local amateur Singaporean team. There are loads of bars and restaurants around our office so every now and then I may meet up with colleagues, friends or other trainees who are also on secondment in Singapore.
About the firm
The firm: WFW is an international law firm advising on complex transactions and disputes through local knowledge and an integrated international network. It has a strong sector focus, combining its technical excellence with deep industry knowledge across energy, transport and infrastructure.
The clients: Airbus Bank, Citibank, HSBC, Investec, JP Morgan, Lightsource bp, MSC Cruises, Nordea Bank, Orsted, Standard Chartered Bank and Vattenfall, among others.
The deals: Advised Citibank N.A., London Branch and HSBC Bank respectively on two separate ECA-backed JOLCOs (Japanese Operating Lease with Call Options) arranged for Seaspan Corporation. These pioneering transactions were developed simultaneously and are firsts of their kind, combining two tried and tested ship financing structures, ECA-backed loans and sale-leaseback arrangements under JOLCOs, and represent the first time the ECAs involved have supported JOLCO structures in shipping. Shortlisted for The Lawyer UK Awards Finance Team of the Year 2022 (WFW London and Singapore).
Advised Greek telecommunications operator Hellenic Telecommunications Organisation S.A. (OTE) on a €150m loan agreement with the European Bank for Reconstruction & Development. The funds will enable OTE to finance the rollout of its 'Fibre to the Home' broadband infrastructure to approximately 371,000 households and businesses in 12 regions across Greece. This will result in a reduction in greenhouse gas emissions and contribute to the Greek economy's green transition (WFW Athens).
Advised MSC Cruises on the €353m financing of a new mega cruise terminal at the Port of Miami, Florida. The construction contract is with Italy's highly regarded Fincantieri shipyard and the project is being backed by Italian ECA SACE (WFW London and Italy).
Advised the African Export-Import Bank and BGFIBank Group S.A. as lenders on the project financing for the development of a world-class special economic zone, the GDIZ Benin Industrial Zone in the Republic of Benin in West Africa (WFW London and Paris).
Advised long-standing client Copenhagen Infrastructure Partners (CIP) on its joint venture with GreenIT for the construction of two mega-scale floating offshore wind farms in Sardinia and Sicily. The transaction concerns the agreement between GreenIT and CI IV, a fund managed by CIP, for the construction of two floating offshore wind farms in Sicily and Sardinia, both located more than 35km from the coast, with a total capacity of approximately 750MW (WFW Italy).
Advised Banco Santander on a €1bn green loan with a European Export Credit Agency guarantee granted to Iberdrola for the financing of the acquisition of turbines for both onshore and offshore windfarm projects in Spain, Poland, Greece, Germany and the United Kingdom. The financing, which has a maximum maturity term of 15 years, is the largest ECA-backed green loan Iberdrola has ever signed (WFW Madrid).
Advised various parties on the Chapter 11 restructuring of Nordic Aviation Capital group (NAC) including a group of creditors, the servicer to a portion of the aircraft portfolio, and Wilmington Trust (London) Limited on its appointment to multiple administrative roles. This is NAC's second Chapter 11 restructuring, the group having emerged from a solvent, Irish scheme of arrangement in July 2020, in which WFW also advised WTLL and several groups of creditors (WFW London and New York).
Advised a consortium of international lenders on the financing of BASF's stake in the Hollandse Kust Zuid (HKZ). Located in the North Sea, approximately 18km off the coast of the Netherlands, HKZ will, once fully operational, be the largest offshore wind farm in the world with 140 wind turbines and a total installed capacity of 1.5 gigawatts (WFW London and Germany).
Advised long-standing client Lightsource bp in relation to a US$1.8bn revolving credit facility to be used for its global growth strategy of developing 25 GW of solar energy by 2025 (WFW London).
Secured a victory for client Abbey Healthcare (Mill Hill) Limited before the UK Court of Appeal. In an important decision, the Court of Appeal overturned a High Court judgment that had restricted the use of a quicker and cheaper means of resolving construction disputes.
Managing partner: Lindsey Keeble
Senior partner: George Paleokrassas
Other offices: Athens, Bangkok, Dubai, Dusseldorf, Frankfurt, Hamburg, Hanoi, Hong Kong, Madrid, Milan, Munich, New York, Paris, Rome, Singapore and Sydney.
Who we are: WFW strives for excellence in all that we do and views investment in our people as key to achieving our business goals and values, which rest on developing deep and long-lasting relationships externally and internally through respect, sharing, communication and integrity. Our teams are integrated across legal disciplines and offices, delivering consistently high levels of service in combination across borders and locally through a deep understanding of local business customs and culture.
What we do: Within our core sectors of energy (conventional and renewable power; oil and gas; mining and commodities), transport (aviation, maritime and rail) plus associated infrastructure, we provide a full suite of legal services including capital markets, construction, corporate, dispute resolution, employment, finance, planning, public law, real estate, and regulatory and competition.
What we're looking for: Although there is no typical WFW trainee there are certain qualifications, skills and traits that we look for. You will need a 2(1) or above – or predicted if you haven't yet graduated. We also look for at least ABB from A level results, 34 points from IB or their equivalent if you have taken other qualifications. Applications are read in their entirety and we take mitigating circumstances relating to academics into consideration. As well as academic achievement, we particularly value applicants with clear initiative, drive, commercial awareness and an interest in our sectors. You will have the chance to demonstrate these things at one of our assessment centres, as part of the application process.
What you'll do: Our training contracts are hands-on, with as much experience of clients and challenging, high-profile work as possible. Trainees benefit from plenty of exposure to senior lawyers, many acknowledged leaders in their field.
WFW deals with training and ongoing development in an individual way. During each seat the firm discusses with trainees plans for the next one to ensure they gain valuable insight from the six-seat programme, including a guaranteed international secondment.
We believe that only total immersion can provide trainees with the experience they require.
Perks: These include 25 days' holiday, income protection scheme, life assurance, employee assistance scheme, pension scheme, private medical insurance, interest-free season ticket loan, £250 contribution towards a sports club or exercise classes, and a flexible benefits scheme.
Sponsorship: Fees and maintenance grants paid for PGDL and SQE studies, depending on the point at which you accept a training contract with us.
Diversity and inclusion