Survey Results - Trainee feedback on
Debevoise & Plimpton
The lowdown - Trainees (in their own words) on Debevoise & Plimpton
Why did you choose this firm over any others? 'It is a market leader for disputes', 'small intake, collegiate environment, high remuneration', 'talented lawyers and high degree of responsibility from the get-go', 'it had a nice and friendly atmosphere', 'quality of work, high-profile clients. Famous for being the 'nice' American firm', 'lots of responsibility very early on. The ability to learn on the job. Very lean teams'
Best thing about the firm? 'The culture', 'UK culture at a US firm', 'work/life balance', 'the people – for such a high-powered firm and given everyone is so intelligent, it's amazing just how nice everyone is', 'it is true when they say 'increased responsibility'. For people who don't feel the need to receive formal training or a 'big law' infrastructure, this model will work for you'
Worst thing about the firm? 'Late hours at times', 'the hours', 'international secondments', 'the firm recruits very heavily on the basis of its reputation for disputes. However, only half the actual trainee seats will be in disputes, meaning it is very competitive to do a disputes seat, and it is unlikely you will be able to do more than two', 'the fact that there is very little formal training'
Best moment? 'Getting the right answer to a difficult research question', 'attending a US-style deposition', 'getting good feedback from a senior member of the team', 'doing research that was ultimately used in a case', 'attending hearings', 'being given lots of responsibility on a matter, doing it well and then receiving great feedback from my supervisor'
Worst moment? 'Having to produce large number of corporate authorisations in a short time', 'deal volume as a trainee in fund finance', 'a long period at the beginning of a seat where I was working very long hours with very little human interaction (as this particular department tends to work from home much more than others)', 'working on weekends and bank holidays'
The Legal 500 Future Lawyers verdict on Debevoise & Plimpton
'Famous for being the 'nice' American law firm', Debevoise & Plimpton trainees benefit from 'lots of responsibility very early on, the ability to learn on the job, and very lean teams'. For the small intake of trainees, training is 'less structured and formal' than at larger firms yet 'equally instructive'. In fact, 'from day one, you will be treated akin to a junior associate and will be expected to work and perform like any other member of the team'. Trainees think that 'the people are much nicer here than at other firms. Everyone is (more or less) kind and considerate'. And 'though the hours are long, there's no need to work when there's nothing to do and people are very understanding'. One complaint is that 'Debevoise recruits very heavily on the basis of its reputation for disputes' but that 'only half the actual trainee seats will be in disputes', which means that trainees often do not get as many opportunities for experience in this area as they would like. 'A long period at the beginning of a seat where I was working very long hours with very little human interaction (as this particular department tends to work from home much more than others)' was a low point for one trainee. When it comes to pro bono, 'opportunities are aplenty; there is never a shortage of pro bono work for those with the appetite'. For a 'collegiate environment, good remuneration; talented lawyers and high degree of responsibility from the get-go' consider Debevoise & Plimpton.
A day in the life of... Emma Habanananda, associate in investment management group (IMG)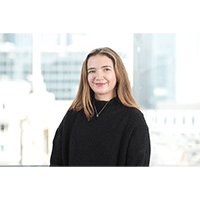 Departments to date: Finance; International arbitration; Investment management group; Corporate
University: University of Edinburgh
Degree: Law LLB
8.00am: I check my emails on my work phone to ensure that there is
nothing urgent that has come in overnight that requires my attention
and address some client emails at home.
9.30am: I grab a coffee on my way into the office and once I have arrived
I catch up with my colleagues in the IMG team. I then sit down in my
office to run through my emails and prepare my to-do list for the day.
10.00am: I start answering emails in order of priority and prepare responses to some client requests that have come in overnight. I run these answers past the senior associate and partner on the project and then send out our responses and turn to updating some key fund documents for one of our clients.
11.30am: I have a meeting with the team on one of my active pro bono matters. I am currently working on preparing the applications to the government for one of our clients to reunite with his children who were unable to join him in the UK when he fled from Afghanistan last year. I work with a trainee to update the main submissions that will be sent to the Home Office and send them to the initiative's coordinator for approval.
1.00pm: It's time for lunch so I head out with some of my colleagues from my trainee cohort. Since there are only nine trainees per year, we built a close relationship throughout the training contract and it has been great to maintain this since becoming associates.
1.50pm: I head back to my desk to prepare for a call with a client to run through comments that we have received from their potential investors on our key fund documents. I have been asked to take the lead on a section of the call so I make sure that I am up to date on our client's position in the negotiations. I jump on a quick preparation call with the partner and senior associate to make sure we are all up to date on the status of each document and circulate an updated document tracker so that we can use it to guide the call.
3.00pm: I am a mentor for a project that helps students at school in Year 12 with their future careers and have a meeting with my mentee. This is my second meeting with my mentee and we meet over Zoom to run through his LinkedIn profile and his CV and discuss how he could strengthen both. We also have a catch up on his research into different university courses and which course might suit him best.
4.00pm: The client that we had a call with has emailed with some further comments on each of the documents so I turn to those and amend the documents accordingly. I briefly check in with the senior associate to make
sure he agrees with my changes before sending out the updated documents. It can be daunting having the responsibility of reviewing documents first and presenting my thoughts to my senior colleagues, but everyone I work with is supportive which has helped grow my confidence since joining the firm
4.45pm: I take a call from legal counsel in Mauritius who are assisting us with regulatory law issues and we discuss the two points of Mauritian law that will impact our work with the client.
5.40pm: After updating the team on my call, I turn to some more pro bono work. This work involves updating our database with all of the cases that we have run so far and ensuring that we have received client feedback on each one. I review any missing entries and email the relevant case teams to request such feedback.
6.30pm: One of the trainees comes to my office to discuss their qualification decision that is coming up soon. I am part of the women's mentoring scheme and regularly check in with my trainee mentees to talk through any issues they are having and provide them with support as they progress throughout their training contract.
7.00pm: I run through any emails that have come in during the afternoon and address any outstanding questions.
7.30pm: I check in with my team and since there is nothing else urgent for today I log my time entries, file my emails and leave the office.
7.40pm: I head to drinks with my team at a nearby pub and then head home.
About the firm
The firm: Debevoise is a leading international law firm. The London office works on many of the highest profile and most complex transactions in Europe and worldwide. It does this by virtue of its English and New York law expertise and its close integration with the other offices.
The clients: AfricInvest Group; AIG Inc; AXA; B&M European Value Retail S.A; Clayton, Dubilier & Rice; Credit Suisse Asset Management Limited; Park Square Capital; Rolls-Royce plc; The Ocean Foundation; United Nations Working Group on Business and Human Rights.
The deals: Advised Pantheon on an equity investment as part of the proposed £2bn public takeover by KKR of John Laing Group plc; advised Park Square Capital, one of the world's most established credit investment firms, on its fourth subordinated debt fund, resulting in total investable capital of €2.2bn; among eight leading law firms involved in a new pro bono initiative with the Joint Council for the Welfare of Immigrants to launch a free legal advice
clinic for applications to the UK government's Windrush Compensation Scheme; advised a satellite capacity provider in arbitration proceedings and domestic court proceedings brought by another satellite company; advised a major oil and gas company in a multijurisdictional dispute concerning the
ownership of interests in a services group in Russia and the CIS.
Senior partner: Lord Goldsmith QC
Managing partner: Richard Ward
Other offices: New York, San Francisco, Washington DC, Frankfurt, Paris, Luxembourg, Hong Kong, Shanghai and Tokyo.
Who we are: Debevoise is a leading international law firm. The London office works on many of the highest profile and most complex transactions in Europe and worldwide. We do this by virtue of our English and New York law expertise and our close integration with our other offices.
What we do: In developing our practice in London we have sought to replicate the core strengths of our practice worldwide. Our focus is on private equity, insurance, international disputes and investigations, financial institutions, M&A, finance, capital markets and tax.
What we're looking for: Minimum qualifications – 2(1) degree in any discipline and 144 UCAS points at A-Level (or equivalent). Students whose personal qualities, academic record and other achievements demonstrate exceptional ability, motivation and potential. Applicants will make a significant contribution to our firm and thrive in our unique culture. We look for an ability to listen actively, think creatively and interact successfully. We also look for maturity and leadership qualities
What you'll do: Each of our associates should become a 'well-rounded' lawyer – an effective counsellor, adviser and advocate – who can combine legal knowledge with the ability to deal with a range of situations. Trainees develop their skills through formal training and on-the-job experience. The two years are split into four six-month seats with an opportunity to gain experience in at least three distinct areas.
Perks: Bonus, private medical and dental insurance, private GP, life assurance, income protection, pension, computer allowance, cycle scheme and subsidised onsite café.
Sponsorship: SQE+ £15,000 maintenance grant per academic year.