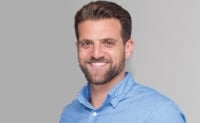 A start-up from Allen & Overy's (A&O) Fuse innovation hub is one of the first 17 companies to join banking giant Barclays' legal technology lab.
Deal platform Legatics, which has been in Fuse for each of A&O's first two cohorts, has taken up residence at Barclays' 100-person LawTech Eagle Lab in London's Notting Hill. AI provider ayfie, contract generator Ginie AI, and document collaboration platform Annotate are the only other start-ups in the lab to have been named.
The bank's law-tech space was first announced in April with backing from 13 law firms and several other industry players including the Law Society, PwC, start-up community Legal Geek, as well as the University of Liverpool and University College London.
It has now opened with its first four companies, which each pay between £150 and £350 a month for access to the space. Packages range from a hot-desking option for six days a month to a private office year-round.
Legatics head of business development Daniel Porus (pictured) told Legal Business the start-up's growing team – soon to be ten staff – had taken up a desk with Barclays it will use at least once a week. The company had been impressed by the Eagle Labs space and was looking to move its entire operation there post-Fuse.
Fuse has capacity for about 30 people, with seven companies resident there after an eighth, Bloomsbury AI, in July joined social media giant Facebook in a deal reportedly worth between $23m and $30m.
Porus commented: 'One of the things we really appreciate about Fuse is how valuable it is to physically sit next to other legal technology companies, and it's the same for Barclays. It's a lot more useful sitting next to someone else who's going through similar challenges to you.'
A&O was among the firms which signed up to the Eagle Lab law-tech initiative, alongside Baker McKenzie, Brethertons, Capital Law, Clifford Chance (CC), Clyde & Co, DWF, Gowling WLG, Latham & Watkins, Norton Rose Fulbright, Simmons & Simmons, SO Legal and TLT.
Porus added that there had been a strong level of engagement from the firms who had partnered with Barclays: 'It has been great to see various law firms come together in Eagle Labs to discuss technology that Barclays is interested in.'
Ayfie is the most established of those joining the law-tech Eagle Lab, first founded in the US in 2009 and boasting more than 500 customers. It has developed a tool which combines natural language processing and linguistics to enable law firms to analyse unstructured data without having to train machine learning algorithms with large document sets.
Ayfie EMEA senior vice president of business development Peter Richards said: 'Ayfie's experience and technology combined with direct access to UK law firms and other technology vendors will uncover opportunities for both ayfie and the firms.'
The lab mirrors a network of other Eagle Labs Barclays has across the UK, originally converting old bank spaces to help start-up businesses. Barclays has already hosted three law-tech companies in its Eagle Labs, including Wavelength Law, Prose, and Aalbun.
It also builds on similar initiatives launched at law firms, including the aforementioned Fuse, Mishcon de Reya's MDR LABS and Dentons' Nextlaw Labs and Nextlaw Ventures.
Barclays UK general counsel (GC) Stephanie Pagni commented: "Now that the first residents have moved into our LawTech Eagle Lab, we look forward to working with our partners to facilitate supporting their growth by providing them with an environment in which they are able to collaborate and learn fast.'