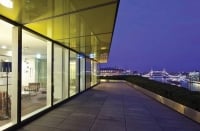 Never a firm to rest on its laurels, fast-paced Fieldfisher has taken the unusual step of launching a separate law firm focused on hedge funds, derivatives and alternative investments.
The new entity – called Cummings Fisher – sees Fieldfisher hire three partners from other law firms to run it. Financial services partner Claire Cummings, who founded alternative investments boutique Cummings Law in 2003, has been appointed managing partner. She will be joined by James Tinworth, formerly head of Stephenson Harwood's hedge funds practice, who will lead the funds practice. Ron Feldman, previously a partner at asset management consultancy MJ Hudson, will spearhead the derivatives practice.
Cummings Fisher will be based at 1 Mayfair Place, London's hedge fund and alternative asset management hub. Despite the separate office, Cummings Fisher will still be able to access Fieldfisher's pool of lawyers and its outposts dotted across Europe.
Structurally, Cummings Fisher is a completely separate firm rather than a division or new brand of Fieldfisher. It is an independent, SRA-authorised firm that is owned and supported by Fieldfisher. It is not an Alternative Business Structure (ABS).
Guy Usher, head of financial markets and products at Fieldfisher, told Legal Business that the idea for a separate law firm came after seeing the success of Fieldfisher's near shore operation in Belfast: 'We wanted to do a similar service with a competitive price point for investment managers. We needed more hedge fund clients for this to work though, which is why we approached Claire. In fact, she was the first person who answered our email asking to meet for a coffee!'
Cummings added: 'We are building up the practice we already had at Cummings Law. We had lots of smaller clients that we would often regard as friends, but now with the ability to exploit Fieldfisher's resources, we are able to offer more for our larger clients.'
The Cummings Fisher launch builds on a sustained period of international growth and new product lines for Fieldfisher. In 2018, the firm opened the low-cost hub in Belfast, with a long-term view of staffing it with 125 people. The Northern Irish office provides document negotiation and legal support from a team largely consisting of paralegals.
In early 2017, Fieldfisher launched Condor, an alternative legal services platform which offers clients process-efficient services. Among those on offer are contract negotiation and outsourcing, contract automation, AI and robotics.
In other firm news, last week it was revealed that corporate partner David Wilkinson and real estate partner Anthony Phillips had launched bids to succeed Matthew Lohn as Fieldfisher's senior partner.