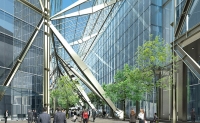 Mayer Brown has revealed a 100% retention rate for its March 2019 qualifiers.
Four out of four soon-to-be newly-qualified (NQ) solicitors have opted to stay with the US firm, with three taking up positions in the litigation department and one in the banking and finance team.
William Glassey, London training principal at Mayer Brown said:
"Investing in our people is one of our firmwide strategic priorities and there is no better example of this than our commitment to the attraction, development and retention of new legal talent. It gives me great pleasure to congratulate our four newly-qualified trainees, who will each be staying on at the firm. They have a bright future ahead of them and will make a valuable contribution to Mayer Brown's ongoing success."
To see Mayer Brown's full Lex 100 profile and to find out how to apply, click here.