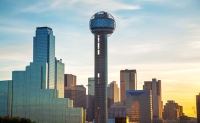 Kirkland & Ellis is building on the rapid growth of its Texas operations with the opening of a second office in the US state.
The Chicago-bred giant announced on Wednesday (11 July) it would open a new eight-partner base in Dallas, hiring six lawyers from US rivals including Jones Day M&A partner Michael Considine.
The Dallas opening follows the rapid expansion of the firm's Houston outpost, which launched in 2014 with a handful of lawyers led by 35-year-old star Andrew Calder, who was hired from Simpson Thacher & Bartlett. Four years on, the Houston office now counts 140 lawyers.
Considine will be joined in the Dallas office by a team of corporate lawyers focusing on the energy sector.
Jones Day associate Alex Rose, Weil Gotshal & Manges counsel Kevin Crews and Winston & Strawn associate Dilen Kumar will join Kirkland as partners, as will senior associate Thomas Laughlin and counsel Lanchi Huynh, both from Vinson & Elkins.
'We were looking for hungry, energetic people who are really talented and have a ton of energy around them,' Calder told Legal Business.
Tax partner David Wheat and corporate partner Ryan Gorsche, who joined Kirkland's Houston office earlier this year from KPMG and Weil respectively, will also relocate to the new Dallas premises in Bank of America Plaza, which can accommodate around 30 lawyers.
'That's only a temporary office space, we can always move somewhere else if we need to,' said Calder. 'We don't have any specific target for growth, it will depend on clients' demand.'
The Texas presence has helped Kirkland ride hugely on the boom of the energy market of late. The firm has around 225 lawyers working on energy transactions across Texas, New York and Washington DC.
Kirkland has been working with Dallas-based clients for some time, and Calder said it made sense to have a fixed presence in the city: 'This extension of Kirkland to Dallas also allows the firm to benefit from that significant additional talent pool to service our Dallas and out-of-state clients.'
Dallas is Kirkland's 14th office worldwide and its ninth in the States. Significantly for a firm with a reputation for being conservative when it comes to expanding its footprint, it comes just over a year after Kirkland opened in Boston in May 2017.
It is also the fourth office the firm opened since Jeffrey Hammes took over as chair in 2010. As well as the two Texan outposts, Hammes oversaw the opening of an office in Beijing in 2013.
The global juggernaut became the highest grossing law firm in the world after posting a 19% hike in revenues to $3.165bn in 2017.