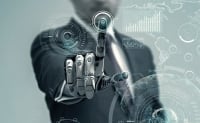 A £20m government fund for the development of artificial intelligence (AI) and data analysis in law, accounting and insurance is being welcomed as a positive step for what is 'under-funded and under-thought' research and development (R&D) in the legal tech space.
Earlier this month, the government launched the fund as part of a wider drive to address challenges through research funding agency UK Research and Innovation and its Innovate UK arm. It is the latest development in the Industrial Strategy Challenge Fund which focuses on improving UK science and business innovation.
As part of this, AI and the data economy is one of the strategy's four 'Grand Challenges': the AI and data challenge is focused on legal services, accountancy and insurance because they are high-value and data-driven.
The £20m is open to both legal tech companies and law firms, and split into a £4m research programme aimed at solving technological challenges in legal services and a £16m programme designed to support research and development in businesses.
In addition, smaller projects can get up £400,000 in funding for more specific developments within a single business, which could include developing new AI driven products within law firms.
Alex Smith, innovation hub manager at Reed Smith, welcomes the initiative, saying: 'Research and development is under-funded and under-thought in the legal tech space. If it's about how AI can fix the legal ecosystem rather than how we can make money out of commercial law, then it's a good thing.'
Smith believes innovation in the legal industry does not require a close proximity to law, adding: 'People say "the Government doesn't understand what lawyers need", but they can do it. If you have the right people, structures and professionals, it won't be a problem. Legal doesn't even know what its needs are.'
As part of the programme, a series of briefing events are being held throughout the UK in June, covering London, Manchester, Cardiff, Edinburgh and Belfast.
The fund is an alternative to some of the accelerator and incubator style models at law firms, such as Mishcon De Reya's MDR LAB or Allen & Overy's Fuse.