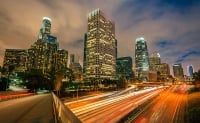 Baker McKenzie has opened its ninth US office in Los Angeles after recruiting a five-partner employment and litigation team from rival global firm Hogan Lovells.
As the firm looks to beef up its numbers in the region as part of its 2020 strategy, two of Hogan Lovells' former partners launched the office on 08 March.
Hogan Lovells local head of employment Robin Samuel will operate from the office, alongside litigator Barry Thompson and Hogan Lovells counsel Joe Ward.
Two other disputes partners the firm has hired from Hogan Lovells, Mark Goodman and Ethan Miller, will operate out of Bakers' existing San Francisco base.
'We are solidifying our roots in a market where many California-based Fortune 500 companies have a presence,' said the firm's North American managing partner Colin Murray. 'Los Angeles is also an increasingly important gateway for our clients in Asia.'
He added: 'Our new partners will take on significant commercial and employment litigation as well as class action cases for clients across multiple industries.'
Previously operating as separate profit pools, Bakers moved to bring its North American outposts into an integrated business five years ago, but had to draft special deals for its Dallas and Washington DC arms before these agreed to join the grouping.