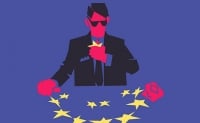 Revenue from Dentons' continental European practice grew 21% to €288m in 2017, as the firm recorded growth in all but one of its offices in the region.
In a year in which it completed its expansion into 'initial priority markets' on the continent by entering The Netherlands and hired 51 partners, the LLP – which includes the legacy Salans business – also grew net profit 20% to €95m. The figures were reported on a cash basis, but the firm said it recorded a similar growth in accrual terms.
Dentons did not disclose profit per equity partner but Europe chief executive Tomasz Dabrowski told Legal Business equity points increased their value by 10% last year and by 30% over the past three.
The German and Italian operations were the two standout performers, growing their top line by 32% to €61m and 92% to €22m respectively.
'It was really encouraging to see the growth of our business everywhere – that does not always happen,' said Dabrowski. 'Hungary was the only exception, perhaps because the market is quite flat and there is a very small amount of foreign investment coming to the market.'
He added the growth was a result of the firm adding new offices and acquiring boutiques 'but also the synergy between offices'. He pointed to the fact that the percentage of revenue generated as a result of referrals within the Dentons network grew from 26.5% to 28% in 2017.
'We see the benefits of having offices in many locations, and the potential is still enormous because our practices in Italy, Luxembourg and the Netherlands are still relatively fresh but growing.'
In terms of practice areas, real estate exceeded expectations, corporate performed strongly and arbitration grew significantly, Dabrowski said. Key mandates included advising on OMV's €1.4bn sale of OMV Petrol Ofisi to Vitol, while panel appointments included Société Générale.
The year saw Dentons merge with Dutch firm Boekel in Amsterdam , completing the strategy set out in 2014 to enter Italy, Luxembourg and The Netherlands.
Dabrowski said the Dutch practice was 'booming'. 'It exceeded budget expectations and we see a lot of interaction between that team and their colleagues in other countries.'
The firm also entered Georgia, acquiring an entire team from DLA Piper in Tbilisi and expanded our presence in Uzbekistan through a combination with local firm Avent Advokat.
Speaking of the plans for the upcoming year, Dabrowski said: 'We are looking at the Nordic region – Denmark and Finland in particular – and Austria, which is an important market.'
He added that Switzerland and Portugal were also on the firm's radar and concluded: 'Our preferred approach is through full firm combination and we will be approaching our good friends that we know in those markets.'