Firm Profile > Setterwalls > Stockholm, Sweden
Setterwalls
Offices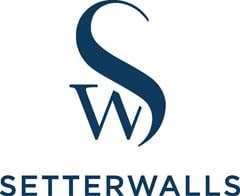 Setterwalls
STUREGATAN 10
PO BOX 1050
101 39 STOCKHOLM
Sweden
Setterwalls > The Legal 500
Rankings
Setterwalls >
Firm Profile
The firm: Setterwalls is one of Sweden's leading full-service business law firms, as well as one of Sweden's largest law firms, with some 190 lawyers servicing clients from its three offices in Sweden's largest cities – Stockholm, Gothenburg (Göteborg) and Malmoe (Malmö). Setterwalls is an independent law firm with an extensive, well-established international network. Established in 1874, it is also Sweden's oldest law firm.
Areas of practice: Being a commercial full-service practice, Setterwalls offers clients a complete range of business law services, including within the following areas of practice:
Aviation; commercial; corporate; dispute resolution; employment and labour law; energy and commodities; environment; equity capital markets; EU and competition law; financial markets; financial services regulation practice; infrastructure and construction; insolvency and restructuring; insurance and reinsurance; intellectual property rights and marketing law; life sciences; M&A; private client; private equity; public procurement; public sector; railway; real estate; real estate M&A; shipping; sports and entertainment; tax; technology, media and telecoms; transportation; see the firm's website for more information.
Clients: By combining its legal expertise with extensive knowledge of numerous sectors, Setterwalls attracts clients within a wide range of sectors – from biotech entrepreneurs, clean tech and media companies to private equity firms, game developers and real estate funds – including many of Sweden's, and the world's, leading companies, banks and other financial institutions and government agencies.
International work: Because it is based in Scandinavia, which has one of the world's most globalised business environments, Setterwalls is accustomed to working in multinational contexts – across linguistic and cultural boundaries. All in all, about half of Setterwalls client assignments originate from countries outside of Sweden, including from many of the world's leading companies, banks and other financial institutions.
Foreign desks: Setterwalls has established a number of foreign desks – the China desk, the French desk and the German desk – to meet clients' demand for truly international expertise and legal advice. Each desk consists of a group of lawyers who combine legal specialist expertise with linguistic skills and a deep understanding of the business culture and legal system of China, France, and Germany respectively. See the firm's website for more information.
Main Contacts
| Department | Name | Email | Telephone |
| --- | --- | --- | --- |
| Banking and finance | Åke Fors | | |
| Construction | Hans Dahlberg Kolga | | |
| Corporate and commercial | Anders Söderlind | | |
| Corporate and commercial | Jörgen Axelsson | | |
| Dispute resolution | Johan Strömbäck | | |
| EU and competition | Ulf Djurberg | | |
| Employment and labour | Henrik Kjellander | | |
| Environment | Girion Blomdahl | | |
| Energy | Martin Sandgren | | |
| Equity capital markets | Jörgen S Axelsson | | |
| Equity capital markets | Marcus Nivinger | | |
| Insolvency and restructuring | Åke Fors | | |
| Insurance and reinsurance | Åke Fors | | |
| Intellectual property | Sophia Spala | | |
| Life sciences | Magnus Jonson | | |
| M&A; private equity | Anders Söderlind | | |
| M&A; private equity | Mattias Detterfelt | | |
| Public procurement | Ulf Djurberg | | |
| Real estate | Jessica Schönning | | |
| Shipping; transportation | Åke Fors | | |
| Technology, media and telecom | Jörgen Axelsson | | |
| Technology, media and telecom | Joacim Johannesson | | |
Lawyer Profiles
| Photo | Name | Position | Profile |
| --- | --- | --- | --- |
| | Adv Anders Ackebo | Senior Counsel Anders Ackebo was head of Listing and Surveillance at NASDAQ… | View Profile |
| | Martin Aronsson | I am a part of Setterwalls' Corporate/M&A group and work within the… | View Profile |
| | Adv Jörgen Axelsson | Partner For more than 25 years, I have worked with IT and… | View Profile |
| | Adv Jörgen S. Axelsson | I have more than 20 years of experience working in law firms… | View Profile |
| | Adv Mats Björkman | I specalize in corporate law in particular, and assist multinational groups of… | View Profile |
| | Adv Girion Blomdahl | I have worked since 2005 with real estate and environmental law, except… | View Profile |
| | Adv Hans Dahlberg Kolga | Partner, Hans Dahlberg Kolga is co-head of Setterwalls' Dispute Resolution Group. Hans… | View Profile |
| | Adv Mattias Detterfelt | I am head of Setterwalls Private Equity group and is specialized in… | View Profile |
| | Adv Ulf Djurberg | ULF DJURBERG is head of Setterwall's EU and competition law department, which… | View Profile |
| | Adv Kristina Einarsson | Partner I help companies and organisations in conjunction with transactions and financing.… | View Profile |
| | Adv Johannes Ericson | Partner I am specialised in domestic and international arbitration as well as… | View Profile |
| | Adv Åsa Erlandsson | PartnerEmployment law. That is what I work with and it is my… | View Profile |
| | Adv Håkan Fohlin | I work with Swedish and international M&A, often in collaboration with foreign… | View Profile |
| | Adv Niklas Follin | I give advice to Swedish and international companies on all sorts of… | View Profile |
| | Adv Åke J. Fors | Partner Since the late 1980s, I have assisted Swedish and foreign companies,… | View Profile |
| | Adv Linnea Gävbo | I work primarily within the areas M&A, venture capital and corporate law.… | View Profile |
| | Adv Cecilia Gauffin | Since 2011, I have worked mainly with dispute solution, and I work… | View Profile |
| | Adv Axel Helle | I assist clients in matters regarding capital markets and securities law, corporate… | View Profile |
| | Adv Nicole Hervidsson | Since 2013, my work has consisted of helping Swedish and foreign companies,… | View Profile |
| | Adv Joacim Johannesson | Since the mid-1990s, I have assisted Swedish and international companies with advice… | View Profile |
| | Adv Linn Jonsson | I work within the areas M&A, venture capital and corporate law, and… | View Profile |
| | Adv Henrik Kjellander | Executive Partner Henrik Kjellander specializes in Labour Law and business sales. Henrik… | View Profile |
| | Andreas Löfholm | I am specialized within Regulatory Compliance matters and have worked within the… | View Profile |
| | Adv Carl Lindencrona | Since 2008, I have worked with various types of debt financing transactions.… | View Profile |
| | Adv Mikael Magnusson | I am a partner in the Stockholm banking and finance practice group… | View Profile |
| | Adv Marcus Nivinger | Partner I have experience from advising in private and public transactions, such… | View Profile |
| | Adv Patric Olofsson | I am a partner in Setterwalls' M&A Real Estate group. My responsibility… | View Profile |
| | Samuel Pihl | I have been a part of the Transport Law group since 2019.… | View Profile |
| | Adv Sonny Ragnerstam | I assist Swedish and foreign companies, authorities and organizations in matters regarding… | View Profile |
| | Adv Lorentz Reige | I advise public authorities, companies and private individuals within the field of… | View Profile |
| | Adv Olof Reinholdsson | PartnerSince 2008, I have assisted Swedish and foreign companies with advice, primarily… | View Profile |
| | Adv Magnus Rydberg | Partner I have extensive experience in advising Swedish and foreign companies in… | View Profile |
| | Adv Anders Söderlind | Partner, Advokat Corporate and M&A Corporate and Commercial. Anders has worked with… | View Profile |
| | Adv Martin Sandgren | Partner I have experience from advising in private and public transactions, such… | View Profile |
| | Adv Jessica Schönning | For more than 15 years, I have assisted companies and public actors… | View Profile |
| | Adv Tove Skärblom | Since 2013, I've been working with legal issues within the field of… | View Profile |
| | Adv Sophia Spala | PartnerSince 2005, I have worked mainly within the areas of intellectual property… | View Profile |
| | Adv Magnus Steninger | I am highly specialized within the field of real estate transactions and… | View Profile |
| | Adv Angelica Ström | I advise public authorities as well as Swedish and international companies in… | View Profile |
| | Adv Johan Strömbäck | Johan Strömbäck is a partner practicing in Setterwalls' dispute resolution group. His… | View Profile |
Staff Figures
Number of lawyers : 190
Languages
Chinese English French German Italian Spanish
Other
Other offices : Göteborg Other offices : Malmö
Top Tier Firm Rankings
Firm Rankings