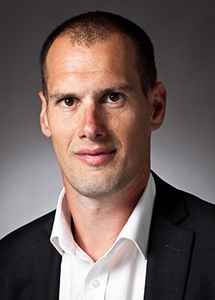 GC: Start by telling us a little bit about your current role and your career to this point.
James Stebbing (JS): I'm the GC to the organisation that runs the Six Nations Championship and I'm seconded on an ongoing basis to be the GC of the British and Irish Lions.
In my previous role, I was Head of Legal at the Rugby Football Union (RFU). Because there was no dedicated GC to either the Six Nations Championship or the British and Irish Lions, I'd also been 'dragged in', so to speak, to help out on a few things on the side of the desk. The catalyst for my current role, really, was a potential private equity deal with regard to investment in the Six Nations Championship.
Originally, I trained and qualified at Harbottle & Lewis, very much intending to go into sport. My qualification coincided with the aftermath of the global financial crisis, so jobs generally were few and far between. But I knew two things. One, that I wanted to get into sport. Those roles were rare at the best of times, let alone in a major downturn. I also knew that I was going to end up in-house rather than private practice.
I joined Vodafone – they were a client of Harbottles' at the time – and I found myself on a major mobile payment project, which led to a role at Barclays at a time when they were investing heavily in mobile banking.
But I very much wanted to keep my ear to the ground, hoping that an appealing sports role would come up. A commercial legal job came up at the RFU, which I applied for and was fortunate enough to be appointed to and which eventually led to promotions to Senior Legal Counsel and then Head of Legal.
GC: That sounds like an interesting journey. How common is your role? Do you have a sense of how many versions of you there are out there in other sporting organisations?
JS: Sport roles are few and far between. Harbottle & Lewis is a media and entertainment firm with a fantastic roster of sport, music and film clients, and when I was joining the firm there were over 150 applications for each training role. Fast forward to the current climate – the last time I recruited for the RFU for a junior role in my team and there were a similar number of applicants, which highlights how rare these types of roles are.
I get asked a lot about how to get into sport.  It requires a good solid foundation in where you trained and qualified, but it also requires a number of boxes to be ticked –being in the right place at the right time helps, as does cultural fit.  Sport is a very specific industry. But at the same time, it's just another business.  A good sports lawyer is a good lawyer first and foremost. You just have to be able to apply those principles to a specific industry and a specific set of circumstances.
GC: In addition to the GC roles at the Six Nations and British and Irish Lions and, you serve as company secretary and hold directorships. What impact does this have on your job?
JS: Wearing different hats allows me to develop my skillset and hopefully add value in multiple ways.   I'm doing an MBA at the moment and these non-legal experiences help when I'm sat around the executive and board table by enabling me to contribute holistically about how the business can improve performance.
There's always a danger of being accused of straying out of my lane, but to me, any effective leader within an organisation needs to be multi skilled, multi-faceted and able to add value in a number of different ways.
GC: I imagine working for sporting organisations, there isn't as much of a profit motive as there might be in other kinds of entities. Does that change the priorities of the GC?
JS: There's a broad spectrum. You've got global powerhouses like a Manchester United, which is listed in New York and has a hugely diversified portfolio off the pitch. But you've also got sports governing bodies, who have to balance their role as custodian of their respective sports from top to bottom with the need to generate as much revenue as possible to invest in the sport in order to grow it.
From my perspective, whether it's the Six Nations Rugby Championship or the Lions tour, it's about putting on a great sporting experience and generating as much money as possible to put back into the sport. The more money that gets generated, the more that can be reinvested in the sport to grow it and try to encourage more participants and commercial partners. As the valuation grows, the level of interest from broadcasters and sponsors grows, and you're also talking about a better product which inspires the next generation of kids to pick up the sport.
Going back to the original question, I've spent time working in telecommunications and financial services, and the thing that really sets sport apart is that people have a genuine and emotional connection to the subject matter. Of course, a mobile phone is the centre of most people's lives and acts as a conduit to be able to bank and buy things, but there's only so much passion that can be derived from a mobile phone. Equally, how much passion do people have in opening bank accounts? Whereas with sport, there's an innate ability to inspire, to evoke emotion, to bring people together in a really human way.
There's the old saying: sport is either the most important of the unimportant things, or the most unimportant of the important things. It's special in that regard. That's what you realise when you are part of the fabric of it: it has that ability to touch peoples' lives in a way that nothing else does and the absence of live sport during the lockdown has really underscored that.
GC: You mentioned you started off in a less senior role and moved your way up. What infrastructure was there preceding you taking over your current job?
JS: For my current job, it was a completely new position.
The Lions team is unique in sport because you take four international sports teams who spend the best part of four years trying to do everything they can to beat each other.  And these four teams are absolute arch-rivals. Not just in a pure sporting sense, but you've got a lot of history between England and Wales and Ireland and Scotland which goes back hundreds of years.  And then every four years, those guys get together to form one team to go to the other side of the world and take on the best of the Southern hemisphere.
That just doesn't happen in any other sport. The closest thing you'd probably get is the Ryder Cup whereby every couple of years the best in Europe will form a team and the best in America will form a team, but that's still premised more on an individual sport rather than a team sport. It's incredibly special.
The Lions operates like a start-up. The tour happens, the profits get distributed amongst the shareholder unions and then everything gets dismantled. The players go back to their respective countries, and the organisation gets stripped back to its bare bones. You'll then slowly and incrementally build up to the next tour and it continues in that cyclical fashion.
In days gone by, the Lions relied exclusively on external counsel, and on the Six Nations side, it's been the same thing. That's worked, and there's a great relationship with our external counsel. But both the Six Nations Championship and British and Irish Lions Tours are now huge global sporting properties and very much merit fit for purpose executive teams – which includes a GC!
GC: Is there a typical day for you?
JS: To a certain extent, yes, I'm doing what a GC should be doing – being that trusted advisor to the CEO and the rest of the executive team, playing a similar role to the board, trying to focus on the stuff that is keeping the CEO and the board up at night, and managing legal risk accordingly.
But really, it is a crazy time. A lot of it at the moment is about scenario planning. The Six Nations Championship takes place in February and March each year. The pandemic struck mid-tournament. So in the end we had to postpone four matches that we are aiming to replay in the autumn of this year. How do we get those four international Rugby matches and shoehorn them into what will be a new Rugby season, recognising that there is a number of different rights holders who are also looking to reschedule? The sporting calendar this autumn is already looking congested with things getting postponed in the first half of the year and being pushed into the second half.
The other big thing is that Rugby has traditionally been split between the northern and southern hemisphere. The two respective calendars don't dovetail neatly, which leads to conflict, often between clubs and countries. Because of what's gone on, because of Coronavirus creating an artificial pause for the sport across the board, this has given us the opportunity to take a step back and understand if this dreadful thing that's happened can act as a potential catalyst for change and a realignment of the calendar on a global level to make it work a bit better for everybody, so that fans win, the players win, the commercial partners win and everyone gets a bit more out of it.
GC: On the subject of using COVID-19 as a catalyst for positive change – with so many organisations around the world being involved in the work you do, have you found other entities' priorities aligning more in the current environment?
JS: Let's start with the positives. I'd like to think that this has made everyone a bit more human; a bit more cognisant of the fact that we are all quite fragile. This has been a real leveller in terms of everyone realising that there's more to life than the grind that everyone has been caught up in. In that regard, there's been some positivity.
I think that sports have realised that it's quite a small ecosystem and ultimately, we all rely on one thing: sport being able to be played. If it isn't then there's no product to monetise and enjoy.
Rightsholders, broadcasters, sponsors – everyone needs each other. But I think that everyone has spent the last few months figuring out what has been going on and what it has meant for their respective businesses, and what the recovery looks like. It feels like we are starting to get some sort of understanding about the true nature of the impact and that spirit of compromise might be starting to erode as people get firmer in their positions and are a bit more confident of a way forward.
GC: As you see other sport leagues resuming and grappling with COVID-19 challenges, how much certainty is there that next year's tour is going to be able to go ahead?
JS: Well, football was always going to go first. It's much bigger than rugby.  But also, in football, there are less challenges because of what's required to play the game of rugby – the scrum, for instance – the risks are higher. Football is still a contact sport, of course, but the level of contract isn't as extreme as it is in rugby.
In terms of the Lions tour next year, we've got a number of challenges but we're working on the basis that it's business as usual and we will focus on what we can control.
GC: I suppose if by next year, you still can't do the tour, then other sports leagues will be in a much worse situation than you.
JS: Yes. That scenario could play out either because there's a disruption between now and then, or there's a resumption of normality between now and then and there's a second wave. Both those things are plausible.
Is it played to a full stadium or behind closed doors? Is it somewhere in between? All of those scenarios will completely affect the P&Ls because of the various factors at play, so there's currently plenty of scenario planning going on.
GC: Before we move on from the COVID talk, how have you found the experience during this time, generally speaking?
JS: It's been a great opportunity to collaborate, because everyone is in it together. I'm still hopeful that there continue to be positives that come out of such a dreadful situation.
In a sporting sense, it's almost a microcosm for the wider economic piece in that if you were a sound business going into the crisis, then you've taken a hit, but you'll come out the other side. If you were a business that was already under stress, then this is going to take those businesses right to the edge if not over the cliff. That's the same in sports. The big, premium sports are going to come out of this affected but still premium in terms of fan engagement, sponsor and broadcast interest. It's the smaller sports that may struggle because from a consumer perspective, everyone defaults to what they know. If you're a subscription broadcaster, you're taking a hit on paying subscribers, and if you're a free-to-air broadcaster then ad revenues have gone down. And if you're a sponsor, there's more constraints on marketing budgets.  Overall that means you're going to be that much more cautious about where you're putting your money, and you're more likely to invest it where you know you'll get the most likely short term return.
GC: Do you think there will be lasting changes to rugby as a sport as a result of this pandemic?
JS: I really hope so. It goes back to my earlier point that this is a really good opportunity to address some of the challenges that the sport is facing.