The responses to The Legal 500 and GC magazine's GC Powerlist: Latin America Survey illustrate the far-reaching and continuously expanding role that in-house counsel are playing in their businesses across the region. General counsel are a multitool, able to step in and assist their company as needed. But this also means that the differences between in-house roles are becoming more distinct: the portfolio of one general counsel might look very different from another, even in the same jurisdiction.
For example, as a part of the survey, participants were asked about the role they play in their organization's technology investment policy. When asked how involved they were, nearly as many characterized themselves as 'very involved' as they did 'slightly involved/not involved at all' (30% and 29%, respectively).
Similarly, though the majority reported being 'very involved' in the event that the company needs advice on debt restructuring (72%), the second-most common answer was that the legal team is never consulted in these scenarios (14%).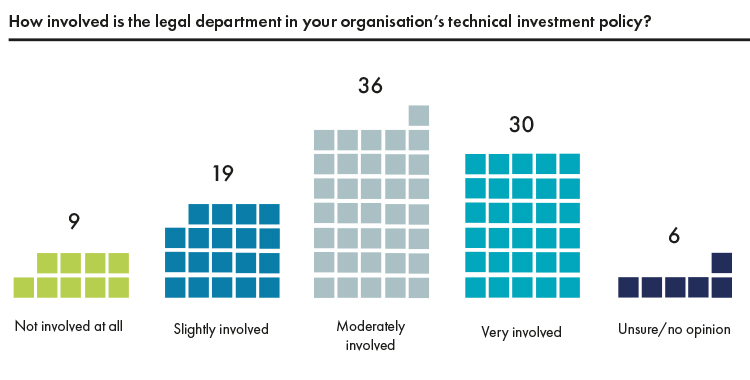 'Yes, I am proud to say that my team is very responsible with their work and with the company,' gushes Alejandro Fernandez, head of legal at Cotemar in Mexico.
'But how they are showing commitment is amazing. They just do not comply with their daily activities, but they interact with other areas to provide support – even if there is not related to legal performance.'
The versatility of in-house counsel has come to the fore over the course of 2020, but a widely held view among the Latin American in-house counsel interviewed for this survey is that the challenges of this year have merely given the opportunity for lawyers to demonstrate a level of adaptability and utility that was always there.
'It has just confirmed that we are committed and always business oriented, and very creative in addressing difficult times, such this one,' says Catalina Gavivria, legal vice president at  SBS Seguros in Colombia.
'We are always asking about business results and we know that if we deliver our work quickly, it will facilitate business.'
When asked what he'd learned about his team over the past year, Jorge Hirmas, general counsel at Orica in Chile, pointed to 'resilience, the capacity to adapt and quickly adopt change and perform under unprecedented strenuous and stressful circumstances'. The words 'adaptability' and 'resilience' came up a lot over the course of the research conducted for this report.
'Resilience, empowerment, independence, high accountability', were the words offered by Pablo Urrego at Diageo.
'Creativity is a part of our job', says Alfonso Videche, regional legal director for Colgate-Palmolive.