To assemble an informed and representative perspective of the legal sector, our quantitative research went beyond considering purely the most senior legal figures in the United States.
47% of respondents to our survey did hold the most senior legal position in their organization – either as general counsel, chief legal officer or head of legal, with 41% of respondents holding roles in legal at other levels – from assistant general counsel through to legal managers and counsel. In addition, 12% of those surveyed held senior positions in their respective companies outside of the legal track, including chief executives and company secretaries.
Respondents felt that there was a clear mandate for legal teams to play a role in promoting diversity and inclusion within their organizations. 89% of those surveyed said that the in-house legal team could and should be using their influence to help promote diversity and inclusion within their business. Interestingly, this mandate wasn't rooted in issues that were unique to the legal department, with only 39% of respondents saying that there were specific needs which needed to be addressed that were exclusive to legal.
Which of the following best describes your job title?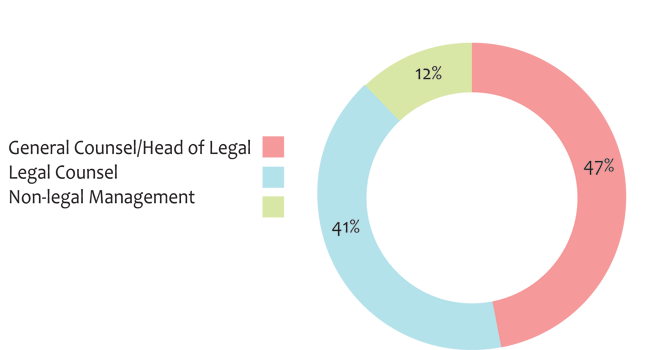 With lawyers traditionally filling the role of advocate – whether for their client, company or otherwise – it comes as little surprise that those who took part in our research saw an open affront from leadership, and raising awareness of diversity issues both internally and externally, as the most effective strategies for progressing the diversity agenda. More than half of respondents classified those activities as having a great or high impact within their own organization. As one general counsel surveyed termed such an approach, 'legal has a role in speaking truth to power and reality-checking the presumptions, plans, and statements of the executive leadership team. Legal should be aware of major initiatives, particularly around hiring and firing employees, and raise questions that challenge policies, programs, plans, and actions.'
In that vein, at MasterCard, general counsel Tim Murphy says that a clear direction for diversity comes directly from their chief executive – both publically and internally – who has empowered Murphy to take the lead on this front globally.
'I have responsibility for global diversity for MasterCard. Our chief diversity officer reports to me, along with a team of four professionals. The origin of that comes straight from the top – Ajay Banga, our CEO, believes diversity should be the responsibility of someone with a global business leadership role,' says Murphy.
The next three most effective strategies according to our respondents all focused on the talent pipeline with respect to diverse candidates. The recruitment of diverse talent, developing them with targeted development programs, and providing strong role models as they progress through their career, were cited as predominantly great or high-impact activities.
How effective do you think the following strategies have been in your organization to promote diversity and inclusion?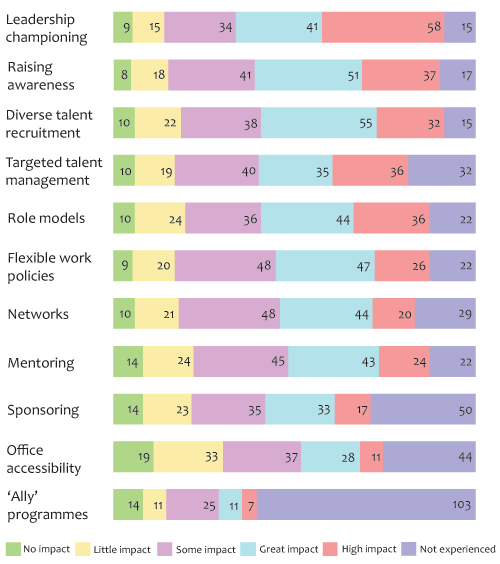 For Amy Weaver, general counsel at Salesforce, being a role model is a responsibility that all senior managers should be undertaking. 'The general counsel, like any senior manager, can be highly influential in setting the tone for diversity – both personally and within their department. For me, the key is being able to model the behavior you want to stay,' says Weaver.
On the other side of the coin, ally programs, initiatives which traditionally work with the LGBT community and recruit non-LGBT people to function in support roles, were seen as the least effective amongst respondents with experience working with them. Interestingly, ally programs were an initiative that the vast majority of respondents had no experience with – suggesting that a lack of tangible impact seen by these programs could be caused by the relative recency of such a strategy.
For the bulk of those surveyed, an internal commitment to diversity and inclusion wasn't seen as sufficient – rather, they wanted to see their own commitment reflected by their outside suppliers and external law firms they engaged. 74.5% of respondents stated that it was an important factor to see either a diverse team at the table or a tangible commitment to diversity and inclusion demonstrated by the firms they instruct. One respondent commented that implementing such an approach was 'putting your money where your mouth is' when it came to diversity, while another explained that 'outside counsel are an extension of the internal legal department and therefore diversity and inclusion needs to be encouraged for law firms to be considered.'
Is it important when instructing outside counsel to see a diverse team and/or see a tangible commitment to diversity and inclusion?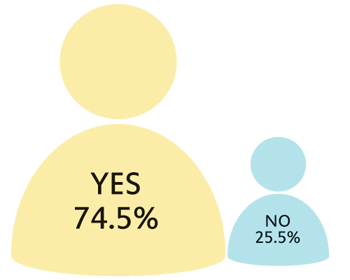 In what has become an increasingly common move according to our research, this is yet another example of businesses using their power as a client to influence the behaviour of their suppliers. One of the most significant findings to emerge from our quantitative research found that for those actively assessing a law firm's diversity when considering who they engaged, 89.9% of those required that diverse lawyers were actively working on their matters. The importance of such an approach was explained by one of those surveyed, who said that 'the counsel you hire reflects the importance you place on diversity and inclusion.'
'When I hire outside law firms to do work for me, I ensure that I'm getting some of the best and brightest diverse attorneys at these firms working on our matters,' adds Mark Roellig, general counsel at MassMutual.
Similarly, Tony West, general counsel at PepsiCo, has taken a strong stance towards diversity from his partner firms – not just using it as a criterion on which firms are selected, but awarding the opportunity to win additional work for high performers in the diversity space.
'Last December, we recognized the top ten firms for their diversity efforts, and have given those firms additional opportunities to expand their relationships with us. Additionally, firms that are interested in pitching for new matters are asked to complete the diversity survey,' says West.
Where is the future challenge for diversity and inclusion within your organization?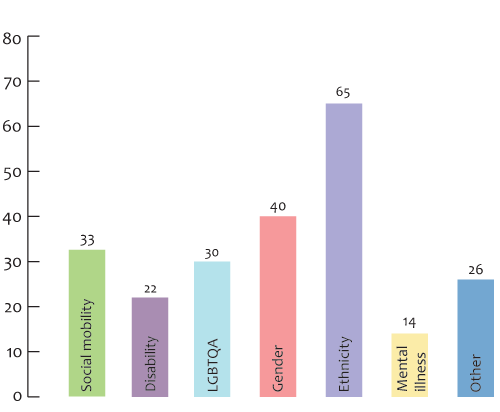 'We are measuring outside counsel with respect to how diversely they are staffing our matters, as well as how diverse the firms themselves are,' adds Roellig. When measuring how diverse firms are, Roellig looks not just at associates and those directly working on MassMutual's matters, but whether diversity is evident through the senior management and partner levels at the firm.
While such an in-depth approach wasn't as prevalent according to our research, it was gaining traction with a significant number of respondents. For those who considered diversity when assessing outside firms, 81.1% expected to see diversity at any level throughout the firm, while 49.2% expected diversity to be evident amongst partners.
Interestingly, when assessing the diversity of different firms, our survey respondents indicated that it said more about the firm than just their commitment to 'doing what was right'. As one respondent told us, 'for me, it reflects a firm's mindset – a lack of attention to diversity usually means outdated thinking in other areas, while losing the value that diversity brings to an organization'.
When looking ahead at the future challenges on the diversity agenda for our respondents and their respective organizations, ethnicity was the biggest factor cited, followed closely by gender. Social mobility was a factor also frequently cited, illustrating the efforts required moving forward to address non-visible and obvious factors as the diversity and inclusion agenda progresses.