Mention the word 'Uber' in any European capital city these days and chances are you'll provoke some kind of emotional reaction. Uber is famous – infamous, some might say – for its revolutionary personal transport booking service, but the company is a major player in the personal food delivery business too, with more services to come.
Law and regulation is right at the heart of this $68bn titan. It has hit the headlines via a string of legal and regulatory tussles in various countries, in the process becoming the poster-child for the 'evils of globalisation' or seamless interaction across technology. Uber is a facilitator, spinning a web of bilateral contracts across the globe, connecting individual providers ('partners', it calls them) with individual consumers. Cheaper, faster, better, to its adherents. End of everything to others.
'Uber's risk appetite is a core part of our business,' explains Matt Wilson, associate general counsel, EMEA at Uber. 'We're not afraid of losing, providing we're challenging things we don't think are right, even if there is only a low chance of success. That is often better than the alternative of not challenging at all – where there is zero chance of success – and where, for example, we could be left with disproportionate, discriminatory and/or anti-competitive regulation for years to come.'
But despite (or perhaps because of) the company's bold approach, the atmosphere inside Uber's UKHQ in London is energised, and the sense of animation and purpose is palpable. The office walls display the company's unusual list of corporate ideals – ranging from 'Superpumped' to 'Always Be Hustlin' – and employees who embody them. Perhaps the most curious value is 'Toestepping', which means that anyone in any department has the right to call out anyone in another department if they want to challenge the thinking.
'It's all very democratic', says Wilson. 'If you experience someone living one of the values, you can nominate them and they might go up on here.'
Far from being a rigid prescription of ideal behaviours, however, the 14 values underline that Uber is a company aware of its own ephemerality, determined not to be a flash-in-the-pan. In pursuit of that vision, the right kind of talent is everything.
'This business is very young, it's full of very well-qualified, extremely smart and very motivated people,' Wilson explains. 'There's no fat. And that has been the model for recruitment into legal too. The business needs lawyers who come from a place of "how" – people who will work with the business to help it get where it needs to go.'
'I look for people with "T"-shaped experience,' he says. 'Deep specialism in one area, but broad above that. While we have a couple of litigators, an employment specialist and two with consumer, commercial and competition specialisms, any of them would be willing to pick up and do anything that falls outside their comfort zone.'
'And,' he adds, 'I expect that anyone I take on should be able, in time, to take my job.'
Finding that 'better-than-me' kind of quality can be challenging. The last recruitment into the Nordic part of the team took a year to find the right person.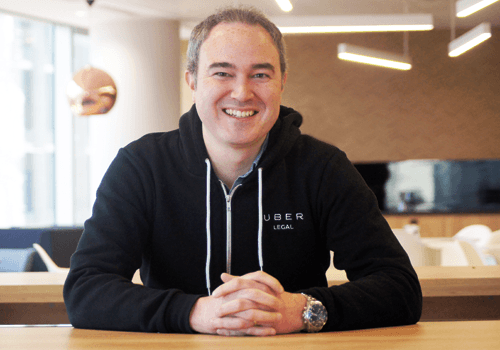 Matt Wilson
Associate general counsel – EMEA
Uber
Beyond Wilson's modestly-sized team, there is deeper legal expertise in the company's San Francisco HQ, including M&A, finance-raising and intellectual property. In the UK, while Hogan Lovells – one of the company's external counsel of choice – was doing a lot of day-to-day work when Wilson joined in 2015, the firm has evolved into being an adviser on strategic matters and supporting Uber's various litigation and regulatory challenges.
And there have been a significant number of those, requiring Wilson to hit the ground running as soon as he joined in July 2015.
Perhaps understandably for the wunderkind of global commerce, Uber's interview process is rigorous. Members of the legal team don't just get interviewed by Wilson, but by people in other parts of the business too.
'As a legal team we really are in it together with the business and work incredibly closely with the commercial, operational, policy and comms teams,' he explains. 'So getting a thumbs up from them is a key part of making sure that people joining my team are likely to do well.'
His own interview process was perhaps the most rigorous of all.
'I had, I think, ten interviews in total, including verbal and legal reasoning – that one was about Portuguese taxi regulations I remember! – mostly by video conference, though I did go to San Francisco before I started,' says Matt, who was at O2-Telefónica at the time.
'The final interview was when I was in Beijing,' he recalls. 'We'd just gone through the Hutchison-O2 takeover bid and I was pretty tired. Salle [Yoo, Uber's General Counsel] had texted me saying she wanted one final chat at such-and-such a time. I worked out it was 04:30 in Beijing at that time, but I thought "what the heck?". I'm glad we had the chat. The offer came and I took it without hesitation.'
Wilson was not unhappy at Telefónica. It was his second stint there, having originally joined O2 from Baker McKenzie, where he trained, in 2008. An Arsenal fan, he had taken a little career-swerve to join the Premiership football club in 2011.
'I couldn't not take the Arsenal job,' he says. 'I just couldn't! My dad started taking me to see them when I was six. We were sat high up in the stand and all I could see was this sea of red and white and then the green of the pitch, and that was it for me.'
However, the Arsenal job was not all it might have been. 'There's a great legal role at Arsenal, and it's the general counsel role, but Svenja [Geissmar, the club's first ever GC] has been doing such a good job there and she's not moving on from it any time soon. I don't think my six-year-old self has forgiven me for leaving Arsenal, but when Telefónica called and said they wanted me back, I knew at the time I needed to do that even though it wasn't an easy decision from a personal point of view.'
And then Uber. 'The opportunity to get into a company like Uber was unique; this is a unique company. If you ask me where Uber will be in 12 months' time, I have no idea! But will it be fun finding out? Yes.'
'Perhaps understandably for the wunderkind of global commerce, Uber's interview process is rigorous.'
He is clear, though, that the job was a risky option. 'Yes, it was, I knew that, because what it was doing was making such huge waves. I had to look carefully at the regulatory and legal environment and knew I had to take a view on it before accepting the job. For instance, when the taximeter dispute was going on [essentially over whether an app counts as a taximeter], I spent one Sunday afternoon with Section 11 of the Private Hire Vehicles (London) Act 1998, and came to the conclusion that Uber was on the right side of the argument.'
He joined just at the point Uber was on the way to a long-running dispute with Transport for London (TfL), which was under huge pressure during its review of private hire vehicles in London from a powerful lobby group, the city's world-renowned black cab drivers. That ended in a judicial review, taken by Uber.
The case – or rather how the media reported the case – typifies for Wilson the conundrum Uber represents for developed economies struggling with societal change against a turbulent geopolitical backdrop.
'We effectively won on six of seven points of the case against TfL,' he says, 'and TfL knows that, according to TfL's own data, on the point where we lost, between 30,000 and 70,000 people in the next three years will lose access to a source of income which will help them support their families.'
'TfL ended up paying some of our costs on that case. But the story wasn't reported as "Uber wins six out of seven points" or, more importantly, "Tens of thousands of job losses in wake of Uber/TfL decision", it was reported as "Uber loses court case".'
'It's very strange, because all the research we do shows that people love the app, the service we provide and enable, but they don't necessarily love us as a company. Some people do, but there is a disconnect. And that is down to reporting, and down to politics. When Tata Steel was going to close down the plant in South Wales and 8,000 jobs were going to go, that was a decision taken by a private company, and understandably there was an outcry. This is a decision taken by a regulator, which is going to affect maybe ten times that many jobs and there hasn't been. That strikes me as a really…' he pauses to consider the right phrase, '…interesting dynamic.'
Top of Wilson's in-tray currently is the end of the JR with TfL, and an appeal coming up on reclassification of drivers in the Employment Appeals Tribunal, which has been widely reported.
'I wouldn't say it's existential for Uber in the UK, but it is material. It will materially affect how drivers and riders are able to use Uber in the future, and we think that's worth fighting for. The vast majority of drivers tell us the main reason they drive using the Uber app is it gives them the freedom to drive when and where they want, which allows them to manage making money around other commitments like caring for children or elderly or sick loved ones, or other jobs. If drivers were reclassified to become workers it would almost certainly mean that degree of flexibility would be lost.'
The uber-flexible, uber-adaptive model could be the shape of things to come, if Matt Wilson and his legal team have anything to do with it. And as far as Uber's future is concerned, certainly the legal team will be steering the way, at least for the time being.