Shifting ground for businesses
As we have seen in 2018, the next high profile public exposée is never more than an unexpected tweet away. Businesses are now subject to an ever-increasing level of public scrutiny, facilitated by an always-on, 24/7 news cycle, amplified by social media-fuelled empowerment of the individual. The resulting series of social campaigns have stoked public awareness on a global scale and created an unforgiving environment for employers.
The ground is shifting under the feet of businesses, with boundaries between employers, workers and the public, in a state of flux. These changes are compounded by generational shifts in culture, a war for talent, increasing demand for corporate transparency and rising customer and government expectations.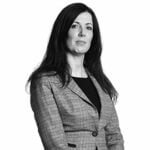 'As the Gender Champion for Eversheds Sutherland International, I am closely involved in our efforts to boost diversity, such as our new female career development program, our target for 30% of partners to be female by 2021 and our leadership team taking direct responsibility for hitting the target. As an employment lawyer I also see many of our clients responding positively to gender balance challenges. It really does feel like a new momentum has been reached and there is no turning back now.'
Diane Gilhooley
One example illustrating the dynamics of this new landscape is the #MeToo campaign against sexual harassment. The campaign, which started last autumn, has been googled in almost every country on the planet. The scandals unfolding on the back of #MeToo have led to a new scrutiny of individuals and the companies they represent. It has also led to greater focus on equality in a work environment in the broadest sense.
As a vehicle for victims to speak out, #MeToo has sparked a revolution; the Time's Up Legal Defense Fund, raised in response to #MeToo, has already received more than 2,700 requests for assistance, across nearly every state in the US. On the other side of the Atlantic, a government inquiry into sexual harassment in the workplace has resulted in the suggestion of a mandatory duty on employers to take steps to protect workers from harassment and victimisation, with a breach of such a duty constituting an unlawful act and subject to enforcement action from the Equalities and Human Rights Commission (EHRC).
Economic drivers for gender equality in Asia
McKinsey estimates that advancing gender equality across Asian economies could produce a 12% increase over business-as-usual GDP by 2025, making this an important economic issue for businesses, as well as a societal one. While progress has been made, this large GDP discrepancy underscores how much still needs to be done. Furthermore, in contrast to the US and Europe where compliance with anti-discrimination legislation has driven workplace equality, Asian businesses and multinationals are expected to play a greater role than law-makers in delivering change.
'For my clients, advancing gender equality is not about legal risk – it is about doing the right thing for their workforce and their business. While there are workplace laws to protect women against discrimination in many Asian countries, not all have comprehensive regulation and enforcement is variable,' says Jennifer Van Dale, head of Eversheds Sutherland's Hong Kong and Asia Pacific employment practice.
However, there is no one-size-fits-all solution to boosting female recruitment, progression and retention across the region.
Japan is the fastest ageing society in the OECD, making the improvement of women's employment participation a priority. However, there is a sharp division of labour in Japan, with women doing more than three quarters of the unpaid work and caregiving, while men work very long office hours.
In India, societal issues have similarly resulted in low female participation in the labour market. In white-collar employment, a lack of quality childcare deters female employment and has led to some employers offering childcare support. Likewise in Singapore, cultural attitudes relating to gendered childcare remain and employers are investing in equal-access, family-friendly policies to support further progress.
Van Dale adds: 'While there are different societal, economic and cultural issues underpinning gender inequality in each country across Asia, there are two consistent regional themes that businesses are seeking to address: lower female representation in quality jobs and in senior positions.'
Amidst these growing pressures, businesses have often appeared flat-footed in response, promoting even further scrutiny from the public and officials. However, the likely impact on future policy and government intervention is significant.
To avoid growing risks around brand, reputation and future talent-shortages, businesses are facing pressure to get more women into work – particularly skilled and senior jobs – close gender pay gaps and create inclusive workplaces. Regulation is playing its part, with new equality reporting duties, targets and related measures being implemented in different jurisdictions.
Managing new expectations requires a comprehensive look at a range of issues if there is to be a real change in culture. Whilst some businesses are comfortable that their diversity records stand up to this new level of scrutiny and expectation, others are not – or can't be sure.
This article takes a look at gender developments in a global context, alongside a summary of the clear business risks that organisations face by not tackling these challenges. We also include our observations on how these complex issues are affecting organisations in different countries and continents across the globe, with specific examples and input from our international employment team.
Gender developments in a global context
According to OECD research, women are more likely to work on a part-time basis, are less likely to advance to management positions, are more likely to face discrimination, and to earn less than men. The research notes that gender gaps tend to increase with age, reflecting the role that parenthood plays in gender equality – motherhood typically having negative effects on workforce participation, pay and career advancement.
Since 2013, about two thirds of OECD member countries have put in place new gender pay policies involving greater transparency, with companies increasingly required to analyse and disclose their gender wage gaps. Many countries have also introduced measures to encourage fathers to take parental leave.
Early lessons learnt from compulsory gender pay gap reporting in the United Kingdom
A new British law requires larger employers to publish annually their gender pay and bonus gaps, showing the difference between the average hourly pay and bonus pay of men and women.
'Some employers have real concerns that a continuing gender pay gap will harm staff recruitment, engagement and retention – just when they are already experiencing a skills shortage,' says Shirley Hall, senior employment partner at Eversheds Sutherland.
April saw the first deadline for organisations to publish their gender pay gap data and it was a bruising time for some brands. As other countries move to strengthen or introduce new gender pay gap measures, what are five early lessons learnt from the British experience?
1. Pay attention. Gender pay disparity has become an executive priority: in our recent survey of senior chief people officers, 45% reported that gender pay disparity was a high or very high priority.
2. Get ahead of the data. Conduct your own informal gender pay reviews to understand your pay gaps. It is better to be prepared, than appear surprised by your own data in the glare of publicity.
3. If you are going to act, don't delay. While employers cannot change societal issues by themselves, they can address their female talent pipeline.
4. Clear messaging is key. Companies reporting unfavourable pay gaps found it hard to explain the data to their employees, customers and investors. This underlines the importance of effective internal and external communications.
5. 'What gets measured, gets done'. In 2019 and beyond, comparisons will be made between an employer's pay data year on year. Where gender pay gaps appear to be static, employers might expect hard questions to be asked.
Meanwhile, a recent Harris survey of US employers found that a third have taken new steps to combat sexual misconduct (Reuters), although the majority reminded employees about existing training or policies.
We know that employers cannot fix the workplace gender challenge on their own. At its roots are social, cultural and economic pressures that influence the educational and employment paths that men and women follow. Governments and the public must play a significant role if change is to happen. Societal pressures also differ by country, demanding a nuanced approach by global employers. However, expectations are growing that businesses will play their part.
Business risks of not acting
Not acting to improve gender equality exposes businesses to reputational, legal and financial risks. These risks have existed for years, but tipping points are fast being reached, and what was acceptable then may not be now. Some employers are being caught off-guard with potentially serious repercussions. The effects of ever increasing media scrutiny have already been felt in the UK, with a growing trend of exposées that have highlighted individual employers as they were forced to disclose their gender pay gaps for the first time.
Breaking down workplace gender stereotypes and parental stereotypes in the Nordics
One way to improve women's equality at work is to address the parenting divide in countries where women are typically the primary carer. The belief is that a move towards shared parenting would lead to women being less likely to leave work and to experience maternity-related discrimination, so the 'motherhood penalty' declines.
In policy terms, the Nordic states have led the way by providing paid, fathers-only parental leave to accelerate culture: Sweden has 90 days' leave reserved for fathers, Finland has 54 days and in Norway, fathers-only parental leave was extended from 10 to 15 weeks as of 1 July.
Take up of parental leave by fathers is low worldwide, whereas Nordic countries achieve higher rates. Alongside this, some employers have also committed to flexible working practices demonstrably aimed at both men and women.
'Experience in Sweden shows that parental leave for fathers needs to be well paid for it to be taken up for longer periods than a few weeks,' says Per Westman, Head of Eversheds Sutherland's Swedish employment practice.
'Cultural norms have to change even more to tackle the stigma around men asking for leave. However, Swedish men with prams are a familiar sight, and in some organisations it is frowned upon for fathers not to take their share of leave.'
Employers in countries without Nordic-style, state-paid parental leave may decide to provide their own company-funded leave. This is a strategic decision, weighing the potential costs (company-funded parental leave is typically between 70-100% of basic salary) against the talent, reputational and other benefits and, importantly, the deep-seated change involved to deliver success.
However, boosting the affordability of parental leave is not enough. Employers must also address the organisation's culture – so that men feel encouraged to take leave. Otherwise, male employees may remain concerned for their career prospects and the new policy may fail.
The use of non-disclosure agreements (NDAs) for allegations of gender discrimination and harassment is another recent example. The #MeToo campaign emboldened some workers to speak out, some breaching their confidential settlement agreements and, in the process, generating a public backlash against their use. Now, the use of NDAs in such situations presents new risks. High-profile NDA cases in the US led to changes in the tax laws relating to payments made under these NDAs. Use of NDAs has also led to allegations that employers prefer to suppress gender diversity challenges than to make improvements.
An effective employer response will typically require more than reminding employees of existing HR policies. Companies whose top management regard inclusion as a competitive advantage, an enabler of growth and as a core part of their organisations' culture and brand are most likely to succeed (MSCI), particularly as demand for talent intensifies.
Key takeaways for businesses
The link between diversity and corporate performance is becoming better understood and is expected to result in increasing investor demands.
While societal issues affecting female workplace participation differ by country, there are consistent themes driving gender inequality across employers globally.
These include: a lack of women in senior positions; the impact of motherhood and unpaid caring roles on female pay and advancement; too few women pursuing more lucrative science and technical careers; and the global gender wage gap.
Addressing such corporate gender inequality issues, particularly where they are substantial, requires strategic engagement from the top, not simply a new HR policy. This is because the causes are often complex, they typically require funding to address, consistent prioritisation to overcome and there is no overnight fix.
Some businesses are already making great strides in this area, introducing innovative programmes, publicly setting gender equality targets, reporting on their progress and holding the senior management team to account.