Patent 'trolls', or non-practising entities, remain a thorn in the side of innovating companies in the US and abroad. But recent developments in both the courts and legislature are simultaneously attempting to deal with the issue – amounting to what could be a sea change for intellectual property law.
GC magazine assembled a group of prominent West Coast-based IP specialists, hailing from both in-house and private practice, and there were two cases on everyone's lips: TC Heartland v Kraft Food Group Brands and Oil States v Greene's Energy Group et al.
TC Heartland v Kraft Food Group Brands
The first case saw the US Supreme Court hold that the venue for patent litigation must take place where the defendant 'resides' (is incorporated or has a significant place of business), as opposed to where the infringement is deemed to have occurred. Such a change upset 27 years of precedent, wherein multiple cases were often consolidated to be tried in 'patent-friendly' venues, most notably the Eastern District of Texas.
Attendees
David Enzminger, Winston & Strawn
Chen Gu, HGST
Mike Panepucci, Visa
Robert Shives, Fujitsu
Alex Speirs, GC magazine
Kathi Vidal, Winston & Strawn
Venue
Four Seasons Hotel Silicon Valley
Much of the early discussion centred on interpretation of the TC Heartland decision in courts around the country. Kathi Vidal, managing partner of Winston & Strawn's Silicon Valley office, and herself a patent litigator, explained that she had seen a number of recent instances where parties had challenged the venue in ongoing cases following the Supreme Court decision. That forced courts to rule on whether TC Heartland was a change in the law, or a correction on how existing case law was being applied – with the implication that all lawyers and judges had been labouring under a misinterpretation.
Although Vidal had indeed seen that most courts were opting to rule TC Heartland as a correction, cases were not generally being moved mid-litigation thus far. But, it was felt that the TC Heartland case could in the future move cases away from jurisdictions like the Eastern District of Texas, a traditional favourite of non-practising entities.
'For our clients who have had a lot of litigation in the Eastern District of Texas, what I'm hearing is they're obviously far more likely to challenge venue. Some of them are basically saying, "We're delighted to never have to be a defendant in ED Texas again, because we don't have an office there – and guess what? We're not going to put one there now!"' said David Enzminger, partner at Winston & Strawn and co-chair of the firm's intellectual property practice.
The conversation turned to the increasing prevalence of non-practising entities pursuing patent cases outside the US in order to bolster their domestic claims in the wake of the TC Heartland decision. This could be fuelling an incipient boom in patent troll litigation in jurisdictions that have not previously seen as many of this type of case.
'The trend I am noticing is some of the patent trolls are simultaneously filing patent litigation in Germany and also in China. China tends not to have had a patent troll problem in the past because of the damages level, but on the other hand they tend to favour the patent owners, so you do see some patent troll companies move to sue large companies in China, perhaps even before they're sued in the US, because they could potentially get an injunction,' explained Chen Gu, senior IP counsel at HGST.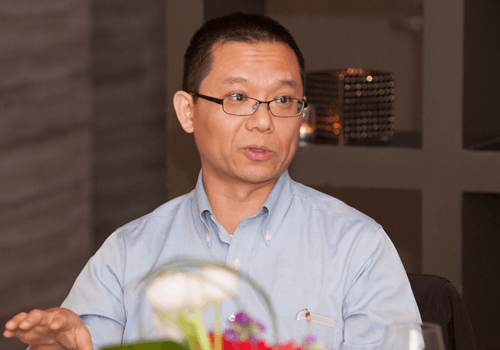 Chen Gu
HGST
'Once they are armed with that, they can come back to the US, or even go somewhere like Germany, and say "We already won once in China; do you guys want to settle for a slightly bigger amount than what the Chinese court has already given?"' I don't think the Chinese government cares at this point to stop that, because it's primarily Western companies fighting against each other in the Chinese court system.'
For companies that manufacture in China, an injunction in that jurisdiction is a major concern, making an empowered Chinese patent court a topic of interest around the table.
'Because of their dual-track patent litigation system, and the fact that their judges tend to be very technically trained, their competency is also viewed as very good in recent years. Additionally, their patent examination system is improving extremely well, so there is an increasing degree of certainty with Chinese examiners. They have trained a lot of new examiners, but their speed is good and, frankly, when I read some of their office actions, it's actually either on par or slightly better than the US examiners,' said Gu.
Despite a feeling around the room that non-practising entities would continue to innovate to circumvent adverse decisions from the US courts, Vidal raised the thought that TC Heartland at least represented an attempt to limit the power of non-practising patent-owning companies through case law. This was primarily due to the decision providing a disincentive for the patent troll business model, because it raised the cost of bringing litigation.
'Before, the Eastern District of Texas filed 20 cases against, let's say a computer manufacturer. Now you can't just file them all in the Eastern District, you have to say "Right, where does TC Heartland allow me to file a suit against you and you and you and you?" And so you're fighting in multiple venues as opposed to consolidating in one,' said Robert Shives, associate general counsel at Fujitsu Technology Business of America.
The stipulation of 'residence' for venue provoked a certain amount of debate around the table about whether certain venues would be overwhelmed with cases – such as Delaware, where many companies are incorporated, or the Northern District of California, where many tech companies are headquartered.
'Delaware has judges sitting by designation in anticipation of the increase in number of filings there. What we've seen in the past is, when that happens, they'll transfer cases out to California, where the companies actually are – so we think the Northern District of California is going to experience as much of a spike as Delaware,' explained Vidal.
For companies that manufacture in China, an injunction in that jurisdiction is a major concern.
But Enzminger took a slightly different view, saying 'I was talking to a number of California federal judges recently. The Northern District judges expect an influx of cases, the Central District judges expect an influx of cases, but to a person they didn't feel that it would be overwhelming. Particularly in the Central District, they've got a patent pilot programme that is attracting a lot of attention, and the judges there actually didn't feel like this would be a bad thing at all. But Delaware is going to be really slammed for a while.'
Vidal conceded that the picture would be complex, as the overall number of filings might fall as patents face potentially greater scrutiny outside the Eastern District of Texas, which could lead to patent owners focusing on fewer, stronger, cases, rather than opting for a 'shotgun' approach of filing on every patent.
Gu added that the rise of China as a venue for patent disputes could further impact US case numbers: 'Given the trend that they are more likely now to go into China, would they even care – if they could get an injunction in China? Maybe the trend is they are going to just not bother with the US as much.'
Oil States v Greene's Energy Group et al
The second case that has triggered heated debate among the US IP community, and at our dinner, is the ongoing Oil States v Greene's Energy Group et al, in which the Supreme Court has granted certiorari to consider whether inter partes reviews of patent validity are constitutional.
The case will consider whether patents are a private or a public right. If it is determined that patents are a public right, the United States Patent and Trademark Office (USPTO) would be able to grant – and subsequently review – patents. But if it holds the view that patents are a private right (as found in the 1898 US Supreme Court decision for McCormick Harvesting Machine Company v Aultman), a patent, once granted, becomes a property right, and therefore must be challenged with due process in a district court. Since the 1980s, the USPTO has re-examined patents during the course of disputes – a right that was reaffirmed most recently in 2012 under the America Invents Act (AIA), which refreshed the concept as an inter partes review. If the Supreme Court holds that McCormick is in fact the standard, inter partes reviews will disappear, leaving the courts alone to challenge patents.
The decision for the Supreme Court to grant certiorari in this case has taken the US IP community by surprise, as there was little perceived ambiguity over the current position under the AIA, as understood by our assembled party. Despite his view that the 1898 case was 'an outlier', Enzminger pointed out that 'It is rare in the IP space that you have Supreme Court decisions that can affect such substantial change. This would fundamentally change the way patents are litigated.'
Kathi Vidal
Winston & Strawn LLP
Although there was a general feeling around the table that the Supreme Court was unlikely to rule inter partes reviews as unconstitutional, there was unease about its reasoning behind hearing the case – going against the opinion of the Solicitor General, as well as seemingly clear jurisprudence from the Federal Circuit.
'If it's not worth changing it, why would you take it on certiorari?' asked Vidal.
Gu said that he would not be so surprised at a changed landscape after the Supreme Court's decision and compared the US system with that of other jurisdictions.
'Historically, the reason why United States is such an outlier is that we actually view IP as a property, but in its origin, the patent system in Europe was considered a licence. The Crown basically could grant a patent to anything whenever they felt like it, but also take it away,' said Gu.
The future of IP disputes
Finally, our assembled IP specialists made some observations on the changing nature of IP litigation, and its cyclical swings from patent troll litigation, to large company battles like Apple v Samsung, which focused on smartphone and tablet devices.
'Any time you have a new entrant into an existing market that is disrupting the dominant players' market share, that's when you're going to see a lot of litigation – it could be patent litigation, it could be antitrust, or something else. The bottom line is that it has to do with the market condition of the competition itself – it's not so much who necessarily has the better IP,' said Gu – expressing a sentiment that found favour particularly from the in-house contingent around the table.
'The new guy doesn't have anything to cross license, so if the entrenched participants in the market all have cross-licences and arrangements, there's no economic benefit pursuing each other,' added Shives.
'But if the new guy comes in, he takes from everybody and gives nothing, then clearly there's an incentive to sue the new guy. Now, if the new guy came in and said "Hey look, I have this patent portfolio, I'm willing to cross-license with you", there would be no suits.'
But as the US IP community has had one cloth ripped from under it by the US Supreme Court, and waits to see if there will be another, what is certain is that a time where there are no suits looks to be a very long way off indeed!