Shaun Johnson graciously provided additional context regarding how he first began operating in the Middle East, which illustrates one paradigmatic example of how international GCs and in-house counsel have made a shift towards working in the region, as well as what it was like to witness numerous social and legal changes take place. He explains: 'The jurisdictions I have previously worked in have all been common law jurisdictions whereas the Middle East is mostly based on the principles of civil law. I have spent over six years in Saudi Arabia, where I have seen reform on a massive scale – not just social and economic, but also from a legal perspective. For example, we now see the Saudi Centre for Commercial Arbitration (SCCA) being mandated for use within dispute resolution clauses. Whilst it is relatively young in comparison to other arbitration centers globally, its use is becoming more and more widespread.
He continued, saying: 'Another example in Saudi is the development of centers of excellence within the public sector, which preside over the procurement and the use of standard forms for two reasons: one to ensure a level playing field for all parties when competing for business and two, so as not to recreate the wheel when it comes to contracting. Certainly, towards the end of my tenure in Saudi Arabia, I did in fact see commoditisation of certain sectors and the prolific use of standard form contracts. Having now moved to the UAE in 2022, I can say that there are some areas of legal reform which led the way globally with other areas still needing improvement. However, I believe the legal system in the UAE is as robust as any other more "mature" (ie older) legal system globally and for a country so young (ie it became a federation of emirates in 1972), this is an achievement in and of itself.'
Johnson then provided some insight into the technological experiences of an entire generation of GCs, saying, 'there have been a number of changes in the legal environment in the past two decades. I don't think I can list them all, but in terms of my own experience, there is the obvious migration of technology: when I started my legal career in private practice in Australia, we were using dictaphones to dictate our legal memos. A few years later into my legal career I moved firms (and country) to work at Freshfields in London and I brought my trusty dictaphone with me and some tapes, only to leave my tapes in the typing pool one day to be told there are no transcription machines at all in the firm! Clearly, I was a little late in becoming self-sufficient myself. Other changes I have aseen as a profession are law firms taking diversity and inclusion seriously with a greater proportion of female partners being made up and as well as mentoring (formally and informally) playing a prominent role in the development of all junior lawyers. I also think Covid heightened everyone's awareness of the need to strike an appropriate balance between the work/life balance – that is one good thing because if left to our devices, the legal profession would have been slow to acknowledge this. Covid forced, out of necessity, the need for everyone (including law firms!) to realise that a balance needs to be struck and as a consequence, institutional changes being implemented.
Shaun Johnson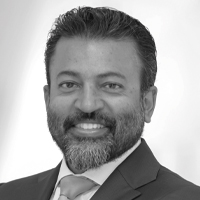 Dr. Kamal Jamal Shaun Johnson has over 23 years experience as a lawyer, working for both the public and private sectors across Australia, the UK and Europe and now the Middle East. Shaun began his career in private practice at Ashursts and then Freshfields, and has spent the last 16 years in various in-house roles. He has closed transactions in sectors spanning water, waste, aviation, industrial gases, health, education and digital.
Since 2016, Shaun has resided in the Middle East, initially working at Vision Invest (formerly ACWA Holding), then as Vice President and Board Secretary at Miahona (a Vision Invest subsidiary focused on utilities in the GCC). He is now Group General Counsel for the BEEAH Group, which is a pioneer in the region for sustainability and digitalisation across multiple sectors and jurisdictions.
Shaun is also Chairman of IPFA Middle East (the 'International Project Finance Association') and sits as a non-executive director on IPFA's global board.