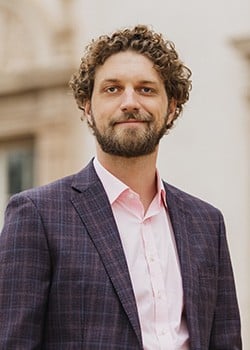 At Eleusis, we are developing psychedelics for potential therapeutic applications, as well as a care delivery platform that aims to increase the safety, tolerability, and accessibility of any ultimately-approved psychedelic drug therapies. It is a complex path from drug discovery, to preclinical work, to trial design and regulatory submissions, involving selection of potential patient populations, invention of patient monitoring systems, and optimisation of treatment regimes.
As general counsel, I support our team facing these challenges in preclinical and clinical development of psychedelics for psychiatry, therapies beyond psychiatry, and care delivery. Compliance with controlled substances, FDA, EMA, and other healthcare law is a big part of the role.
Technology enables our legal department to deliver for the business. Calendaring programmes track our patent portfolio, regulatory planning, and submissions, as well as entity management. Task management software allocates diverse work in an efficient and auditable way. Our board portal se-cures and organises our communications and governance documents. Independent data rooms protect trial and observational study data compliant with privacy laws. In short, digital management of our department helps coordinate our remote team to empower Eleusis' scientists and clinicians.
We also make extensive use of DocuSign, a popular eSignature platform. Neither our contracting velocity nor its global reach would be possible without it. Collaboration in an IP-driven space requires near-constant execution of non-disclosure agreements (NDAs), as well as ready access to their terms and expiration dates. Absent technology, we could not manage that without a much larger team. The next phase for eSignatures is their acceptance by regulators and other authorities on documents like informed consents and filings, and I am glad to see that trend already underway.
For a GC working in the tech sector, particularly remotely, connecting with other in-house counsel is essential. Among others, I joined an invite-only network called TechGC. This community of general counsels from emerging growth companies shares best practices, sample documents, and a listserv. It is invaluable for a lean team practicing outside a law firm's institutional knowledge and bench of subject matter experts. While the companies TechGC members represent range across industries, there is nearly always a GC who has faced an issue similar to the one in front of me.
Technology has also enabled a shift – accelerated by the pandemic – in the relationship between practicing law and lawyers' lives.  For in-house legal teams, [working from home] removes geographic recruiting constraints, lowers many folks' cost of living, and enables around-the-clock availability of a team member without sleepless nights. I am in Venice Beach; my deputy is in New York; and our paralegal is in Florida. That would be unthinkable two decades ago, but technology has made that possible and effective.
On a more human level, technology is just a tool, and it has downsides for my team too. I keep a photo album of working on my laptop in beautiful places – Switzerland, Honduras, Alaska, and Baja. That is either freedom or a little dark depending on how you look at it. Technology means you can work from anywhere, and also could be working wherever you are. Lawyers are susceptible to boundaryless grind, and we are now solely responsible for building divisions between work and the rest of our lives. It is incumbent on a modern GC to set the tone and support team members in building those personalised boundaries.
The advantages of legal tech are clear. It helps lawyers deliver better and faster for the company, and there is headroom for it to do more with natural language processing and similar technologies. If you review hundreds of entities' bespoke NDAs, you find there is immense arbitrary variation to get to the same six terms. There will be ethical obligations to sort out in handing that to software, in the same way there have been with technology-assisted document review in litigation, but the gains from legal technology make it feel inevitable that we will get there.
Today, when people refer to a 'technology company', they are often referring to the application of tech to a traditional sector. Take Lime, the phone-based electric scooter rental service. Is that a tech company or a transportation company with an app? Nearly every industry has been upended by what tech makes possible. Law will be characteristically slow on this front, but it is now law's turn.