In its Global Gender Gap Report 2017, The World Economic Forum (WEF) states that female leadership stands at less than 50% in all industries, based on an analysis of LinkedIn membership in 12 sectors from more than 100 countries.
The WEF's analysis also found that industry sectors with the highest representation of women in leadership positions tended to recruit more women leaders, hinting not only at the talismanic power of role models, but also the importance of leveraging professional prominence to create change.
The success stories of the Finnegan partners and their general counsel counterparts we spoke to are all the more remarkable, as many of these women are pioneers not only in business and law, but also science – a field notoriously underpopulated by women. They reflect on effectively navigating the traditionally male-led legal world as a trusted advisor, a leader – and as a woman.
The most successful leaders are, by definition, trailblazers. While a manager delivers a vision, a leader has to create that vision – setting goals, strategies and boundaries, but then stepping back and trusting team members to deliver. Through our conversations, successful leadership often emerged as a willingness to take ownership, the guts and judgement to make hard decisions, as well as the integrity to carry the can.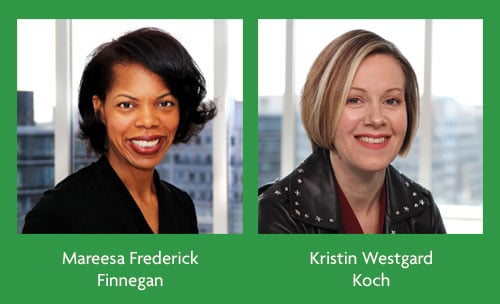 'Sometimes it can be very difficult to be the one to make a hard call, but the leader's job, among many, is to be the one who takes responsibility for the ultimate direction of the team, be brave enough to do it, and then brave enough to stick with it, even in the face of potential adversity,' says Erika Arner, partner at Finnegan and president of the PTAB (Patent Trial and Appeal Board) Bar Association.
Nurture by nature?
The narrative surrounding successful leadership has been defined by the leaders themselves – which have been primarily men. As more women are gaining the opportunity to develop leadership skills and take leadership positions, old assumptions around what a leader should be are being tested, and opportunities to find new ways of leading are being embraced.
If a certain steely tenacity is inevitable among effective leaders, what often counters that quality is the capacity to nurture team members and provide support when the going gets tough. Interestingly, a few of our interviewees ascribed success in this area among female leaders to a sense of maternalism, but given the fact that all the women we spoke to believed that the challenges facing leaders remain the same regardless of gender, perhaps successful male leaders also benefit from this traditionally 'female' quality.
GC magazine partnered with leading IP law firm Finnegan to host a full-day summit in Washington DC, focused on female leadership within the legal profession. Beginning with a comprehensive roundtable discussion and ending with a series of one-on-one interviews with senior female lawyers from both private practice and in-house legal teams (pictured opposite and on following pages). GC learned how those at the top of their legal game think about what it means to be a leader, the challenges faced by aspiring female leaders and the responsibility on everyone to create an environment in which potential future leaders are recognised, developed, and given the opportunities they need to succeed.
Elizabeth Ferrill, a partner in the firm's DC office, spent five years in the US Air Force before becoming a lawyer, and her military training has played a formative role in her understanding of leadership.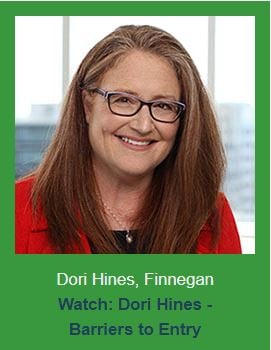 'The phrase we used to say was, "The leader eats last and sleeps last." Which means that you take care of your people, and you make sure that they have everything that they need to be successful,' she explains.
'I think that that means you really have to be organised, and you have to make sure that you have the right type of support around you, to make sure that you can provide an organised vision to the people that work for you.'
Stubborn adherence to archetypical impressions of what a good leader looks like also runs counter to the idea that leadership must come from a place of authenticity – not only in order to engage others, but also in order to function effectively.
'There was a woman who was in-house at a large corporation in Atlanta, which was a client of the firm. I got to meet her very early in my career, and she was a great champion for me. She worked in the telecommunications industry, which was very much male-dominated, and she had managed to be very successful, but she was true to herself at the same time – she didn't try to become one of the guys,' recalls Atlanta-based partner Virginia Carron.
'That was eye-opening to me in many ways because, at the time, most of the women leaders that I saw had changed their style somewhat to fit in and to be effective in the positions they were in, but you could tell once you knew them outside of that role that it wasn't really their authentic self. I felt like it gave me a great example to try to adopt that type of leadership myself.'
Adds DC-based partner Mareesa Frederick: 'The key is not everyone can lead the same way – so I am careful not to adopt ways that are inconsistent with who I am as a person.'
The specifics of being a female leader in law
While the ability to navigate group dynamics is an important skill for leaders to learn and develop regardless of gender, there was a sense in our conversations that it may unfortunately be more likely to be tested if it is a female leading the room than a male. But, while navigating unconscious bias can be frustrating it may provide the opportunity to hone vital listening skills that may otherwise never be challenged.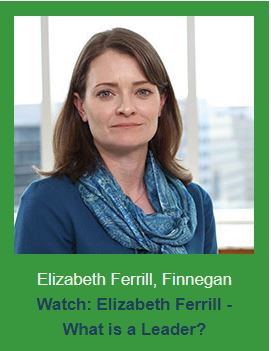 'I think sometimes for women you have to watch your audience a little bit in terms of if you come across a little bit too strong – sometimes that's an issue for the audience, depending on who it is,' says Susan Denigan, chief legal officer of Nestlé Purina PetCare North America.
'You have to weigh who you're talking to and listen to who you're talking to in order to make sure your message is being delivered the way you want it to be delivered. You're not a real leader if nobody's listening.'
Leadership in a legal context is unique in its own right. Despite many universal characteristics of good leadership, success in the legal profession has additional components, courtesy of the exacting technical proficiency that lawyers must demonstrate. Those in-house must also marry that expertise with corporate savvy, and a further role as company conscience.
'We're often viewed as just trying to find the legal boundaries of things that we do. But we also, I think, can bring ethics to the conversation, to make sure we're doing the right thing, and not just the legal thing,' says Stacey Antar, general counsel for Ferring Pharmaceuticals.
But the legal profession – particularly within law firms, where most lawyers begin their careers – is also unusual in being less purposeful than other sectors in developing non-legal skills. The law is an arena where leaders progress through their technical prowess as much as their softer skills.
'I grew up in a law firm, like a lot of people do – and you become a leader by default typically,' says Kristin Westgard, deputy general counsel IP and litigation at Koch Industries.
'You start growing in your responsibilities and then you're supervising other people on a case as you move up. But you may not be given formal training on how to be a leader or how to effectively lead a team. Now that I'm in-house with a corporation, we're part of other leadership training that we do throughout the organisation.'
Despite a relative absence of formal leadership training for law firm lawyers, there are, of course, other avenues that good leaders can and do take in order to develop their skills – such as reading books or attending classes to study the topic. But many of our leaders agreed that learning by doing can be a more effective means of acquiring the requisite skills, while still actively seeking out opportunities to grow.
'It's not an academic exercise. It's not like learning how to do things in law school. It's getting the opportunity to either lead a small team, or lead a part of a case or lead an organisation, or even a section of an organisation,' says partner Dori Hines, who leads Finnegan's electrical and computer technology practice group.
Role models
The leaders we spoke to all credit the role models, mentors and sponsors they have worked with over the course of their careers with moulding them into the leaders they are today, particularly (although not exclusively) fellow female leaders. And, they said, there is no need to leave meeting these inspirational individuals to chance if opportunity doesn't throw them your way.
'I think if you're a woman and you don't have anyone in your organisation to look up to, you can seek out female leaders in other organisations. For example, if you don't have a woman leader in your company, you perhaps could join a community organisation that has female leadership,' says Ferrill.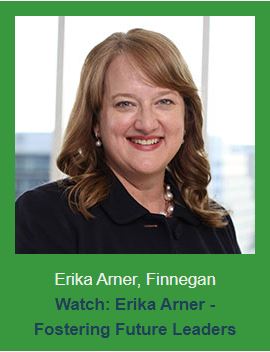 There are three types of luminary that our leaders cited – the role model, the mentor, and the champion. And while being a role model might simply be something thrust upon a person in the leadership spotlight, those in such a position can nevertheless be intentional about the influence they have on younger or less senior colleagues, particularly as a major barrier for budding female leaders in organisations is the lack of female leaders in place to aspire to and emulate.
'I think one of the most important things that women leaders can do to foster others, is simply being in the room. I attended a conference recently and when I was picking out what I was going wear each day, I intentionally chose bright colours. I knew that when there were younger women in the room and they were looking around, they would see a sea of navy and black suits, and possibly not be able to tell how many women were there, but I wanted them to see there are other women here in the room,' says Arner.
'I try and make sure that, whenever I'm on a panel at a conference, there are other women on the panel so that other younger, aspiring leaders see themselves in those roles, and can envision it. In addition to giving them that view, I think it's also important for women to be in the room, because we are often the ones who can raise our hand if there is some unconscious bias going on. I think being present is the most important thing we can do.'
Good mentors have played a similarly indispensable role in the professional lives of the women we spoke to, providing direct opportunities (occasionally a nudge) and guidance – without clipping the wings of the mentee.
'Women need mentors. Good mentors help you figure out how to navigate tricky work issues, they empower you, and give you advice on how to grow professionally and personally,' says Frederick.
But mentors have a broader impact than just the individual careers they support, and in addition to seeking out opportunities for personal growth, successful leaders often feel honour-bound to just as actively identify openings for influencing those lower down the chain, with knock-on effects throughout the organisation – and beyond.
'Mentors also help to develop the pipeline to leadership within a firm. When younger attorneys have relationships with more senior attorneys at a firm, they feel valued and part of the community. This ultimately improves retention and results in more women attaining leadership roles,' explains Frederick.
'Mentorship and sponsorship does not happen just within an organisation – women attorneys should look for opportunities to mentor someone in law school, at another firm, or even a high school student. I recall helping out in a moot court competition for girls from a local high school. All the girls did a great job thinking up arguments and were really engaged in the competition. I made sure to let them each know how impressed I was with every single one of them. One of them asked me whether I thought she could be a lawyer one day. I said absolutely – the expression on her face showed that she was now considering a path that had perhaps never crossed her mind before. So even something as simple as offering words of encouragement to a young girl could lay the foundation for a budding young leader.'
There are also champions, those with more skin in the game, who stick their necks out to develop others in whom they have made a real investment, even to the point of pushing them to take opportunities they might not have thought to seek themselves.
The legal world is often unstructured in terms of one-to-one leadership development, largely leaving it up to individuals to take the initiative, either as mentees or mentors. This can have mixed consequences, because although an assigned relationship can fail if it feels artificial, an absence of such schemes could result in talent falling through the cracks.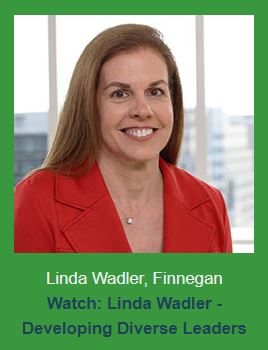 'I think that champions can be grown in a number of different ways inside a legal organisation or perhaps even just generally. I think that some of it can be structured, and it needs to be at some level, or it might go undone,' says Carron.
'On the other hand, it's difficult to pair two women together or just a leader and a non-leader, or a younger person or less experienced person and say, "This is going to be your champion," because so much of it has to do with the personal investment of time – and it's always much easier to spend time and energy on somebody whose company you enjoy.'
Inviting others to meetings, providing hands-on experience – 'I'm going to give you enough rope,' Hines was told by a former partner – were all agreed to motivate team members and provide insight into life on the next rung up. But to ensure a truly level playing field, Carron and others contend that a certain amount of structure is necessary – whether that is through mentoring assignments or the process of development itself.
'A lot of people relate to people who remind them of themselves, and I think it's important to try and remember that you need to cast a wide net and give a lot of people opportunities,' says Washington DC-based partner, Linda Wadler.
'I've found that it's not always the people who are the top performers at a junior level who end up being the leaders. Some people are late bloomers, some people plateau, and so I think it's really important to give opportunities to people to take responsibility and step up to the next level as broadly as you can.'
All in the mind?
Although leadership is usually understood as a task, it is also a mindset. An essential skill in an effective leader is the ability to be reflective over the entire course of a career. A key component in any kind of success is the willingness (and capacity for self-forgiveness) to risk failure, but a leader could be doomed to repeat mistakes if they are unable to honestly reflect on and absorb the learnings from missteps – and then share them.
'A lot of the women leaders that I've interviewed or spent time with, when asked who was the first person to tell you no, where did you get that first discouragement that you had to overcome, so many say, "It was from myself",' says Arner.
'I think perhaps women, a little bit more than men, tend to have a bit of self-doubt that causes them, at least initially, to not raise their hand for an opportunity, or to not feel that they are ready for a job that they really are ready for. Getting out of your own way is one of the lessons that we learn as we age.'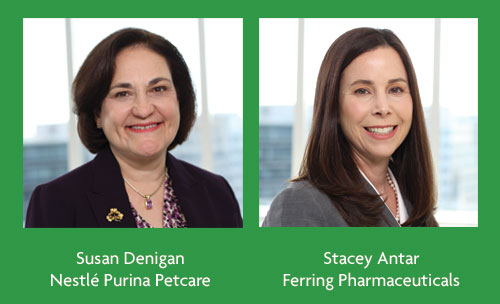 'I also think it's because we've heard it so many times, although maybe not directly. I don't remember anyone coming up to me saying, "You could never be a leader",' adds Carron.
'It wasn't like that. It was watching choices and opportunities come along and be largely given to males who I thought didn't have superior skills to the ones I had.'
Is enough being done?
The input of others, particularly other women, is crucial to the progress being made across the legal profession, and this was an obligation keenly felt by the women we spoke to, who were all eager to extend a helping hand to those on the rungs below. But should the responsibility of elevating and empowering potential female leaders rest solely on the shoulders of other women? Of course not.
'I think one really important thing is for more men to see developing the female talent in their organisations as not just the responsibility of other female leaders. We need every leader to recognise and encourage good talent, and we need to develop all the talent we have,' says Antar.
Adds Hines: 'Where I think additional work could be done is getting men more actively involved, engaged, and understanding of the benefits of having women in leadership roles, and that having women in leadership roles isn't a zero-sum game. Having a woman leader doesn't mean that it's a loss for men.'
Although the challenges facing leaders are often the same no matter who is in the post, there are additional factors that pioneering women often find themselves taking into consideration when conducting themselves in their roles – particularly an awareness that they might be the first female leader the team had experienced.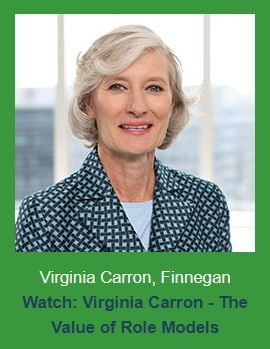 'I think when I first entered leadership positions, I second-guessed myself a lot. I needed to be able to be who I was and feel okay with that. I needed to be able to recognise that I wasn't going to be accepted by everyone. And part of it was because of my gender, part of it was because I was a change,' says Carron.
Achieving that parity in numbers with male counterparts is an ongoing journey for women in law, as well as outside, and there are complex factors still to address along the entire pipeline before that change will occur. But budding women leaders can be grateful to those who have stepped up, risen to the leadership challenge, and then, both by virtue of simply serving as a role model demonstrating the benefits of diverse leadership, and becoming an empowering figure by extending the hand to others, widened the horizon for women in law.