In an exclusive extract from her new book You Didn't Mention The Piranhas, Nelson Smith writes candidly about how it feels to be in the middle of a PR crisis:
In the second week of the crisis, the snow came. It had toyed with us for several days, threatening a festive dusting, but then changed tack and engulfed the country in a thick white blanket, mocking the valiant efforts to get trucks loaded and onto the roads by rendering many of them impassable. I needed to get to Rugby, but living at the bottom of a hill on a country lane with a rear-wheel drive car, I had no hope.
Wrapped up at home in comfy casuals, cut off from the world, for twenty-four hours I joined meetings and discussions with the team ensconced in Rugby by phone and by Skype. Conference calls served as a passable Plan B, but with many more people – external consultants and advisors and DHL and QSL employees – joining the calls than I'd met, attributing comments to people and parties was near impossible. A message came through from a colleague: if I could get to an open road, a four-wheel-drive taxi would be making its way towards me to take me up to Rugby.
The distribution centre had developed a reputation akin to the Hotel California: people arriving there for a meeting would find themselves stuffed into safety shoes and heavyweight jackets hurriedly scrambled from the Screwfix hardware store across the road, re-basing themselves in Rugby for days or weeks while they supported the recovery efforts in every which way they could. I was heading back up there for a meeting, but, with the added complication of the snow falling thick and fast, I anticipated I mightn't be back too soon. Grabbing a bag, I filled it with clothes that would win me no awards for style or fashion, but would be entirely practical for several days snowed into a distribution depot in Rugby. If setting off on foot through a blizzard felt like madness, crawling along in the cocoon of the car at 20mph on the motorway felt even more ill-judged. But the car journey felt like a refuge from what would undoubtedly await. Closer to Rugby, the blizzard abated; the snow thinned. With the sun out, the memory of the Narnian winter in Surrey felt like a lie.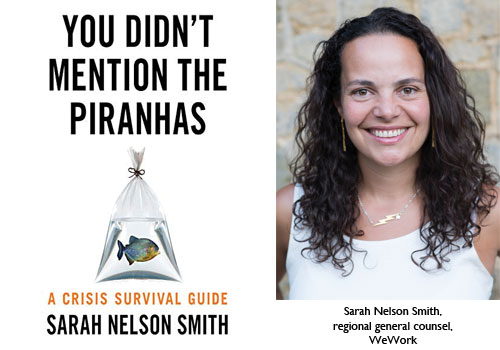 The key questions being assessed were: what was the root cause of the distribution failure? Could it be fixed, so that the service that the KFC system had been promised could be realised? And if so, how? And where should the mounting losses lie? It had been important to ensure from the outset that the KFC parent company in the US was kept well aware of the situation in the UK. A difficult conversation to initiate, perhaps, but it would have been far worse if their first awareness of the crisis had been via a comment on Twitter or in a newspaper article, of which there were many. It might not be the case with all multinational organisations, but, with Yum!, it felt very much like a pool of protective older siblings across the pond, ready to jump in and do whatever they could to support, guide and encourage. Messages arrived from the global leadership team: 'We're all thinking of you and cheering you on', and 'Let me know if there's anything at all that we can do for you and the team. Even a friendly voice or ear to listen – anything at all we'll do. Take care. You've got this!' As we poured yet another coffee at midnight to eke out the second wind from hours ago just that little bit further, the messages truly helped. And our daily emails and calls back to the global leadership team ensured that there were no sudden leaps in knowledge, with the press or social media leading the charge and leaving them lagging behind. Despite our best efforts, though, a call or an email could only go so far to convey the slightly hysterical #ChickenCrisis fever that had enthralled much of the UK, and that had occupied every waking moment of the KFC teams.
And so they came. Organically, each person took the decision to come to support the team in Rugby and to be on hand to see the issues with their own eyes, and to discuss, eyeballing one another across the table, and battle through the issues and the solutions.
The airspace above London thrummed with the incoming flights bearing reinforcements: a tenured supply chain and distribution expert from within the Australian KFC business, the global CEO, CFO and general counsel of the brand, and further leaders from the global KFC and Yum! boards arriving from Louisville Kentucky, Australia and Europe, contributing their own commercial and legal savvy and negotiation skills. As the immediate operational and commercial challenges and the longer term picture were being scrutinised by us all, with each new arrival the freshly assembled Swat Team felt more complete (although the 'Special Weapons And Tactics' deployed were less munitions and military plans, and more Excel spreadsheets, diplomatic negotiations and legal, commercial and operational analysis).
Surfacing for air
After existing in a central London hotel with the core negotiating team for four days and nights, I realised that (i) I had not seen daylight without the protective barrier of a window pane for some time, and (ii) I had run out of clean clothes. It was 8.15pm. As some of the team headed down to the hotel restaurant for dinner and an escape from the now too familiar four walls of the board room, I decided instead to make a break for it, and go shopping. The very idea that I could simply walk out of the hotel and do something as ridiculously ordinary as going shopping took hold, and the excitement I felt as I ran (yes, ran) through the front door and into a waiting taxi is hard to put into words. A few minutes later, I was walking down Oxford Street, breathing in the clear, dark night and relishing the almost forgotten experience of being cold. Most of the shops were closing for the night, but the bright store front of M&S beckoned me in with a whispered promise of fresh underwear and some neutral basics.
I had lent my last clean top to our external lawyer, so both she and I were now in need of supplies. Plucking a basket from a stack by the entrance, I chose underwear and toiletries for both of us, and tried hard to select tops that were in the right sizes and which suited both the fifth-day-in-a-row-in a-board-room-with-the-same-colleagues and the about-to hold-a-conference-with-over-thirty-franchisees occasions. I struggled. I was sleep-deprived and found it hard to switch from a contract negotiation and drafting mind-set to an outfit selection one. As 9pm approached, the lights began to snap off, with the clear threat that the shop had every intention of closing as soon as the last few stragglers had left. A loudspeaker abruptly reinforced this warning. I raced to the tills.
'Where, ordinarily, a theoretical idea could be discussed, here, the need for certainty and action was immediate.'
Hauling my basket onto the counter and tipping the contents out in a heap, I realised that I had forgotten to find a new deodorant for our external lawyer, as requested, so I jogged back to the cosmetics section while the cluster of M&S employees at the counter began to ring up my selection. 'Sorry!' I gasped once I'd made it back with a floral-scented roll-on. 'I've been panic-shopping!'
The lady on the till laughed, and asked how on earth a person could find themselves panic-buying underwear, tops and floral-scented deodorant on a Thursday night. Goodness, how much detail to go into? I'd been in a meeting, I told her, which lasted four days longer than planned, and now I had run out of clothes. By now, she and her colleagues were finding the situation pretty hilarious. Who did I work for to have meetings like this? I was alone on my side of the counter by now, acres of darkened shop floor behind me, and five curious faces opposite, partly wondering what I was talking about, and partly just wanting me to get a move on so that they could close up and go home. KFC, I told them.
Well! The level of detail that this group knew about KFC's current predicament was astonishing. While I'd been hidden away in the stagnating air of a meeting room, allowing the distribution issues to occupy my every conscious (and the occasional unconscious) thought, the world outside had been busy absorbing all of the emerging details and forming their own opinions on the situation. Discussions and negotiations that had once been sensitive and confidential were now fair game.
'Oh, I bet you wish you'd stayed with Bidvest now!' she told me, while two more M&S employees debated the wisdom in using a sole distribution centre in the 'logistics golden triangle' rather than using several spread across the country. With their wishes of luck and strength, and pleas for the KFC in Addiscombe to reopen soon, I gathered up my bag and stepped back out into Oxford Street. This was the new normal, and the only way was onwards.
As the last day of week two of the crisis merged into the first day of week three, the Swat Team had decamped to the board room of the London hotel. With all of the key decisionmakers for KFC in the room, we were intent upon getting a complete solution nailed down within a few short days. The mood was collaborative and positive, but desperately intense. Every contribution was listened to and evaluated, but there was no time for meandering debate. Where, ordinarily, a theoretical idea could be discussed and then explored in more detail offline, with a conclusion settled upon in due course, here, the need for certainty and action was immediate.
I sat at the long board table, and my mind wandered from the meeting to the crazy two weeks that had just passed. The urgent decision-making, the conferences spent standing in front of dozens of concerned and occasionally angry franchisees as they shot questions at me about what was happening to their businesses, and all that journeying back and forth to Rugby… Looking around the room at faces, once so familiar to me, each suddenly seemed distorted and somehow wrong. And their voices: once clear and definite, now blurred into indeterminable sound. I felt utterly confused. I could see mouths moving, heads nodding, but could make no sense of the words floating like helium balloons around the room.
Chris, sitting beside me, nudged my elbow, looking at me quizzically. 'You okay?' His face was obscured with pricks of bright light, and I couldn't draw out the words needed to reply to him, to say that I wasn't sure that I was okay after all. I felt scared. I was entirely out of my depth. How could I possibly be of any use to the team if I didn't understand anything that they were saying? What if they realised that I was now a dead weight, and asked me politely just to go? Aware that I hadn't been able to utter a word for some minutes, I shifted in my chair uncomfortably, lost my balance, and reached out to the table edge for support. My fingers, gripping it, were numb. So too, I realised, was my nose, which tingled as though I had walked into a hot room after spending too long outside on a frosty night. The voices in the room continued. Confused, I realised that some were directed at me, but I had no idea at all what they were saying as one word flowed continuously into the next and the next and the next, leaving me no time to decipher what each one meant. I felt like I was drowning, my grasp on the present now entirely released as I fell deeper and deeper.
'Had anyone else ever done this? more to the point, had anyone done this and survived, their career intact?'
My boss stood at the other end of the table, brow deeply furrowed as he looked at me, his mouth moving and his words merging with the others in the room. In a few short paces he was standing next to my chair, pulling me into a hug, as I burst into tears. I have no recollection of what he said, but I can still feel the enormous relief of finally being thrown a lifeline: You're not okay, and I can see that, and I can help.
'Sarah needs to sleep! Is she checked in?' said an American voice.
'No: she came straight here. Where's her bag?'
'Here! I've checked in already. Take my room key. Someone needs to help her upstairs.'
Someone comforting, and help to my feet. More words. More movement. And I was out in the corridor, Paula's arm around me as I walked blindly, crying silently. A lift. A room. A bed. Paula kindly ordering me to lie down as she fetched a juice and some water from the minibar. And then I was alone, and the room was dark and quiet. And then nothing.
You might think that, after a certain number of things feel completely surreal, you'd simply accept that reality has shifted and everything experienced is, in fact, entirely normal. Lying in the global CEO's bed, recalling being led, crying, out of a room full of some of the company's most senior leaders, is a sobering experience. I had no point of reference on which to anchor this. No similar situation that I could draw upon to remind myself that this was all par for the course, and many before me had done just the same.
Had anyone else ever done this? More to the point, had anyone done this and survived, their career intact? And what next?
To buy a copy of the book visit: gcm.ag/piranhas