First up on the agenda for our discussion was big data. Nick Maltby of Genomics England is general counsel for the 100,000 Genomes Project, a UK government initiative which collects DNA data from patients with rare diseases and cancers. Balancing the sensitivity of the personal data with the opportunity for commercialisation produces both security and IP challenges: 'We have multiple and, to some extent, conflicting aims. We invite in pharma, we invite in biotech, we invite in others who are interested in the potential research benefit you can get from looking at linked datasets, so you might discover new therapies, new diagnoses, new ways of treating patients. It is those things that we are looking to commercialise and we are also looking at IP protection around that. However, unless we can protect the data, the whole project could fall over as you lose patient confidence.'
In common with other financial institutions, at Barclays the use and potential commercialisation of data to track trends for businesses is an emergent area for development. Calum Smyth, the bank's global head of IP, wonders how possible it is to protect IP around data: 'Can you own particular data which may be business-related? You get through that hurdle and then you are into questions of copyright. We always start with copyright and database rights, but how valuable is that really? Is there some sort of functionality that you can place around it by doing something whizzy with the database? And is that protectable, either by a trade secret or (we hope) a patent?' But, he adds, the future is looking hopeful: 'Various cases in the US would suggest that it is an area that is developing.'
One IP concern connected to use and storage of data is collaboration, particularly around open-sourcing. Certainly in the world of software, open-sourcing is now a fact of life. Patrick Cadell, head of legal at Trustonic, which makes secure operating systems for mobile devices, illustrated the issue in the tech space. 'There is no longer a choice to say "we are in a proprietary code environment". Often it does come down to speed. If people want to pick up a piece of code that is already there in the open-source community, that is obviously a very good and cheap way round. It is about having well-understood policies not to have your proprietary code unintentionally licensed or contaminated.' For Cadell, the solution is to build awareness of the company's approval and compliance process governing when engineers can legitimately use open-source code.
In attendance:
Patrick Cadell, Trustonic Limited
Lawson Crawford, UCL Business
Shushana Jachobov, Hachette UK Limited
Catriona Macritchie, Diageo plc
Nick Maltby, Genomics England
Jillianne Osborn, Vodafone
Sumati Parikh, Smiths Detection
Anthony Tridico, Finnegan
Among emerging IP and general security questions in a world of big data, the cloud and the Internet of Things, a topic of consideration was the impact on traditional hardware. Anthony Dixon, general counsel of broadcast and broadband technology producer Pace, raised the issues around monitoring software installed within devices in homes, and the access to that data afforded to operators. On top of the security risks of allowing outside access to products within our own homes, Patrick Cadell highlighted the practical challenges of creating technology for products that have, until now, had very different uses and product lifespans – 'for instance, a door lock could have an Internet of Things chip that would need to last for perhaps 30 or 40 years,' he pointed out.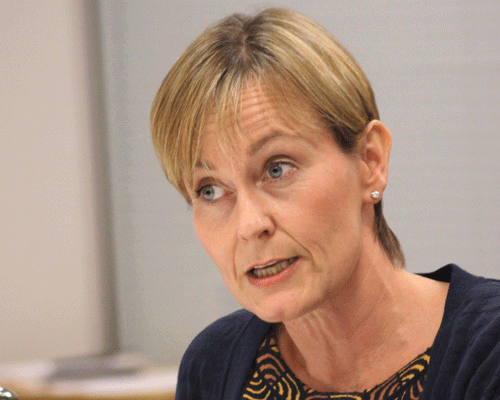 The law still lags behind. For Finnegan's Philip Cupitt, the answer is adaptability, particularly when it comes to new technology such as 3D printing, where patents are hard to enforce and there is ambiguity over whether copyright exists. 'We are in a situation where none of the existing types of IP protection really suit or envisage the sort of technology that we have now and it is very difficult for rights owners to protect and enforce those rights. The businesses that will be successful are the ones that realise they cannot protect everything and instead try to adapt their own business models.'
Kiaron Whitehead, general counsel of the British Phonographic Industry (BPI), felt that the answer is to test the boundaries of the law via the courts rather than to lobby for immediate changes or updates to the law. 'In a way, going to court on the current law is probably a more efficient solution, because getting new laws takes time and they still ultimately need to be tested in court.' Interestingly, 3D printing raised questions for attendees about potential disruption of technology for bespoke products such as personalised hearing aids. Would the size and shape of a person's ear count as personal data? asked Calum Smyth.
The conversation then segued into Freedom to Operate (FTO). The attendees concluded that the value of FTO analyses was largely dependent on industry sector. Anthony Dixon said that FTOs are simply incompatible for Pace's business. Case law has pragmatically developed to say that you cannot get an injunction over certain IP infringements because you have an essential facility, he explained.
'THE BUSINESSES THAT WILL BE SUCCESSFUL ARE THE ONES THAT REALISE THEY CANNOT PROTECT EVERYTHING'
Patrick Cadell at Trustonic said that his experience in mobile phone technology chimed with Dixon's, with the sector 'absolutely bristling with patents and opposing rights holders in various parts of the world'. He had not dealt with FTO searches at all, and argued that the possibility of patent infringement was just a cost of doing business: 'Mobile phone technology develops so fast and the product lifecycles are getting so much shorter that the time it would take to apply for patents – although it is obviously done and we are applying for patents all the time – creates a lag in practice.'
Smyth said that in his previous role at Kraft Foods, things were different. 'We were very mindful of other people's patent rights and so if there was something that we thought was highly innovative, we would take a look. We knew that others took a look at our patents as well and where we thought somebody infringed, we would sue them or threaten to sue them.' He described a world of overspend on FTOs, but one where the importance lies not in the number of patents, but in the level of detail. Attendees agreed that the likelihood of an injunction was highly industry-dependent.
It was noted by Finnegan's Anthony Tridico that some companies are turning to a competitive strategy of filing patents not because they are going to enforce them, but to create their own freedom to operate in crowded sector spaces. Cadell had seen allegations of patent infringement used in the mobile technology sector as a tactic to derail a competitor that was about to go public. In this case, claiming patent infringement had been effective in delaying the public offering until the infringement allegations were resolved.
Sumati Parikh, global head of IP at Smiths Detection, commented that in industries such as specialised engineering products, FTOs are generally conducted as the cost of developing a product could run into millions, and the number of players with patent portfolios could be limited. This gives companies an opportunity to identify any patented technology that they need to design around or obtain a licence for. In circumstances where the cost of doing an FTO is not prohibitive and is a fraction of any potential patent litigation action, an FTO is recommended.
The evening was a story of risk versus reward in terms of formulating IP strategy, but also a reminder that as new technology and business practices emerge, the law continues to play catch up.