In common with in-house lawyers everywhere, our guests have found anti-corruption, bribery and investigations to be an increasing and more compelling part of their workload, notwithstanding the fact that the burden is often shared by compliance and risk departments.
Asia Pacific produces its own challenges due to the size and diversity of the region, both culturally and in terms of risk. There has been a recent sea change under Xi Jinping in regards to corruption in mainland China; any gifts to Chinese government officials are now seen as strictly off limits. One of our attendees told how one of their business people had sent a bottle of wine to an official who returned it forthwith exclaiming, 'I can't believe you would put me in that position!
Perhaps it was appropriate that our discussion took place on the eve of the Mid-Autumn Festival, traditionally a time for the giving of mooncakes. However, many of the in-house present, particularly those from financial institutions, reported that this year gifting of even this fairly innocuous token had fallen off.
Our dinner guests reported, as might be expected, that the jurisdictions with the biggest risk factors for corruption are also the ones with the biggest potential for business growth. The need for legal to work hand-in-hand with the business to negotiate the line between risk and reward is more compelling than ever. Vietnam, Cambodia and Myanmar were the countries most often cited in discussion as providing the biggest challenges to navigate.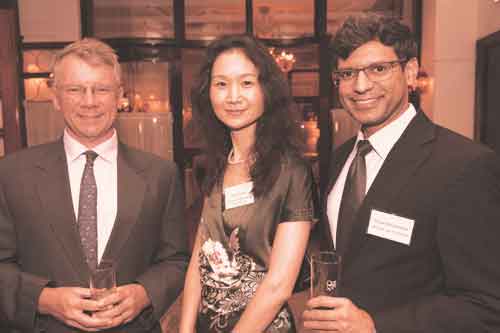 Education, training and reporting are areas where cultural differences often prove the most taxing. Reporting in the Asia Pacific region is often problematic due to the hierarchical and conservative nature of many countries, meaning that employees do not want to step out of line or say that anything is wrong. One anecdote that was shared concerned Japan where, in the face of wrongdoing, some employees protested that the questionable behaviour was fine since their manager told them it was fine. This means that in Asia, the whistleblower is a much rarer phenomenon than in the US or even the UK. Many of the in-house lawyers present reported that there are still doubts from employees as to whether whistleblowing hotlines and so forth are actually as anonymous as claimed. For many, the solution is to outsource this function to third-party providers.
Training is pivotal to the elimination of corrupt behaviour, but is also a drain on time and resources for most legal teams. Nevertheless, most of our attendees reported that their organisations were happy to put greater resourcing and spending into this area than previously, given that the penalties and potential risks are so high.
Technology was seen as the way forward for many in regards to both training and day-to-day compliance. A number of those present had started to use online training, including interactive game theory and innovative ways of learning, to make the message more fun and interesting.
Training and prevention are, of course, the main areas of focus. It's often a work in progress but most were philosophical about the need to gradually effect cultural change. The ultimate aim for our attendees was for the culture to shift over time from one where wrongdoing was avoided for fear of sanctions, to one where the notion of the offence as wrong is internalised.
Similarly, for most, the objective was to get compliance processes further embedded within the business and to move to a norm of pre-emptive consultation around potential issues, rather than escalation once there is already a problem. Part of this relates to the general desire of in-house counsel to be more strategically aligned to the business.
A number of attendees raised the question of fundamental structural issues present in many industries, particularly in relation to sales and marketing functions, where incentives and bonuses are still a significant part of employees' compensation. As long as this remains the case, the in-house lawyers felt that the potential for abuses or corners being cut was hard to overcome.
'The jurisdictions with the biggest risk factors for corruption are also the ones with the biggest potential for business growth.'
A number of bank general counsel were present and stated that Know Your Client (KYC) had taken on overwhelming importance. This becomes even more pertinent to many markets in Asia where risk is seen as higher. However, ironically, for many banks, the strategy in these markets centres on mobile banking which makes KYC more challenging.
For everyone present, despite the increase in local legislation in many Asian countries, it is the UK and US legislation which remains the gold standard by which culture and behaviours must be measured. But overwhelmingly, a consistent and companywide approach which takes into account cultural sensitivities is seen as the logical and desirable way to proceed.
IN ATTENDANCE
Sarah Bower, KPMG
Judith Crosbie-Chen, Logitech
Ben Hamilton, ANZ Bank
David Kreider, formerly of Vodafone, now independent
Bobby Ladwa, Barclays Capital Asia
Katherine Lee, Card Protection Plan Ltd
Michael Ling, CLP Holdings
Kevin Marr, JPMorgan Chase
Nadine Maurellet, The Hong Kong Shanghai Hotels Ltd
Vivian Ng, NetApp
Andrew Olson, PRADA Asia Pacific
Gregory Schulz, BlackRock
Audrey Shum, Christie's
Mei-Shan Tan, Citibank
Graham Turl, BlackRock
Michelle Wei, Flextronics Manufacturing (HK) Ltd
Joe Zhou, China International Capital Corporation
Mei Lee Wah, Sumitomo Mitsui Banking Corporation