This Spring, GC magazine and RPC teamed up for a series of innovative events bringing provocative, and often downright maverick, business perspectives to an audience of in-house lawyers in London.
Two central themes that emerged were the importance of having a single inspiration or driver that you can centre your activities around – almost a belief statement – and secondly, the importance of considering the client perspective – understanding what you are doing and who you are doing it for.
Leading off, Susannah Schofield drew on her experience as commercial director of Royal Mail and as CEO of Dice Matrix, a business consulting and software company.
For Schofield, client service is inseparable from the whole client experience. In order to ensure that experience is well rounded, there needs to be a belief in the product and the brand, which in turn helps to make it memorable: 'Brand is real estate, it is a corner of your customers' minds that you need to hold onto.'
What sets a brand apart is not being the newest or the cheapest, but fulfilling a need – often one that the customer doesn't know they have. That need could be fulfilled by providing a business model that improves upon the standard industry model, as outlined in Clayton Christensen's theories around disruptive innovation.
This notion of the brand and business model being fundamentally linked to customer satisfaction was central to Schofield's presentation. Companies need to firmly consider the who/what/why with regard to both commercial operations and risk. It was interesting to hear Schofield, from a commercial background, telling our audience that 'saying no' can be one of the most important parts of their role, given that in-house lawyers are often chastised as nay-sayers. But Schofield anecdotally revealed that a business person may have a sneaking notion that the veto from the legal team can provide a 'get out of jail free' card for letting go of an idea which may be limited in its potential for success.
On the other hand, she also exhorted our audience to understand their sector and increase the relevance of their contributions, while retaining the value and effectiveness of saying no. Schofield felt that lawyers can provide a useful perspective due to an objective stance, which sometimes allows them to have a more paternal perspective than commercial staff, who are mired in the day-to-day business.
For in-house lawyers, having a clear sense of 'who is my client' was critical. There has been a trend to stop referring to internal clients as 'clients' to minimise a sense of separation from the business that can hamper counsel as much as it benefits them. Schofield's advice was to always think of the external client first, as a strategy for solving the internal issue. Having a sense of the bigger picture (and really knowing your sector) is also never a bad thing, no matter what the issue is at stake.
In the second evening, the discussion centred around how to motivate oneself and one's team, with a focus on recognising the benefits of marginal gains.
Ben Hunt-Davis was a member of the men's eight rowing team that won gold at the 2000 Sydney Olympics – the first British crew to have done so since 1912. He uses his experiences of making 'the boat go faster' to work with leading companies on focusing differently, imaginatively, and habitually, to achieve better results. Joining him in conversation was Andrew Lindsay, now CEO of Telecom Plus, who was also a member of the Olympic-winning team.
The two mantras the team used, which now form the basis for Hunt-Davis's performance training with companies, are:
Focusing on the important stuff
Doing the important stuff better
The rowing team's aim was to challenge conventional wisdom with the race plan.
Much of the work the team undertook involved focusing on rowing more efficiently.
As Hunt-Davis put it: 'We challenged everything that everyone took as the modus operandi of rowing, identified what worked for us and made sure it happened.'
Once you identify a simple objective, you can reference back to it as a lodestar for every key decision. At the Sydney Olympics, the eight-man rowing team did not go to the opening ceremony because it didn't make the boat go faster. In fact, the time and effort involved might have impacted on training.
Broadening out the theory for a business audience, it involves simply figuring out what you are trying to do as an organisation and making sure that everything references back to that. Lindsay described how he currently lives by this mantra in his company Telecom Plus, which supplies utilities. The concept behind the company was that it would be the quality provider you would be happy to recommend to your mum. Therefore, the notions of 'what would Mum think?' and 'is this how we would treat Mum?' are used to interrogate much of the company's operations and new ideas.
In Sydney, a significant part of the team's experience entailed doing the important stuff better and focusing on marginal gains. This necessitated separating out results and performance, which then allowed for better analysis and long-term results. Applying this to business; you may achieve the result you want, but if the process is flawed you may not be able to repeat that time and again. An illustration that was given concerned meetings – there's often a focus on the outcome of the meeting or the fact it's over, rather than analysing one's performance in it and how that could be better.
The key message was clarity of goal. Hunt-Davis cited examples of companies he has coached where complexity is used to disguise a lack of clarity and goal. Without clarity and a sense of purpose, there is no chance of marginal improvements. This mindset translates well for legal teams, where many of the most innovative general counsel start by taking a step back and asking the question 'what are my team and I actually here for – what is our purpose?'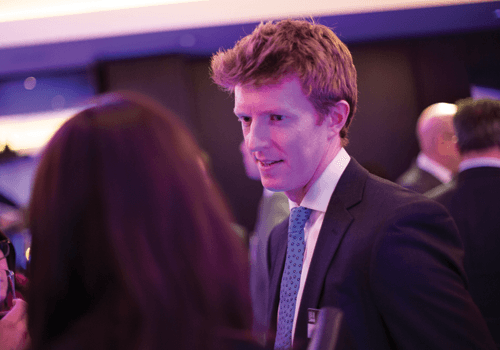 On the third evening, Anthony Thomson, former chairman and founder of Metro Bank, the first new high street bank formed in 150 years, challenged our audience to re-think their role. Seeing himself firmly as an entrepreneur rather than a banker, Thomson and his co-founders decided to go against established lore around retail banking and focus on the customer experience. Innovations included family-friendly branches which feature hotel lobby-style open cashier desks, free-to-use coin-counting machines and customer toilets, opening from 8am-8pm every day except public holidays, allowing customers to bring their dogs in and even providing free biscuits for said dogs! Thomson is now starting Atom Bank, the first truly online bank, billed as a bank for the Uber generation.
In opening, Thomson asked our audience how many people saw the rationale for business as creating profit. Probably about half the audience raised their hand.
For Thomson, 'The purpose of business is to give the customer a better product or service or experience. Manage a business well and you make a profit. Profit has to be a by-product of doing something well for the customer.' A lot of press around the launch of Metro Bank focused on the dog bowls and biscuits in every branch, but for Thomson that was key to establishing a different mindset: retailers not bankers. How do you create a different customer experience? Going back to the dogs, Thomson told us, 'if you can take your dog into the bank and it pees on the floor, that shows you we care more about you as a customer than about us as a bank.'
Thomson explained that 'before Metro Bank, everyone in banks had a sales target and a third of their income was derived from a sales target; in Metro Bank no one has a sales target – everyone is rewarded by customer satisfaction.' For Thomson this comes back to the fundamental tenet of 'measure what matters'. What matters to customers is value; banks assume that is price.
For Thomson's new banking ventures, service and convenience are fundamental, with consistency and transparency being key pillars in achieving that. This message speaks to the fundamental rationale of the role of the in-house counsel. History is littered with examples where the rush to profit, while forgetting the fundamental needs of the end user, has led to monumental corporate failures – the 2008 financial crisis ticks most of those boxes.
What was striking about all three talks was the fact that the perspectives from all of the different speakers centred around a simplicity of vision, which really focused on quality of experience and the end user. Ultimately not a bad message for any of us to consider in regards to what we do and why we do it.