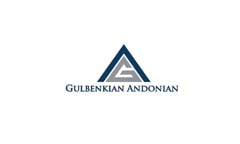 A brief history of Gulbenkian Andonian Solicitors written by Co-Founder, Dr Bernard Andonian
Gulbenkian Andonian has its origins in what is now a pure commercial practice, Isadore Goldman solicitors.
I became a partner at Isadore Goldman, specialising then in commercial and civil litigation and matrimonial law in 1985, but towards the end of that year, I was asked by my former partner Paul Gulbenkian, whether I had a flare for UK immigration law. Both of us being of Armenian origin and familiar with the issues Armenian faced in the earlier part of the 20th century, were of course keen to help on human rights issues if we could. I told Paul "I'll have a go" and since then have not looked back.
Paul Gulbenkian had an Armenian client from Turkey who alleged that whilst in Turkey she suffered discrimination and persecution. Her father had also been persecuted and dispossessed of his land in Anatolia. Her visit visa had expired in the UK.  She was a diminutive lady, in fact so tiny that we had to put her on to a wooden platform when she gave evidence in the tribunal in support of her UK asylum claim.  She has since passed away, but her case was the first appeal I won in the tribunal, for which I had instructed Nigel planning, (now a High Court judge), who like Lord Justice laws, and Lord Pannik, when he was a junior barrister, told me that I was the one who had given him, his first immigration case!
Isadore Goldman sent me to the USA to study US immigration law, at the offices of Bonaparte and O'Kane, a well-known Californian immigration firm. I qualified for the Californian bar and for a while I was on the Bonaparte headed notepaper. On my return to the UK, I set up on the second floor, in a small annex, a subsidiary of Isadore Goldman, dealing purely in regard to US immigration. Bonaparte had told me that his father was Armenian, and that his family history in fact goes to Napoleon Bonaparte, and that he would tell me the connection one day. Unfortunately, he did not live long enough to do so. Unfortunately, on the demise of Ronald Bonaparte the US immigration side gradually fizzled out, and hence our concentration and specialism as UK immigration lawyers in London. Before we gave up on US immigration however, I was very happy to have been able to complete the US immigrant Visa for the actor Michael York, one of the original actors in the film the Three Musketeers. He played the part of D'Artagnan, with Raquel Welsh and Oliver Reed, playing Constance and Ahtos respectively. Michael needed a US immigrant Visa because he had married a US citizen and wanted to settle there.
Riding on the back of my first Armenian case,  a case dear to my heart because of my ethnicity, I gradually became known in the Armenian and Iranian community through recommendation. With Paul's help, who was already well-known in the community long before me, as his name "Gulbenkian" carried and still does, great weight, we started receiving many Armenian and Iranian immigration cases. There were also spin-offs from these, such as property and matrimonial work.
In 1989 Paul and I decided to go into partnership, as immigration was now booming, and it also just seemed the right thing to do, and accordingly we moved away from Isadore Goldman.  We thought Kensington High Street would be a good venue for the new firm. We therefore moved our new firm "Gulbenkian Andonian Solicitors" there in October 1989, and I remember it well, because my mother passed away at the Royal Marsden Hospital the first week that we had moved to our new offices. We thought this was a good move because Kensington high Street is near many of the embassies. We carried on business from 185 Kensington high Street until 1993.
We were happy in the Kensington offices. I continued specialising in UK immigration law and also matrimonial law. I was appointed on the executive committee of the immigration Law Practitioners Association (ILPA), a position I held until I was appointed by the Lord Chancellor as an immigration judge, when perhaps due to a possible conflict situation, I resigned as a member of the executive. During my time there however, I gave many lectures and wrote many articles in the solicitors Journal, the legal executive journal, and the lawyer magazine for up-and-coming UK immigration lawyers in London. I remember very well that my good friend Laura Devine, who now is an eminent well-respected immigration lawyer, was working in the legal department of Price Waterhouse, and she and I used to talk on a regular basis on issues of immigration and work permits, including appeals to the first-tier Tribunal! Life was very different that time.
Believe it or not, my room in the Kensington office was haunted. History of those premises which we purchased from a firm of solicitors called Gary Marshall and Campbell, has it that a partner from that firm who occupied my room, shot and killed himself, because he was to appear at a solicitors disciplinary Tribunal for stealing client money. Obviously, he could not face that event so he found an easy way out, so to speak!  I Must say that going to my office early in the morning at that time, and being able to park my car just outside the offices, (wishful thinking now), I did hear heavy breathing from time to time behind my chair, and odd things happened, such as a knock on the door when there was nobody there. That was an experience of its own.
It was at the Kensington offices however that I litigated the famous case of Shah and Islam on social groups under the Geneva Convention on the Status of Refugees 1950. I had failed all the way to the Court of Appeal in that case, and until that case was litigated successfully in the House of Lords, there was no law known in the United Kingdom either at tribunal or Higher Court level on the meaning of "a member of a particular social group ". By sheer determination I knew that it was not right for this client to fail, and having taken the matter to the House of Lords as it then was, I was so pleased when Lord Hoffman in reading the judgement of the court by majority of 4 to 1 (Lord Stein dissenting), allowed the appeal.
I remember the day that judgement was handed down by the House of Lords, as I was at an immigration judge's dinner in Lincoln's Inn, (I had already been appointed a part-time judge, a position that I hold to date), I was castigated, I am sure jokingly, by one of the judges, as to how I could do this, as the case would now open up the" floodgates." In fact, it did nothing of the sort. The case went on to create a precedent throughout Europe and the Western world and to expand the meaning of "a particular member of the social group" to include not only those who flee their country of origin due to transgressing the  social mores of their culture and custom, as did Mrs Islam and Mrs Shah, but to also consider individuals such as same-sex partners, LGBT members generally, and other persons in countries where such and other practices are forbidden, as members of a particular social group entitled to international protection and thus to refugee status.
I remember in the Kensington office litigating the famous matrimonial case of Longenotti in the House of Lords, when their Lordships were so convinced that she should win on financial issues, that as soon as counsel stood up to make her speech, she was told to sit down by their Lordships as 'we have already made up our mind'. It was at those offices that I also litigated the matrimonial case of Nigel Dempster, a British journalist, author broadcaster and diarist, who worked for the Daily Mail, and was best known for his celebrity gossip columns. He also liked his wine, and he and I often went for lunch in one of those quirky side streets in Kensington high Street, in a well tucked away English restaurant, and often, coming out he would stumble, and on many occasions, I had to put him into a taxi to send him home. Towards the end of his life, the wife against whom he fought a bitter dispute, cared for him in his home. How sad.
Until 1993, when our associate firm Isadore Goldman offered us room space in the building at Southampton Row, with a lower rent than we were paying in Kensington, we remained in Kensington. We thought that the Isadore Goldman offer would be a good move to return to Southampton Row as it would be near barristers Chambers and the courts. At that time the first-tier Tribunal was situated at Thanet House opposite the law courts in the Strand. We therefore returned to Southampton Row in 1993 where we stayed until May 1995. In that year we found premises at Sicilian Avenue and Isadore Goldman found their current premises in the city and we parted ways never to meet again!
Paul Gulbenkian and I continued in partnership until 31 March 2010 when he retired, and sold the business to me. I carried on the practice initially as a sole practitioner, later on to be joined by Dave Vasoodaven, as partner to whom I eventually sold the practice on 31 March 2015 becoming a consultant to the firm thereafter. Dave, in fact, had joined the firm in 1995, and he started off at the Southampton Row premises, during the year when we moved to Sicilian Avenue. I've always found him to be a dear friend and colleague, trustworthy to the utmost, well loved by his colleagues and friends, and a man of integrity.
I took the firm to a certain level, but under Dave Vasoodavens leadership it has progressed in leaps and bounds, with increases in staff, a move to our current new premises situated at Suite H, ground floor, Holborn Hall, 193/ 197 high Holborn London SW1A 7BD. These are amazing suite of offices adored by our clients and professionals alike. Under Dave's directorship, the business is now a limited liability company and has received approval to practice as an Alternative Business Structure (ABS) specialising in all areas of UK immigration and British nationality law, commercial litigation, employment, matrimonial, property and finance, conveyancing both commercial and domestic, and in fact I can go as far as to say that now it covers all areas of law, except for perhaps criminal. The firm under Dave Vasoodavens leadership, is intending to expand further by taking on more lawyers because of the volume of UK immigration work, which comprises some 90% of the firm's business.
Under Dave's command, the firm has also achieved Tier 1 status as a premier firm with the legal 500. As a top tier law firm, it is well respected not only amongst its clients but within the tribunal system and the higher courts. Indeed, the firm has received recommendations from judges and other professionals who know the firm well and the quality of its work. These recommendations and what other judges say about the firm and those who present its cases, can be seen on the firm's website under the appropriate fee earners concerned.
The firm has its own in-house counsel, and Fadi Farhat is the legal director and head of appeals and public law. His indulgence and specialisms and training of other lawyers, mean that we no longer use, and have not done so for some time, outside barristers, which is a great saving in costs both for the firm and for its client.
The firm and its staff are immensely proud to be in a position as a recognised team of professionals who not only have perfected legal advice but are respected for their professional opinion on a range of current affairs within the press and other prestigious circles such as the legal 500 and more.
The wide array of services and professional respected opinions do indeed make sure we are considered by our clients and other professional bodies as a top London law firm.
Personal recommendations and solid reputation as always, has been at the core of what makes Gulbenkian Andonian solicitors stand out from the crowd of other solicitors in London in terms of offering service of excellence, striving for the results clients need, and ensuring we are considered amongst the best London lawyers.
We understand that it can be difficult to find a lawyer so the firm pledges support and lets its reputation servicing thousands of clients since 1985 demonstrate clearly that we are indeed not only one of the best law firms in London but also throughout the entire United Kingdom.
We have been awarded many accolades such as for example the ACQ annual awards as the regional immigration advisory firm of the year and regional public law advisory firm of the year, whilst Dave has been awarded regional lawyer of the year for his outstanding success, supervision and overall strategic direction of the firm. We have won global awards, and recommendations from the ASEAN UK business Forum, and our reputation speaks for itself.
The law is the firm's passion and the firm is excellent at what it does. The firm's lawyers speak at conferences and venues on various aspects of the law, have given interviews to the media and have had a number of reported decisions in the public domain. They visited Vietnam and Dubai on business immigration work. They are now one of the leading internationally recognised full-service law firms in this country recognised by the legal 500 in that regard and its lawyers are considered by many as some of the best in the United Kingdom. Hayk Sayadyan is a specialist in EU law and has in-depth academic knowledge of all current other tribunal and High Court decisions and their implications. He also works on matrimonial issues involving property and finance and children.
Zara Shamal, Jahed Morad and Henry Lau are amazing immigration lawyers, with Henry also having specialism in conveyancing, and assisting the head of the commercial department, the amazing Sajo Thomas in domestic and commercial transactions. Many of these transactions are spin-offs from UK immigration. Hojabr Afshar with his language skills as weight to the immigration team, and Danny Merzougu as a particular specialism in Arabic, and engages clients unable to speak English, giving them encouragement notwithstanding their language difficulties. Khanh Ho, specialises in Vietnamese and Chinese clients both with respect to immigration issues and commercial requirements. He is an important arm of this firm.  
I must not forget to mention Caroline Gardner and her loyalty to the firm which has made a tremendous difference. She is the firm's client liaison officer, and the first-person clients see when they come into the office. They form the impression of the firm first hand through her.
Amongst its fee earners, there are approximately 25 languages spoken and this is of great assistance to clients. These include Vietnamese, Russian, Farsi, Armenian, Chinese, Tamil, German to name but a few.
Amongst the firm's fee earners there are those who have lectured on immigration for the Immigration Law Practitioners Association, who lecture at universities and colleges, take part in voluntary work as citizens advice bureaus in their spare time, and who have been members of the International Bar Association and responsible for ground-breaking cases such as Shah and Islam and bombast Bombast and Rolet, the latter in the court of justice of the European communities and many others.
We have experience and expertise in preparing business plans for those who need Tier 1 visa types including the new "UK Tier 1 start-up visa"and "UK Tier 1 innovator visa". We also we act for numerous wealthy Eastern European and Asian clients who wish to settle in this country and who are at the same time desirous to purchase property for themselves and their families. We are in effect a one-stop shop.
In conclusion, as we now approach Brexit, our intention is to make good relations with other European lawyers specialising in UK immigration law so that we can help clients, by advising and assisting them on a global basis with the corporation of our European partners.  A perusal of the Gulbenkian Andonian website and details of the firms' fee earners will speak volumes as to the experience, expertise of its fee earners, widely commended on their performance in the tribunal and higher courts.
Gulbenkian Andonian Solicitors has an exceptional legal team that can help you with all UK visa matters. Established in 1985, our firm has the reputation of being the best immigration law firm in London and one of the top immigration law firms in the UK. We have over 30 years of experience and are listed in the legal 500 Hall of Fame. We have a team of specialist lawyers and support staff of great ability and experience.
Contact us to speak with one of our immigration lawyers in London. Call: 0207 269 9590 or email: info@gulbenkian.co.uk