Survey Results - Trainee feedback on
DLA Piper
The lowdown - Trainees (in their own words) on DLA Piper
Why did you choose this firm over any other? 'It had a friendly culture and seemingly less intense hours', 'out of all the firms I researched, DLA seemed the most inclusive and it also offered the best pay and international opportunities', 'its global reach, the opportunities to work overseas, and the offering of pro bono work alongside fee-earning work', 'the career opportunities', 'its reputation for being inclusive', 'the quality of work and clients', 'the welcoming culture of the firm'
What is the best thing about the firm? 'The regional salary (in Edinburgh)', 'the people embody the values and are bright, dynamic and genuinely lovely to work with', 'the incredible offering of pro bono opportunities, and the support of diversity, equity and inclusion by many senior people', 'everyone is very approachable and willing to assist you with your questions and queries', 'there is a free breakfast every morning', 'international breadth', 'lack of micro-management', 'I'm always happy to be at work'
What is the worst thing about the firm? 'It's so big that when you start, you feel like a very small fish', 'uncertainty around the seat selection process', 'lack of diversity', 'long working hours', 'the culture', 'the commitment to disability inclusion could be better', 'more could be done to ensure work is delegated more consistently amongst trainees', 'financial remuneration', 'Skype and rapid, frequent software changes/updates', 'the work/life balance'
What has been the best moment of training to date? 'When the matter partner was on holiday and trusted me to complete the sale of a £40+ million site', 'writing a note for a partner and relevant speakers at COP27', 'the induction programme', 'introducing my own client to the firm', 'being trusted to speak directly with the client', 'being recognised for working hard/overtime', 'no specific moment – I genuinely enjoy going to work every morning'
What has been the worst moment of training to date? 'I have had one 4am finish where I had to be back in the office at 8am the next day', 'the pre-Christmas madness', 'not having any of your seat preferences', 'working non-stop and not being rewarded for it', 'being on a matter with limited scope for learning for a prolonged period of time', 'dealing with admin tasks for weeks'
The Legal 500 Future Lawyers verdict on DLA Piper
Winner of a Future Lawyers international secondments award, DLA Piper has a renowned global presence with plenty of opportunities for recruits to work in other offices, both regionally and overseas. Trainees can also expect a supportive training programme, which acts as a 'welcoming environment to grow as a junior lawyer'. At DLA Piper you will be given lots of 'responsibility and a broad range of tasks', along with ample client contact and opportunities to prove yourself. Indeed, trainees are 'consistently exposed to high-quality work here'. The scale of the firm is not to be underestimated though; as a result of the large trainee intake, 'when you start, you can feel like a very small fish'. What's more, working for such a large firm may mean that 'there are often large demands on your time' and that you may have to work long hours. Yet, demanding work comes with its own rewards; one respondent recalled their best moment, an occasion where 'my matter partner was on holiday and trusted me to complete the sale of a £40+ million site'. While this may sound daunting, trainees were keen to emphasise that help is always at hand. DLA Piper colleagues are 'very supportive' and 'everyone is very approachable and willing to assist you with any questions and queries'. There was some criticism about the firm's organisation of social events, (a possible result of the pandemic, concluded some recruits). But the 'strong commitment to pro bono work' made a lasting impression on trainees. If you are interested in being a part of a firm where colleagues are 'bright, dynamic and genuinely lovely to work with', and where you can also receive a 'free breakfast every morning', research DLA Piper.
A day in the life of... Abigail Nolan,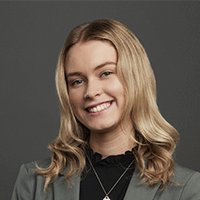 University: University of Birmingham
Degree: LLB, 1st Class Honours
8.50am: I arrive at our office at 160 Aldersgate Street and head straight to the canteen for a coffee and some breakfast. I take these to my desk and briefly catch up with my colleagues as they arrive. I check for any emails that may have come in that morning and I review and update my to-do list for the day. I have a few quick emails to respond to and I have a quick read of the top stories on the news hub to stay up to date with the latest developments.
10.30am: I attend a meeting on one of the client floors with an Employment Partner and a client who is requesting advice on a complicated redundancy situation. During the meeting I take notes and flag anything that I want to research myself later. Post-meeting, I draft an email to the client that summarises the action points that were discussed during the meeting. Once the partner has approved this, I send this to the client.
11.45am: I then turn my attention to another matter, which involves communicating with local counsel in various jurisdictions to provide advice to a client on a training reimbursement agreement. Since several countries have sent their responses overnight, I collate the information that they have provided and populate a table of responses. I respond to their emails with any questions that I have and chase up on those that we have not had responses from for a few days.
1.00pm: I go downstairs to the canteen for lunch. Today is one of the regularly scheduled Trainee lunches, so I meet some of the other trainees in my intake who are also in the office. The food options today, as always, are vast, and after some deliberation I decide to go for the paneer curry.
1.30pm: I return to my desk and begin to prepare for the next meeting that I am going to be attending with a Senior Associate and a client. Since we have spoken with this client before, I review my notes of the previous meeting and the relevant documentation. This is a TUPE matter and involves the transfer of employees from several different countries. I love the international aspect of the work at DLA Piper, and I find it really interesting to see how the law differs between countries. The meeting lasts 30 minutes, and I review my notes afterwards, tidy up the formatting and share these with the Senior Associate.
2.15pm: I make myself a coffee at one of the machines on the floor and respond to several emails that came in whilst I was in the meeting. This includes an email, from one of the associates in the team, with additional documents relating to an ongoing unlawful deduction of wages matter. I ensure all of the documents are converted to PDF and add these into to a bundle that I had begun to create earlier in the week. I update the bundle index accordingly.
3.30pm: After this, I attend my weekly catch up with my supervisor. This is an opportunity to check in and keep her updated on the work that I have been undertaking and any questions that I may have. It's also a great way to set targets to ensure that I am developing throughout my training contract.
4.00pm: After my catch up with my supervisor, a partner asks me if I can help with the creation of a bundle of documents for a different matter. The documents that he shares are various emails and screenshots, so I remove any duplicates and place them in date order. Since the bundle at this stage is just to be shared with the client, an index is not required. The matter this time is a whistleblowing claim. I really enjoy the variety of work that I am able to get involved in, since it allows me to develop knowledge of so many different areas of Employment law.
5.30pm: Once I have finished compiling this bundle of documents, I move onto my next task. I have been asked to research into the differences between various company's Human Rights and Modern Slavery Policies. This is a really interesting topic and again, is so different from the work I had been completing earlier in the day. I compile a document with summaries of the key similarities and differences between these policies in the different companies and share these with the Partner.
6.30pm: Once I have completed this research, I update my to-do list and flag any urgent tasks that need to be actioned the next day. I check my calendar to ensure that I am prepared for any upcoming meetings later in the week.
7pm: After this, I check my emails to ensure that I have no further urgent tasks that need to be completed this evening. Since nothing urgent has come in, I log off and head downstairs to meet the rest of the DLA Diamonds netball team since we have a match this evening. This is a great way to end a busy day by doing some exercise and interacting with colleagues from various departments within the office.
About the firm
Other offices: UK, Dublin, Hong Kong and Dubai (offices listed are where we have early careers roles available).
Who we are: At DLA Piper, innovation and challenging the status quo are the vital spark to how we think and what we do. Together, we create exceptional experiences, outcomes and growth for our clients and people.
We make this happen with a culture where graduates bring their passion and individuality to work every day.
DLA Piper is a global business law firm with lawyers located in more than 40 countries, with over 90 offices throughout the Americas, Europe, the Middle East and Asia Pacific.
We help clients succeed through innovative and pragmatic legal solutions. Our clients range from multinational, Global 1000, and Fortune 500 enterprises, start-ups, public sector bodies and governments. DLA Piper's sector groups cover the full range of business law services.
In today's world, environmental, social and governance issues are of critical importance to business. At DLA Piper we are helping clients transition to, and thrive in, a more sustainable future. We ask tough questions about purpose and transparency and find the answers together.
We are also looking for opportunities to integrate sustainability into our governance, decision-making and operations. We ensure their people have the right resources and support they need to perform and deliver at our best for clients.
We, at DLA Piper connect with our people, clients and communities in everything we do. We live by four values:
Be supportive: We care about others, value diversity and act thoughtfully.
Be bold: We stand tall and challenge ourselves to think big.
Be collaborative: We give, we share and we join in.
Be exceptional: We exceed standards and expectations.