Bryan Cave Leighton Paisner (Russia) LLP | View firm profile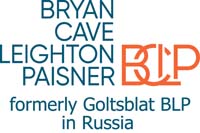 Bryan Cave Leighton Paisner (Russia) LLP (formerly – Goltsblat BLP LLP) advised Sberbank on the recently completed sale of debt and equity in Eurocement Group, following electronic auction, to the winning bidder – Mikhaylovsky Construction Materials Plant – for an aggregate consideration of RUB 161 bn (circa $2.16 bn) – positively viewed by Sberbank:
 "Unique in terms of size and structure, the transaction is unprecedented for the Russian market. It has been closed through an open and transparent market procedure during which its participants raised their bids over 40 times."
BCLP has advised on all legal aspects of this cross-practice multi-jurisdictional project and led several other firms, with Schellenberg Wittmer advising on Swiss law matters, Patrikios Pavlou & Associates and Chryssafinis & Polyviou advising on Cypriot law matters.
Led by partners Yury Babichev and Matvey Kaploukhiy and counsel Igor Zhivotov, BCLP team included over 50 other lawyers in Moscow, London and Frankfurt working on this challenging project.