Azmi & Associates is pleased to announce the appointment of Izzat Asyraf Zamri as its new Partner, effective 1 August 2023. His appointment is in line with the growth strategy of the Firm in strengthening our Litigation & Arbitration Practice Group.
Izzat Asyraf Zamri is the 22nd Partner of our Firm. His appointment will add further dimension and strength to our Litigation & Arbitration Practice Group which currently has 5 partners and 13 associates.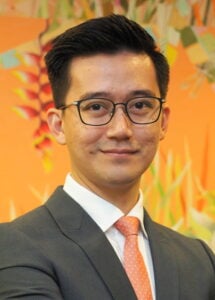 Izzat Asyraf Zamri
Partner
izzat@azmilaw.com
+603 2118 5015
Izzat Asyraf Zamri, 35, graduated from Universiti Teknologi MARA (UiTM) with a Bachelor of Legal Studies (First Class) in 2011 and a Bachelor of Laws (Second Upper) in 2012. He completed his pupillage at Messrs Kadir Andri & Partners in 2012 and was admitted to the High Court of Malaya in February 2013 and has been in practice for more than 10 years. Prior to joining the firm, Izzat has practiced in several law firms as partner.

His practice primarily focuses on civil and commercial litigation, addressing various disputes in our civil courts of Malaysia. His areas of practice include claims for breach of contract, highly disputed land acquisition, interlocutory applications, injunction actions, corporate and commercial disputes, land references, industrial relations, directors and shareholders disputes, and tortious disputes. He is experienced in managing contested civil litigation cases, acting as counsel for statutory bodies and companies, handling files involving contractual, corporate, and commercial disputes, and conducting hearings up to the Federal Court.

Awards and Achievements
Awarded Sarah & Roger Derrington Best Achievement Award, Maritime Law Moot Court Competition, Sydney, Australia, 2010.
Represented UiTM for Philip C. Jessup Moot Court Competition, 2011.
Represented UiTM for LAWASIA International Moot Court Competition, KLRCA, 2010 and International Humanitarian Law Moot Court Competition, 2009.
Champion and Best Mooter, Dean's Cup Moot Court Competition, UiTM, 2009.
Awarded the Bursa Malaysia Scholarship Award, 2008.
Dean's List all semesters, Pre-Law, 2007 – 2008
In addition to Izzat Zamri, Azmi & Associates further strenghtened its litigation team by welcoming 2 experienced litigators, Ammera Hadi and Zulqarnain Rahman, who will be joining us as Associate effective 1 August 2023.
Ammera Hadi

Associate

+603 2118 5037

Raja Muhamad Zulqarnain

Raja Abd Rahman

Associate

+603 2118 5088

Ammera Hadi graduated from Universiti Teknologi MARA with a Second Class (Upper Division) LL.B (Hons) in 2017. In 2018, she underwent her pupillage at Messrs. Tan Norizan & Associates where she was retained upon her admission as an advocate and solicitor of the High Court of Malaya. In 2020, she joined a boutique litigation practice.

Ammera practices in a wide area of civil litigation including contractual, commercial, tortious and construction disputes. She is also experienced in representing clients in land acquisitions. Ammera enjoys serving as committee member to the Malaysian Bar and her state Bar. She has served as a member of Selangor Bar's Civil Practice & Court Liaison Sub-Committee, Human Rights, The Environment & Gender Equality Sub-Committee and Young Lawyers & Pupils Sub-Committee.

Currently, Ammera is serving as a committee member of the Malaysian Bar's Women's Rights Committee and National Young Lawyers and Pupils Committee. During her free time, she enjoys attending legal talks and courses and writing legal articles.

Raja Muhamad Zulqarnain, graduated with LL.B (Hons.) from Universiti Teknologi MARA in 2020.

He completed his pupillage and was admitted to the roll of Advocates and Solicitors in 2021. He gained experience through internship programs with law firms and has a keen interest in exploring more aspects of legal practice, particularly dispute resolution.

Zulqarnain represented clients in various disputes up to the Federal Court. These disputes include, among others, recovery of loan facilities, injunction against a receiver & manager and a debenture-holder, trademark infringements, wrongful termination of service level agreements, pre-action discovery of confidential documents, judicial review of a statutory body's decision, and breach of an independent verification & validation agreement.

During his free time, Zulqarnain enjoys writing legal articles and judging international moot competitions.
The Firm focuses on holistic approach to legal services, entrepreneurial leadership, and innovation to deliver transformational services to clients. This explains the steady and sustainable growth of the Firm over the years.
With a partnership base of 22, the Firm now has 92 lawyers and 20 trainee lawyers, expanding its capacity to offer a wide range of legal services to Malaysian and international clients.
---