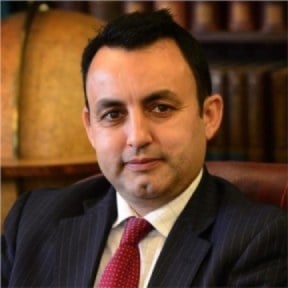 What are the biggest challenges facing the Libyan legal market in the next 12 months?
The main challenge the Libyan legal market will face over the course of these twelve months will be dealing with the varying levels of stability and uncertainty due to political strife and military conflicts. These problems directly affect both the Libyan economy and the Libyan legal market as a whole. In addition, as of yet, the divided authorities issue in Libya has not been resolved completely. These greatly influence the Libyan legal market. Another point to consider is the high levels of corruption Libya is still facing. Although corruption is existent even in times of stability, the widespread corruption caused by the instability in Libya will also be challenging for the Libyan legal market to handle. On the other hand, there is a reasonable possibility that the private sector will undergo a rise in activity, giving rise to new job opportunities – a challenging but positive occurrence we may see over the next year in the Libyan legal market. Moreover, a challenge the Libyan legal market continues to face is that there are no specific laws that govern PPPs, leaving the legal market in Libya struggling to interpret the vague laws that govern the PPPs instead. However, hopefully, this will change in the coming year as, with the increase in investments, the legislator is more likely to recognise the need to elaborate on such vague laws. Lastly, elections may occur this coming year in Libya, causing fluctuations in stability in the country, but perhaps beneficially impacting the Libyan legal market.
What sets your firm apart from competitors?
Our presence in both the city of Tripoli and Benghazi sets us apart from our competitors as it gives us a more widespread influence in Libya. Secondly, our law firm in Libya provides unparalleled services via online platforms. Thirdly, Itkan upholds a social corporate responsibility policy, where its lawyers must dedicate 5 hours monthly to pro bono cases, setting it apart from its competitors.
Are there specific practice areas you see as particularly thriving, which you intend to bolster in coming years? Are there any new areas of practice that have emerged recently?
The IP market, the Information Technology and the Investment sectors (e.g PPPs) are flourishing now and will most likely continue to do so in the future. Thus, these are practice areas we intend to 'bolster' and focus on in the coming years.
Islamic Shariah Compliance practice and the Investment Funds practice are relatively new and only emerged recently in Libya.
What are your firm's policies on diversity and inclusion? Does your firm have any specific diversity initiatives?
The policy of Itkan ensures that at least two members of the BoD are women. In addition to this, the percentage of equity shares owned by women in Itkan is a substantial amount of 40%, and the ratio of men to female lawyers hired in the company is currently 10:7, a ratio that can be considered slight in differences in terms of numbers.
Itkan Law firm, unlike some of its contenders, is open to hiring employees from different regions in Libya. Moreover, a member of our firm is Sudanese.
What does innovation mean to you? Can you tell us about any specific innovation initiatives at your firm?
Innovation is a driving force in Itkan. Whereas most law firms are fundamentally similar in almost every aspect, Itkan strives to bring new ideas and stew standards to the Libyan Legal market, ushering in its development through innovation and introducing the legal market to concepts that are ambiguous or often unheard of.
The implementation of technology in our services is part of the firm's innovations – in this regard we have entered a partnership with Libyan Spider, a prominent company in the digital market in Libya, who is assisting us in the creation of a new, never before seen in Libya kind of database (the "Libyan Law Society" https://lawsociety.ly ) for legislations and courts rules. The fact that innovation is key in Itkan is also evidenced in the fact that it set a precedent as the first truly corporate law firm in Libya. Itkan Law Firm is also the only law firm in Libya that initiated the policy of equity shares within the company.
What technological changes have you implemented at your firm to improve the legal services you provide to your clients?
Itkan has thoroughly digitised its services so clients can reach out for legal support via its online platform. Itkan has also introduced online invoices, thus making the payment for our services a hassle-free and efficient process. These changes have positively affected our legal services and benefitted our clients – transactions between the firm and its client are more efficient than ever.
With Russia facing international scrutiny over its invasion of Ukraine, various commentators have suggested that Libya could be crucial to meeting Europe's gas needs going forward. Is this sentiment shared by your clients in the hydrocarbon sector?
Yes, the desire to develop the oil & gas sector in Libya is prominent, especially since Russia's invasion of Ukraine, with 13-15 million dollars intended for investment towards this development. At the same time, there are discussions going forward concerning the application of solar and nuclear energy as an alternative to sustaining Libya's energy needs, therefore allowing Libya to provide oil and gas to Europe more freely.
Great efforts are presently being made to secure the future of the democratic political process in Tripoli. What does the promise of presidential and parliamentary elections mean both for the Libyan people and the Libyan economy?
The promise of presidential and parliamentary elections suggests that Libya will soon be heading into a period of stability. This stability will likely entice investors from abroad to make investments in Libya, which will ultimately benefit the economy and the Libya people; stability will pave the path for the initiation of new projects and development in Libya.
Following a severe period of contraction and a steep decline in hydrocarbon output, the resumption of oil production looks set to underpin a brighter financial picture in 2022. Beyond oil and gas, where else should investors be looking?
Investors should look to the Construction, Electricity, Telecommunications and Health industries as these are potential industries that will require development in the upcoming year.
Where do you feel your clients need the most legal support in the next 12 months?
Firstly, moving forward towards more stability most likely will mean an increase in the inquiries. Furthermore, litigations related to force majeure will be the most sought after due to the civil war Libya faced. Additionally, clients are likely to seek legal support concerning investments as Libya's stability improves.
Have ESG considerations prompted you to re-evaluate the service you provide?
With regards to ESG considerations, Itkan has digitised its services instead of excessively using paper, which is detrimental to the environment. As for social considerations, Itkan has initiated a mandatory scheme for pro bono cases for all its employees every month. For example, Itkan aids foreign wives in Libya, immigrants, and NGOs such as the Libyan Organization for Communication and Information Technology.
Itkan is particularly renowned for the strength of its disputes practice. What key trends have you noticed in litigious and arbitral proceedings over the past year?
The most important case is for one of the European State members before the Supreme Court, which is related to the immunity of embassies. The second one is related to bank
guarantees and force majeure. In this regard, the Supreme Court division referred the case to be reviewed by the general assembly of the Court to set a new precedent.
The third trend is in relation to the execution of foreigner judgments. Libya is a party of the Riyadh Convention (Riyadh Arab Convention for Judicial Cooperation). This convention has never been tested before, therefore it is challenging to file three cases for different clients before Libyan Courts.
1996 – Legal Advisor at Ministry of Agriculture & Animal Wealth of Libya
2005 – Founding Itkan Law Firm
2009 – Itern Investment Ltd Valletta, Malta, Chairman of the Board of Directors
2006 – Senior Legal Advisor, Economic & Social Development Fund, Tripoli, Libya
2007 – Head of the Legal Department (Legal Counsel), Libyan Investment Authority (LIA), Tripoli, Libya
2012 – Managing Partner, Clyde & Co LLP (Libya office)